The wicked Swedes who refused to lock themselves down, refused to pull their children from schools, refused to follow WHO advice (the latest advice, that is, not the June 4 advice) to wear masks, and refused to stop going to work will suffer 5,754 deaths from/with Covid-19 through October 1, 2020, according to the prophets at IHME: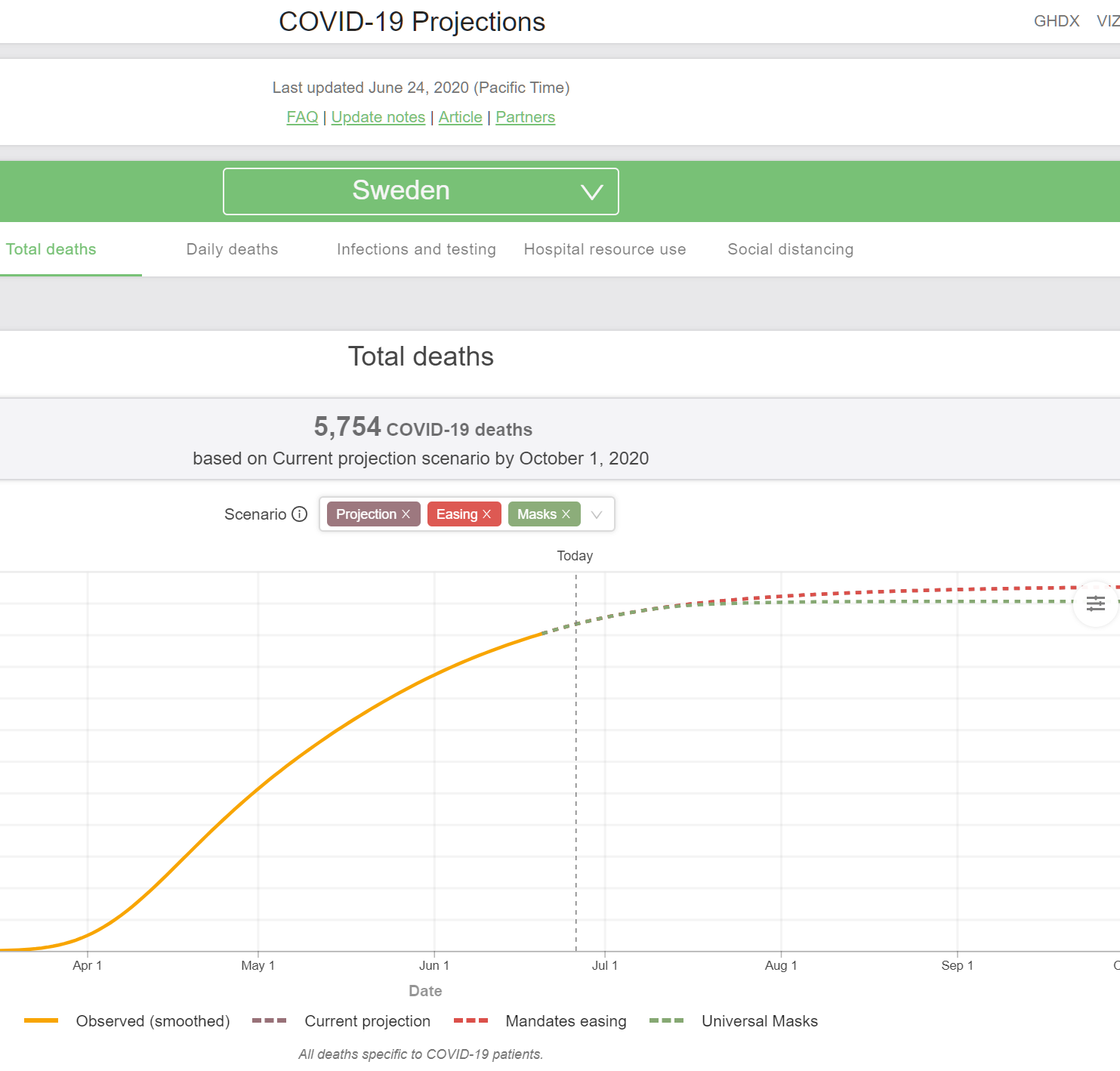 The infidels who refused to accept the true Church of Shutdown will lose 0.056 percent of their 2019 population of 10.23 million.
The latest (June 24) IMHE prophecy for the U.S. is that 179,106 residents will die from/with Covid-19 through October 1, 2020: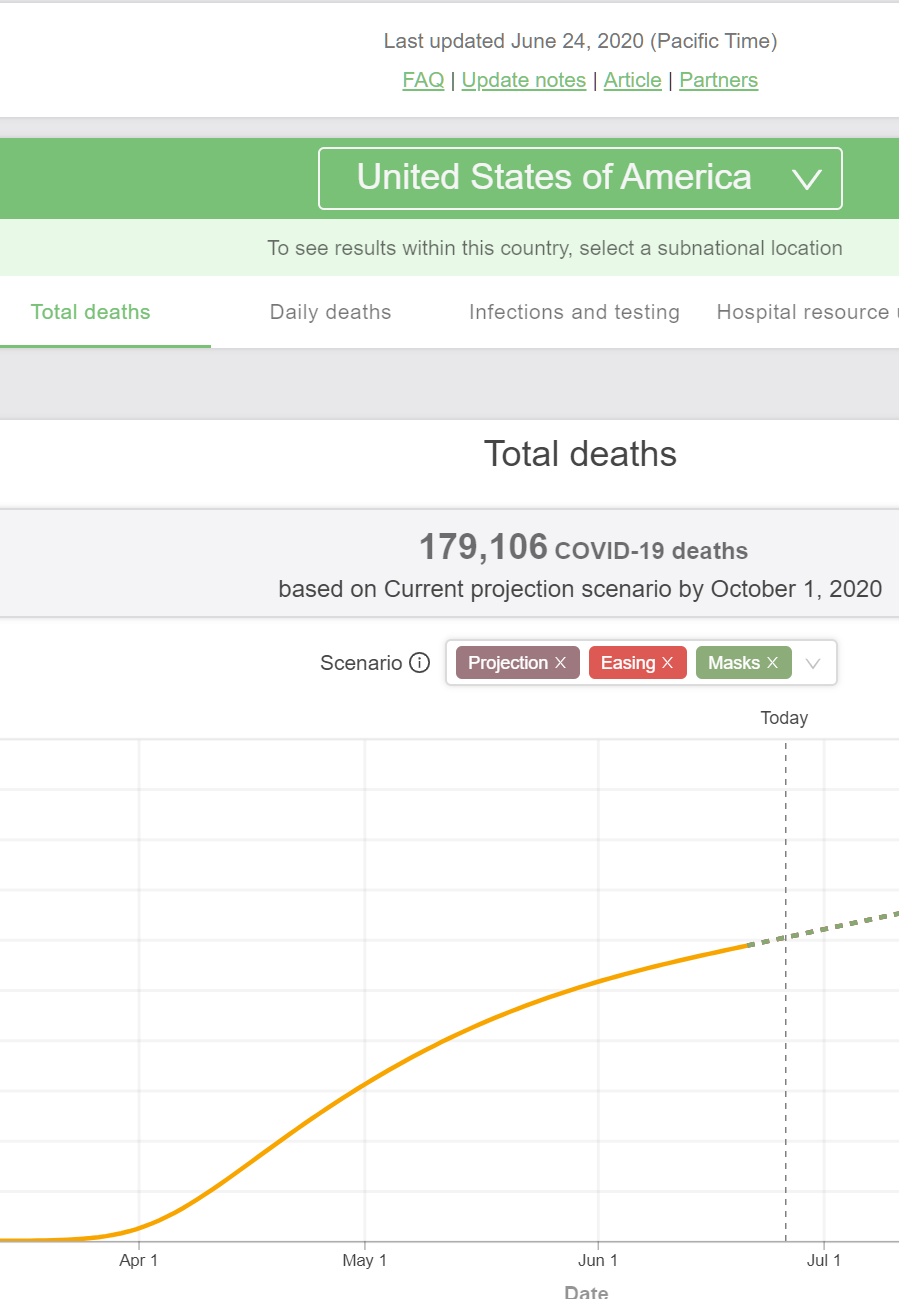 Compared to the 2019 U.S. population of 328.2 million, that's a rate of 0.055 percent.
In other words, the U.S. and Sweden will have almost exactly the same death rate from coronaplague.
Yet for Americans believers in the Religion of Shutdown, Sweden remains the touchstone example of disastrous "experiment" and folly. (It is not an "experiment" to lock people into their apartments for three months in hopes of stopping a viral plague, nor to shut down K-12 schools nationwide for the first time in U.S. history. These are examples of wisdom and being "conservative".)
An example from yesterday, by a Harvard Law School professor, "Is Digital Contact Tracing Over Before It Began?" (Medium, June 25):
The first scenario is roughly the same as Sweden's approach: re-open all but the most high-spreading services and events; ask people to exercise social distancing where they can; have people wear cloth masks to minimize the spread of the moisture in their breath to others; and try to make available testing so that people who wish to know if they're infected can find out and then self-isolate if they test positive or show worrisome symptoms. We might call this the YOLO scenario.

This approach risks lots of preventable misery, and death, should hospital capacity be exceeded, or the disease affect far more people than it would if we were able to mitigate spread before a vaccine or treatment is available. (The architect of Sweden's YOLO plan has expressed some regrets over it, though the numbers appear to be attenuating at the moment.)
The author simply neglects to mention that the death rates in the U.S. and Sweden are on track to be within 3 percent of each other. For the American readers, this isn't necessary because, to the extent that Americans die it will be because we are imperfect creatures. We try to follow the God of Shutdown, but sometimes we slip and need to ask forgiveness of Him/Her/Zir/Them.
(The article also shows the American faith that the God of Shutdown will protect the righteous and punish the wicked among us:
With the President resuming his campaign rallies, the line between partial re-opening and full re-opening may become quite blurred.
I.e., a Trump rally will spread coronaplague among the stupid/racist/sexist Deplorables, but the virtuous BLM protesters who gather in similar numbers will be protected by their faith.)
From across the river, a former Harvard Med School/School of Public Health professor writes "A Warning From Sweden's Coronavirus Response" (Forbes, June 4):
Sweden now has among the highest per capita death rates from Covid-19 in the world. Why?

The answer is simple. Sweden was lax in its implementation of protective measures in the face of the outbreak, refusing to implement broad stay at home orders for residents, or to enforce recommendations to wear masks or social distancing measures.

Sweden's story is a lesson for all of us around what happens when we pull back on social distancing and prudent epidemic control measures.

… one can't help but wonder if perhaps the plan is to pin all hopes on a vaccine rather than use the public health tools we know can work to control the pandemic. If that is the case, we should be aware that our hope in a vaccine is far brighter than preliminary public data suggests it should be. The current generation of vaccines are likely to offer only partial protection, and likely only to some of us not all. With the new vaccines will come new risks, and unknown safety profiles.
The guy who looked at numbers for two decades at the School of Public Health can't be bothered to compare the forecast death rates from Covid-19 for Sweden and the U.S., plus add to the U.S. numbers all of the deaths going forward from weight gain during lockdown, lack of exercise during lockdown, alcoholism and drug addiction acquired during lockdown, lack of education during lockdown, rioting as we emerged from lockdown, etc.
(He also sounds like an anti-vaxxer! "New risks" and "unknown safety profiles" from the rushed-to-market vaccines?!? So… if we aren't going to have an effective or safe vaccine, doesn't that make the Swedes ever smarter? Are we capable of staying shut down for 10 years?)
I still think that, 10 or 20 years from now when the U.S. has finally figured out how to deal with coronavirus (maybe just a psychological adjustment, as we've had to make for influenza, the common cold, and most other viruses), the most interesting writings on this period will be from scholars of comparative religion.