"Reopening and Reimagining Our Public Schools", from the Massachusetts Teachers Association (a.k.a. "teacher's union"), describes a theoretical world in which those who are paid to teach actually have to work more than an hour or two per day and may have to commute to a physical school.
Do you send out one email every Monday morning and then host a couple of group video chats later in the week? You're a hero!
Educators will continue their heroic efforts from this spring and will work hard to make our schools ready for our students this fall. Educators, through their unions and in collaboration with students and families, must play a central decision-making role in the return-to-school plan, district by district. Ultimately, we will decide if these directives have been met by the state and the districts.
Everywhere that the schools previously had a rainbow there will now be a double rainbow:
We cannot go back to the status quo, which was actively harming many of our youth, families, and educators of color, as well as people from other marginalized groups, including our LGBTQ+ students. We must instead be bold and create free and equitable schools where education liberates and empowers our youth so a brighter future is possible for all of us.

[among the "Key Directives"] Curriculum must reflect and affirm our LGBTQ+ students.
This is a bit odd when you think about it. LGBTQIA+ students weren't being reflected and affirmed previously. I am sure that we will all agree that this was a terrible situation. But who created that situation if not the very unionized teachers who now say that the situation must end? What was stopping them from reflecting and affirming LGBTQIA+ students six hours per day every day?
There is one Key Directive that is worth putting in bold:
Eliminate MCAS and reevaluate the ways our public schools are assessed.
In other words, the only objective test of student learning has to be tossed out. (Admittedly, the raw MCAS does not measure school performance that well since the children of well-educated parents tend to score highly even if their teachers don't teach anything.)
Teachers should be hired and promoted based on skin color:
We must prioritize hiring, retaining and promoting educators of color.
But will the older white teachers resign or subject themselves to firing in the event of poor performance in order to make room for educators of color?
Here's a principle that I can support wholeheartedly:
Every student — and every educator — deserves access to the basic tools of a modern society: a computer and reliable internet access.
Would someone please tell this to Comcast?
As soon as the first person anywhere in the state gets a fever in November and a positive coronavirus test, the teachers will go back home to their pets and gardens:
Educators must be supported with … effective practices for crisis learning remotely.

Districts must provide support … if we are again forced to return to crisis learning remotely.
One fact that I learned about a private school was that they have already wired up every classroom with video cameras so that students who need to stay home for any reason can participate remotely and see what is going on in the physical class.
A related document from the same union: "Facing the Coronavirus as a Just Community: An Agenda for Our Public Schools and Colleges and for the Common Good". Some excerpts:
The MTA is a union of 116,000 educators … We are entering a dangerous and unknown peak period of this pandemic. … We present these demands of local and state officials …

Keep schools closed statewide for as long as necessary to ensure the health of students, faculty, and staff. No educator should be required to come to work when schools are closed for students. Any vulnerable staff should be able to stay home with no loss of pay or benefits.

All educators – full-time, part-time, hourly and per-diem workers, including teachers, secretaries, paraprofessionals, cafeteria workers, bus drivers, and substitute teachers – must be fully paid during this time,

Guarantee that pay and pensions are not affected by the pandemic.

Declare a moratorium on all educator evaluations
Based on the above, I don't think my friend is going to get that property tax refund he had been expecting based on the fact that his middle schoolers did not receive any education after mid March.
[Our own town of Lincoln, Massachusetts will presumably be one of the last to reopen its schools due to the fact that the square footage is going to be dramatically reduced via a $110 million construction project that moves children into cramped trailers with minimal windows and doors from 2020 through 2023: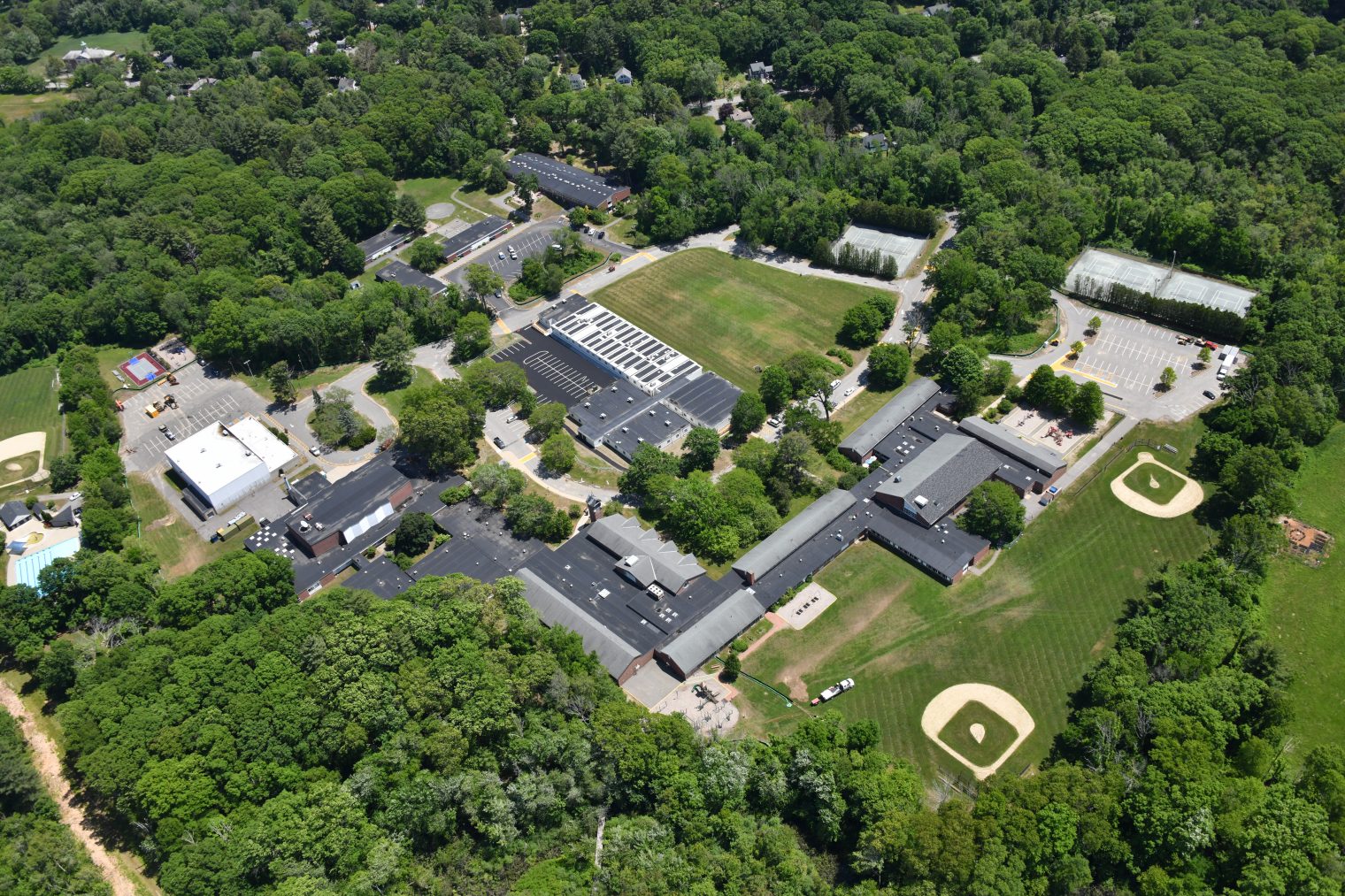 They couldn't find a place to build a new building on the 70-acre campus (above) while continuing to use the old building.]
Related: