https://www.reddit.com/r/GenderCritical :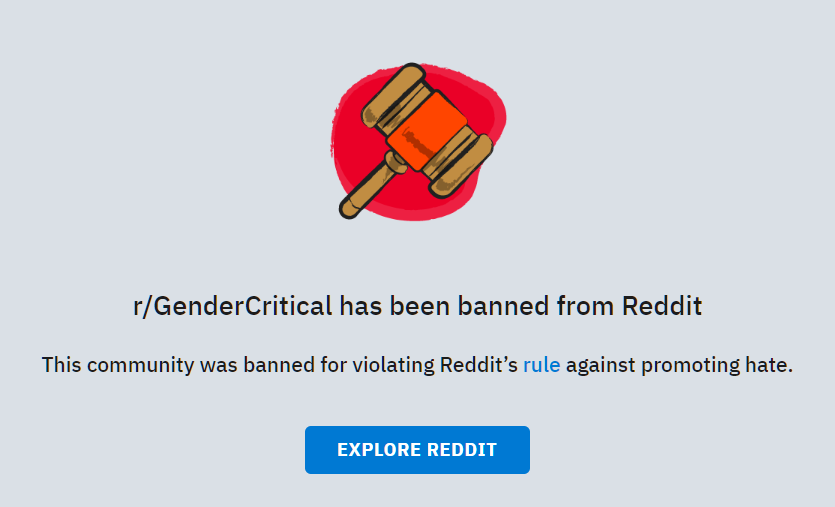 archive.org shows that, as June 26, the discussion group had 64,400 members: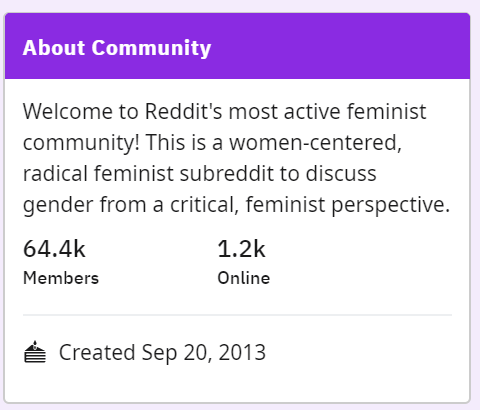 As advertised, they are hostile to an Ask Me About My Pronouns T-Shirt.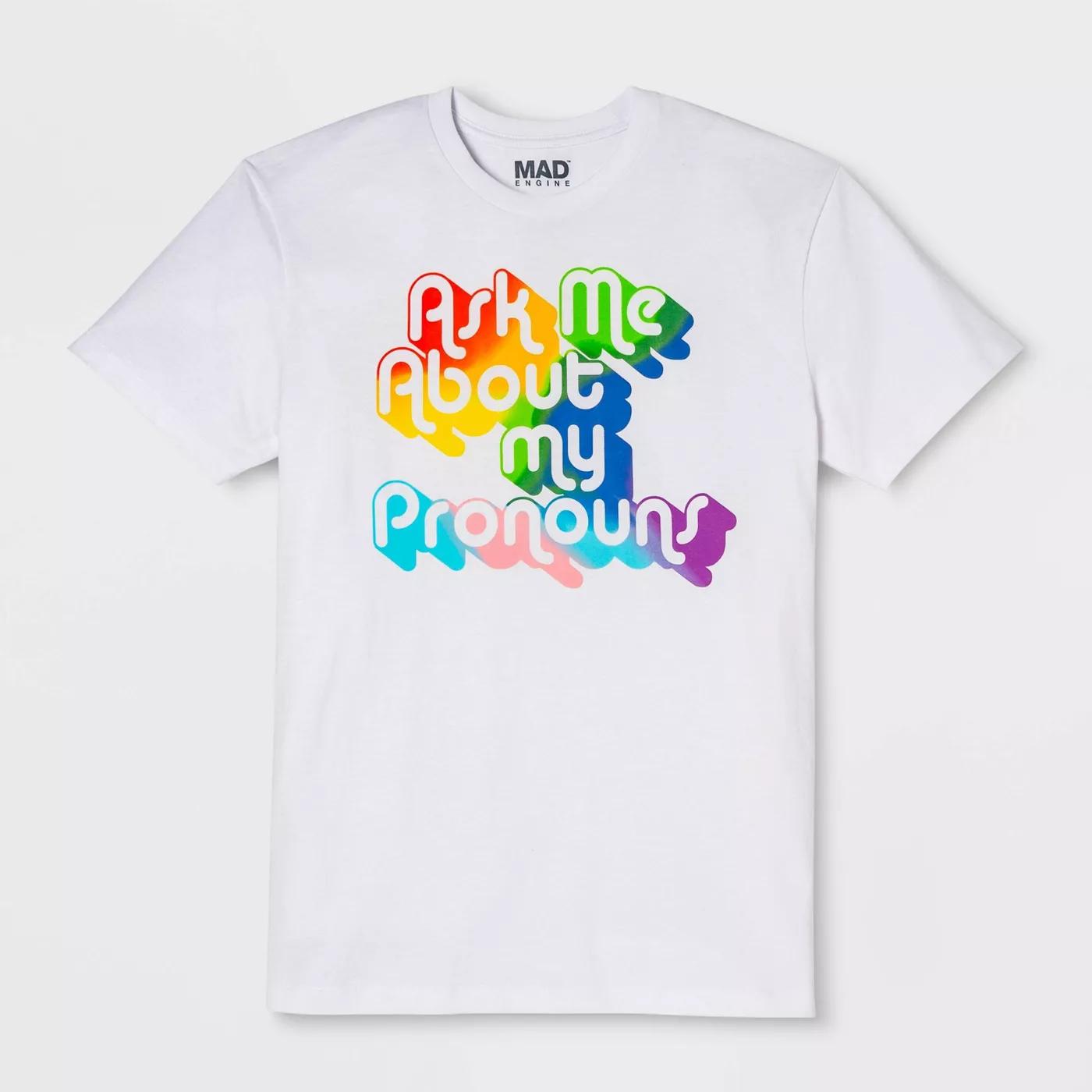 Feminism is the movement to liberate women from patriarchy. We stand up for the rights of women to control our own bodies as individuals and to control women-only spaces as a class.

Women are adult human females. We do not believe that men can become women by 'feeling' like women. We do not condone the erasure of females and female-only spaces, the silencing of critical thinking, the denial of biological reality and of sex-based oppression. We oppose the 'cotton ceiling' and the pressure on lesbians to have sex with men. We resist efforts to limit women's reproductive autonomy. We condemn the men who exploit and abuse women in prostitution and pornography.

"Women do not decide at some point in adulthood that they would like other people to understand them to be women, because being a woman is not an 'identity.' Women's experience does not resemble that of men who adopt the 'gender identity' of being female or being women in any respect. The idea of 'gender identity' disappears biology and all the experiences that those with female biology have of being reared in a caste system based on sex." – Sheila Jeffreys, Gender Hurts
Reddit has deleted nearly seven years of content by this community. I asked a friend who considers herself a TERF whether this forum was, in fact, hate-filled. Her answer:
No, the mods were exacting about following the rules. Couldn't call people trannies, etc. Purely political decision. They still left all the porn subreddits up so it clearly wasn't about anything other than clamping down on terfs.
The archive.org server grabbed the front page of the forum, but not the actual content. So those of us who were not participants in the community can never know whether they were haters or not. Some of the older threads do seem to be available. Samples:
"gilded" (posts that others liked a lot?), which contains "Transgenderism seems completely innocuous on first glance, but if you look closer at it has many, many grievous harms. Harms that are so large, they are almost difficult to wrap one's mind around. It basically spells the end of women being able to name and organize around our oppression, which almost certainly spells the end of our having even nominal rights. We will be pushed out of public life and back into the home in many ways."
Transgenderism does seem to be winning the war, if indeed there was anyone other than a few terfs to fight against. Walking into a Target recently, for example, the very first display for all shoppers is of LGBTQIA+-themed products:
(the gender critical feminists might not be pleased to learn that a trans woman is more "authentic" than a cisgender woman!)
Near the pharmacy, Johnson & Johnson talks about its "championing" of all matters LGBTQIA (but not "plus"!) and offers rainbow-wrapped Listerine, sunscreen, etc.:
Companies usually like to avoid actual political controversy. Why lose nearly half your customers by saying "We at GreedCo prefer Candidate X"? There are some dramatic differences between Joe Biden and Donald Trump, for example, but how many Fortune 500 companies have endorsed either one? The only time that a company would be willing to alienate customers is on an issue where there are hardly any people who strongly oppose the position being taken. From this, therefore, it seems reasonable to infer that, at least since 2011 when Johnson & Johnson decided it was safe to come out of the closet, there is no significant opposition to LGBTQIA advocacy.
I wonder if this sanitizing of the Internet by Reddit, Facebook, Twitter, et al. will actually work against those who advocate for the causes that are now held sacred and to which no opposition can be voiced. Once all of the terfs are silenced, for example, and there is no record that they ever existed because old content is in a memory hole, wouldn't that cause people to ask an advocate for transgenderism "Who exactly are you fighting against?"
Related: