I spent some time recently with two Harvard undergraduates who are camped out in a Cambridge apartment. I'm the oldest person that they'll have any contact with for the foreseeable future, yet these 20-year-olds behave as though they either worked or lived in a nursing home for 90-year-olds. Asked why they put so much effort into mask-wearing and deny themselves so many social opportunities that they would previous have jumped at, they say that they are personally afraid of getting coronavirus. They're not obese or chronically ill, so their statistical risk of being felled by Covid-19 is low (see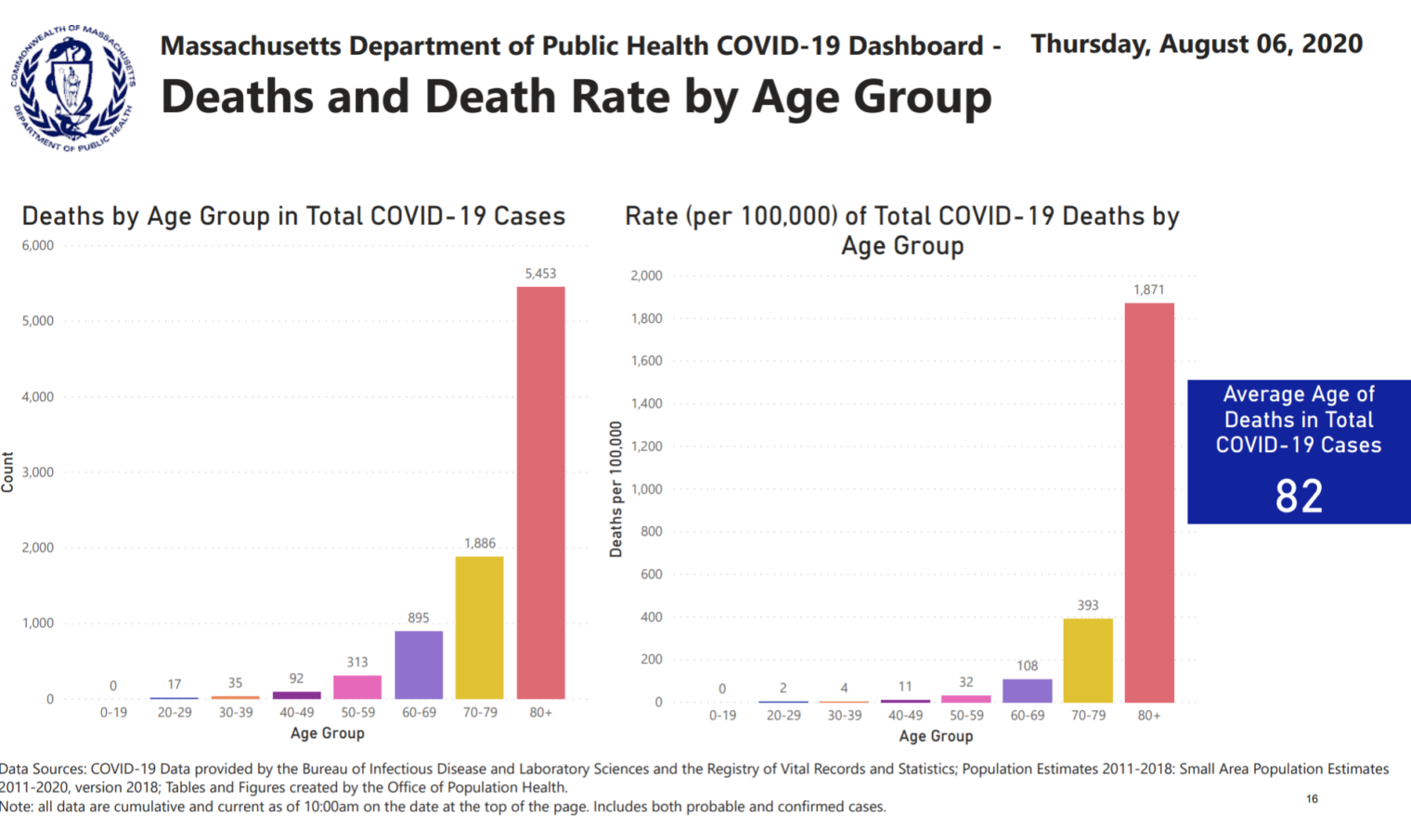 from mass.gov, statistics that have now been removed), but they seem to perceive Covid-19 as the main risk to their lives and health. They won't take off their masks, for example, even when outside in mostly-deserted Cambridge. After talking to and observing them, I concluded that, at least for young Americans, Covid-19 is now primarily a disease of the mind. Support for my theory: "We've Hit a Pandemic Wall" (NYT, August 5)?
New data show that Americans are suffering from record levels of mental distress.

Let's start with the numbers. According to the National Center for Health Statistics, roughly one in 12 American adults reported symptoms of an anxiety disorder at this time last year; now it's more than one in three. Last week, the Kaiser Family Foundation released a tracking poll showing that for the first time, a majority of American adults — 53 percent — believes that the pandemic is taking a toll on their mental health.

This number climbs to 68 percent if you look solely at African-Americans. The disproportionate toll the pandemic has taken on Black lives and livelihoods — made possible by centuries of structural disparities, compounded by the corrosive psychological effect of everyday racism — is appearing, starkly, in our mental health data.

Turns out the extra ten extra pounds around my middle have moved in and unpacked, though I'd initially hoped they were on a month-to-month lease.
The newspaper that has been cheerleading for Shutdown now is surprised that there are some negative consequences? How did the coastal elites not figure out that not everyone's shutdown experience would be positive? A friend in the Boston suburbs, who was a work-from-home consultant long before the Age of Shutdown, was telling me that his 8th grader hadn't minded being at home for three months with minimal instruction being provided by the lavishly funded public school. Therefore, he concluded, shutdown was not a big deal, and if the school shutdown lasted another year that was okay too. His son would do fine practicing on the grand piano, learning from Ph.D. Dad and super smart stay-at-home Mom, etc.
I pointed out that not every American child lived in a 6,000 square foot $2 million house with two biological parents who get along at least reasonably well. Would he acknowledge that an inner-city child crammed into a two-bedroom public housing unit with mom, a step-sibling, and mom's latest boyfriend might have a less favorable view of school shutdown? (he did!)
(see also "Coronavirus impact: Chasm grows between whites, people of color, California poll finds; Spanish-speaking Latinx voters say COVID-19 has seriously hurt their ability to pay for food and rent" (Mercury News, August 6))
Some top-voted NYT reader comments:
This is like the Twin Towers imploding all over again – except this time, one story collapses each day, and there is no ground floor.

The pandemic in and of itself is stressful but then add the stress of Trump's daily tweets. The thought that he might get re-elected makes the stress almost unbearable.

What I think has caused the national stress-out, Ms. Senior, is that America now knows that it's on its own. We don't have a president who actually understands and cares about us.

I stress over the corrupt Republican leadership, so unconcerned for 99.9% of Americans that they let a a spoiled child throw our health, education, and welfare out the window, …

A coworker yesterday confided that about 15 of her relatives are COVID positive after a big family graduation party 10 days ago. I couldn't hide my disgust. She is a very highly paid executive. We work for a research university health system!!! My neighbors just had a 40-person party for their 9-year-old. And seemed miffed and befuddled that many of us on the block declined to attend. They were all crammed under a tent shoulder to shoulder. Nary a mask in sight.

Maria from Maryland: The thing is, a lot of us are coming to the conclusion that all our problems are the same problem. Botched coronavirus response? Republicans. Insisting on doing things that spread the disease? Same. Economic deprivation? Republicans again. Two generations of failing to address racial issues? Again. Two generations of banging our heads against the same gender barriers? You guessed it. Failure to deal with climate change? Do you need to ask? Guns? Infrastructure? Science? Arts? They've been at it my whole adults life, ruining everything. And at their apex, they produced the very worst man in the world. There will be a vaccine for the virus, but what about the humans who are ruining our lives?
Coronaplague wouldn't bother them at all, apparently, if Joe Biden were the Great Father in Washington right now!
Coronaplague obviously is a real problem for the elderly/vulnerable. And in societies where it is allowed to run wild, e.g., Sweden, it will kill approximately 0.05 percent of the population within a few painful months. But will readers agree with me that if young people are afraid of getting the disease personally, despite having no actual or planned contact with the old/vulnerable, then coronavirus has mutated into something whose main effect is mental illness?
Related: