My Facebook feed has been alive for weeks with Californians complaining that the Great Father in Washington does not love them and therefore is not showering them with federal disaster relief cash despite their worse-than-usual fire season.
(As with many complaints about Trump, emotions may be more important than facts. The Great Father actually declared a disaster in California and approved federal aid last month: "California Wildfires Burn Million Acres; Trump OKs Disaster Aid" (VOA, August 22))
Suppose that Trump had not approved federal aid for the richer-than-average state. The fire are upsetting, yes, and sometimes tragic. And of course we can all sympathize with anyone who has lost a loved one or a home. However, in light of their own cherished values, third and thirdmost of which is fighting inequality (avoiding COVID-19 and BLM being #1 and #2, of course), should Californians even ask for aid? California is a rich state with 40 million people. Why does it need to be bailed out by lower-middle-class taxpayers in Arkansas, Indiana, Maine, and Kentucky? Why not use state funds to assist those who have been affected by the fires?
The standard Righteous Californian response to this on Facebook is that he/she/ze/they believes that there is already at least some wealth redistribution from California to lower-income states. Perhaps there is, but California remains much richer than average. So if we hate inequality (and of course I hope that everyone does), this redistribution should be intensified, not reversed via emergency relief funds. Californians should be able to tax themselves, e.g., with an income surtax, a car registration tax, a higher gasoline tax, or a statewide property tax, to buy whatever they want, including disaster relief for those who have us suffered this fire season.
Another issue with taxing low-income folks in the Midwest to buy things for rich people in California is that Californians seem to change their minds regarding infrastructure. Federal taxpayers paid for a jet-capable airport in Santa Monica, for example, and Californians then decided to destroy it. Why should a worker in Iowa pay to protect some rich Californians' infrastructure if the rich Californians may later decide that they didn't even want that infrastructure?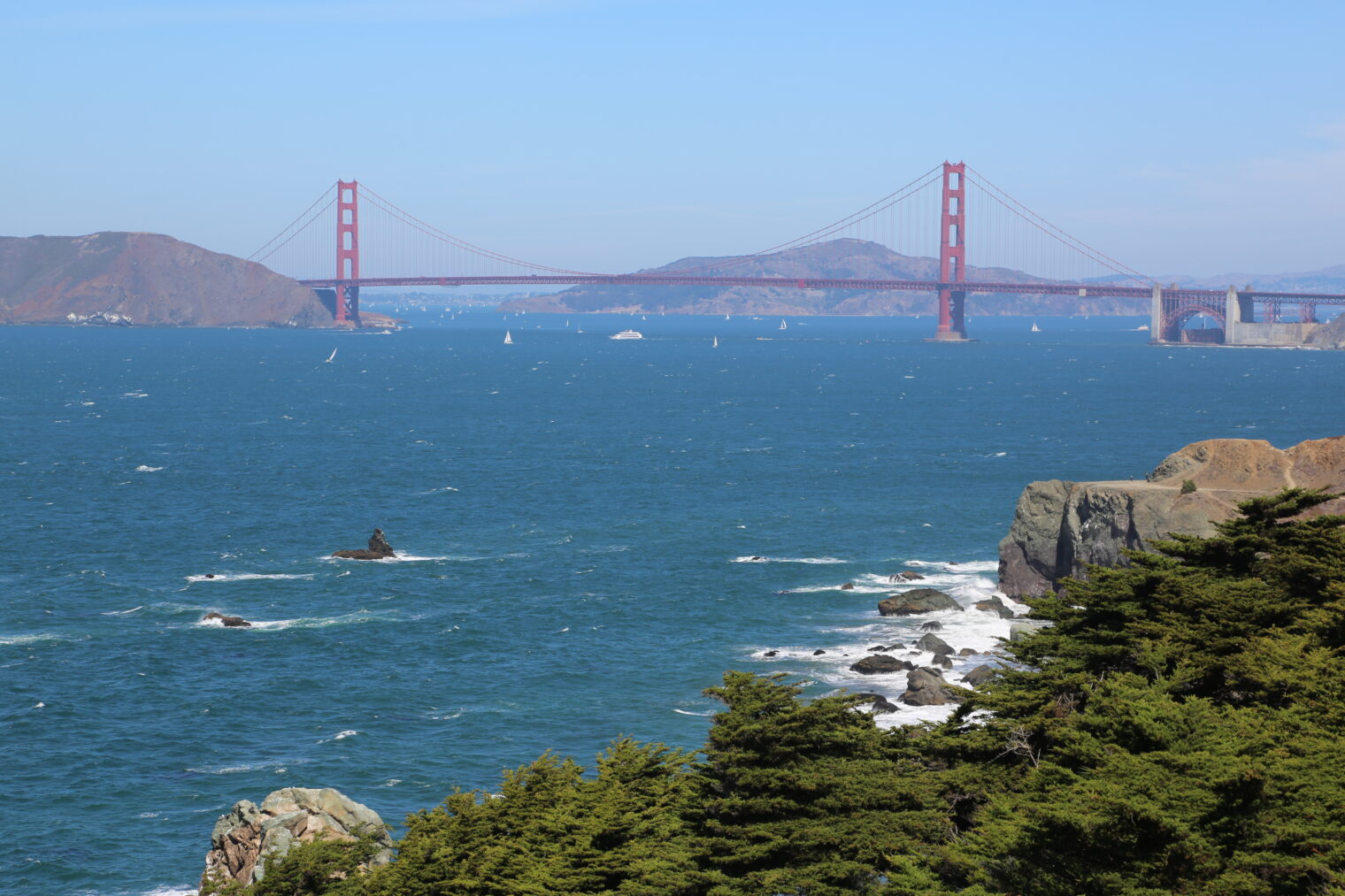 Readers: How can it make sense for those who decry inequality to demand federal funds for a state that is much richer than average? (Above, the Golden Gate Bridge, whose most recent federal bailout was $30.2 million in May. Thus, low-income taxpayers in New Mexico and West Virginia get to subsidize the owners of brand-new Teslas and Mercedes SUVs as they glide across to their Marin estates.)
Related: