The City of Cambridge recently emailed to say "Governor Baker's COVID-19 Order #50 made certain Phase III adjustments, including extension of outdoor dining provisions and opening of indoor and outdoor gaming arcades". This reminded me that we've now had 50 governor's orders related to this virus.
What's in the latest one? First, a reminder of how awesome it is to have the power of being a state governor:

(sorry for the images, but the governor distributes these as scanned PDFs without OCR). Then, just as the City of Cambridge says, two pages regarding under what circumstances the state and local License Rajs might allow restaurants to serve alcohol outdoors and might allow arcades to reopen.
What about a never-shut never-masked country with less than half the COVID-19 death rate compared to Massachusetts? Sweden seems to have had about 10 new regulations in the past 6 months and they've either been laws passed by the legislature or regulations issued by bureaucracies, not orders coming down from a muscular executive such as the Prime Minister. Sweden is being governed, even in what Americans have characterized as "an emergency", by consensus rather than via dictates from individuals.
(How is Sweden doing with plague right now? The WHO dashboard shows them at 578 deaths per 1 million residents (i.e., only 99.94 percent of Swedes remain alive). The U.S. is at 584. So, despite our shutdown, the U.S. caught up to Sweden just as the former chief scientist of the European CDC said (in April) that we would.
What if we compare to the state where I live? Maskachusetts is at 1,134 deaths per million (Statistica). The latest dashboard: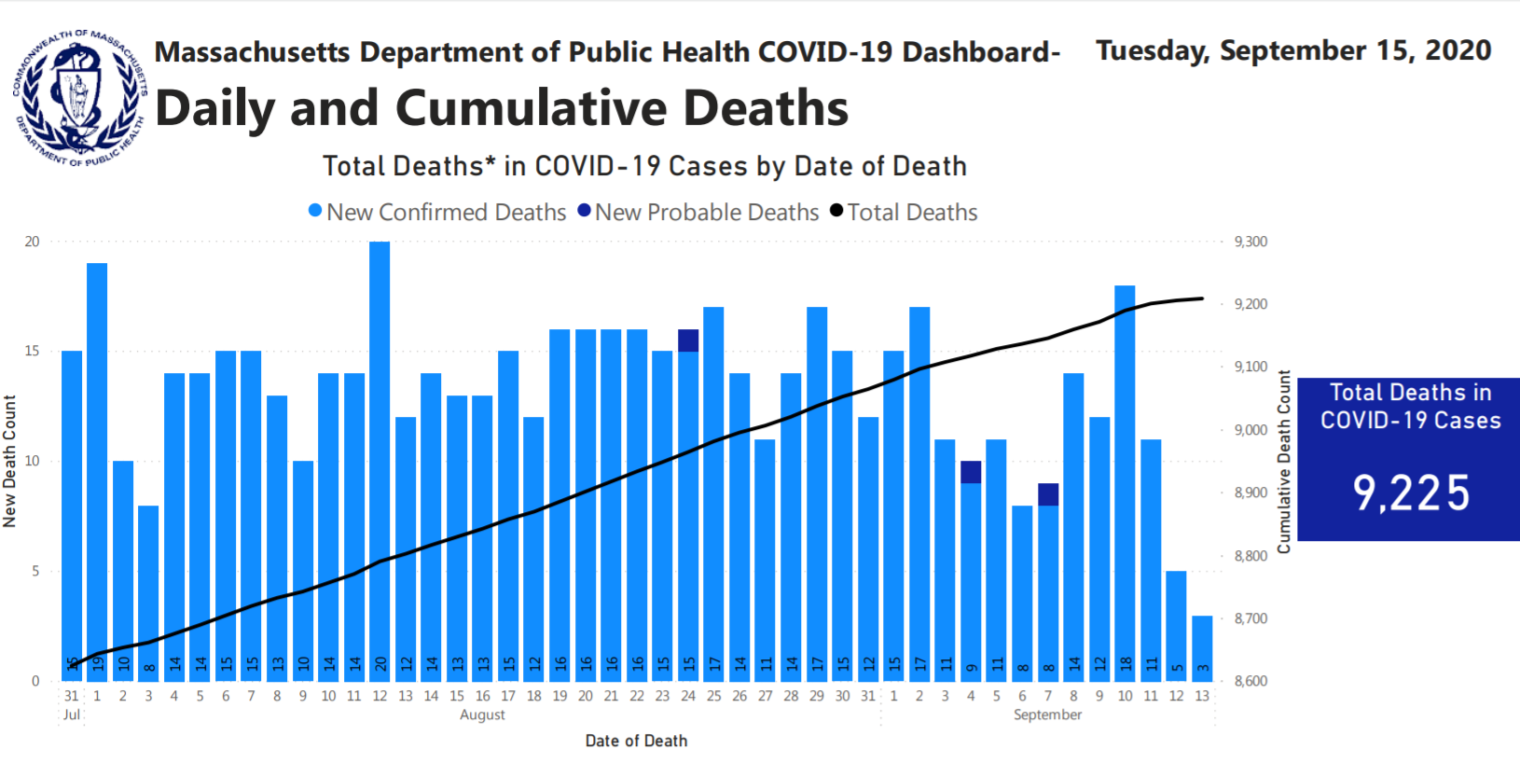 Whatever we have done with shutdowns and/or masks seems to have ensured that we will have a "long tail" of infections/deaths rather than the exponential decline to near-zero that Sweden has had.
Note that this is the dashboard from which deaths-by-age statistics were removed last month just as officials were deciding whether to reopen schools: Maskachusetts: When people aren't scared enough, change the Covid-19 dashboard )