Back in 2019 I wondered Why aren't AWD cars half electric?
The latest 2021 Toyota Sienna, redesigned with a grille large enough for a 400 HP diesel Freightliner truck, works this way (as does the Toyota RAV4, as a reader comment pointed out on that 2019 posting). From the press release:
Sienna uses a new kind of AWD called Electronic on-demand AWD. Instead of a heavy AWD transfer case and space-robbing driveshaft to the rear wheels, this AWD system uses a separate independent electric motor to power the rear wheels the instant additional traction is needed and at all vehicle speeds.
One bizarre feature of this brand-new-for-2021 minivan is that it has a older generation of the driver assistance technology: Toyota Safety Sense 2.0. The 2021 Toyota Camry, for example, offers "Safety Sense 2.5+" (why not just "2.5"? Is this like "LGBTQIA" where it isn't complete without the plus sign?) and can perhaps drive itself in a stop-and-go highway situation.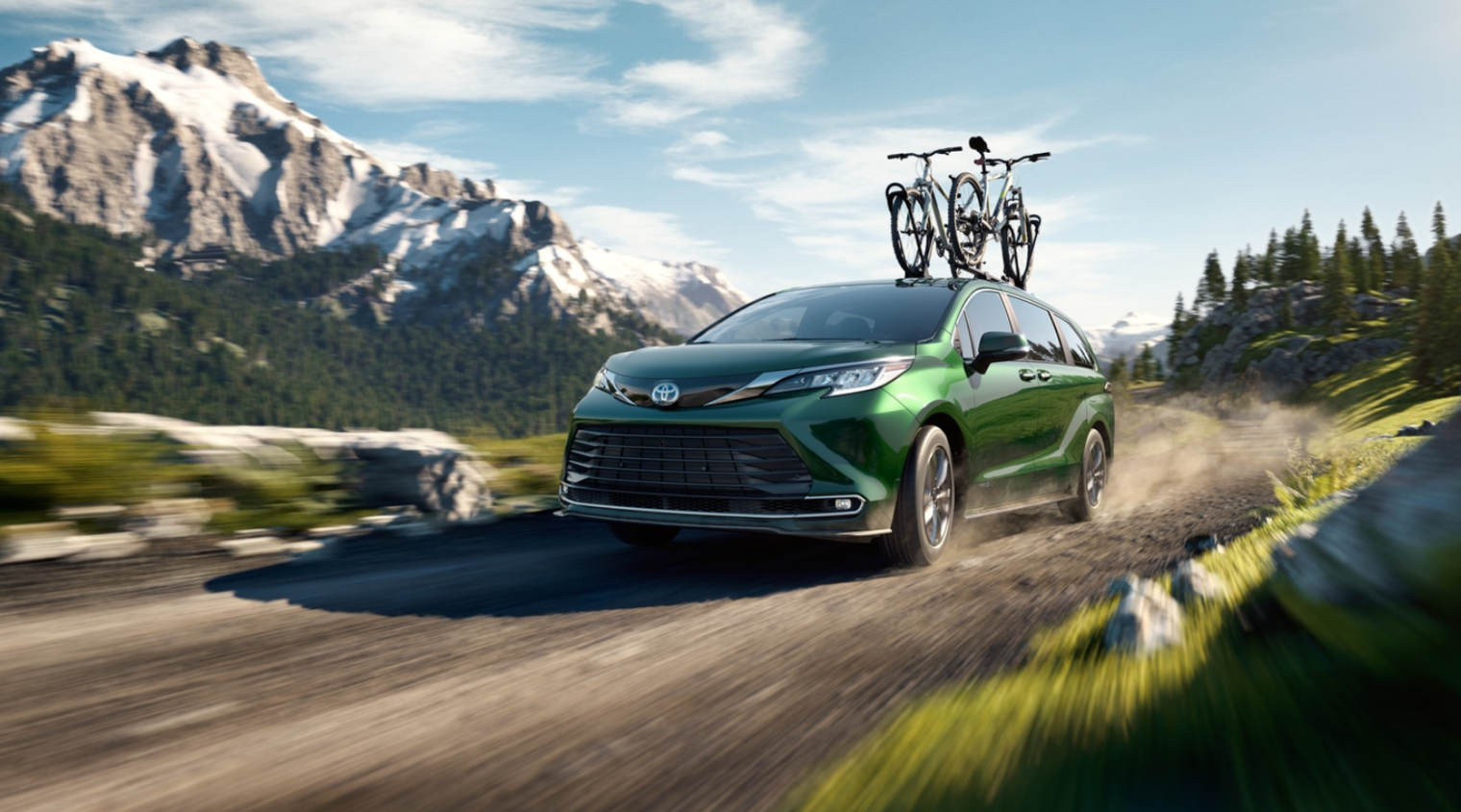 Some excerpts from Consumer Reports:
From our brief time with this preproduction Sienna, it feels as if the van is no longer playing second fiddle to the polished Honda Odyssey. The van is responsive to steering inputs and happy to hustle along winding roads.

Yes, the Sienna is quiet and composed at low speeds when running on electric-only power. But when the Sienna transitions from electric power to the gas engine as a result of added throttle inputs, the engine comes on with a roar. The four-cylinder engine is loud when the driver tries to hurry the Sienna along, particularly on the highway. Sienna owners who are used to the V6 engine's refinement may find this experience a bit of a letdown.
From Car and Driver:
The all-new Sienna is much improved and heavily refined over the old model, but stops short of leading the minivan class.
From CNET:
One of the best arguments in favor of this Toyota is fuel economy. After a good ol' thrashing on a wide variety of roads, I averaged just shy of 35 miles per gallon in my Platinum-trim, all-wheel-drive tester. That's practically economy-car efficiency, plus it's right in line with this Toyota's window sticker. According to the EPA, it should return 35 mpg city, 36 mpg highway and 35 mpg combined. Front-drive models are rated at 36 mpg across the board, and all-wheel drive is available across the lineup.
Related: