We have been barraged by emails from our kids' schools during the Christmas vacation week. If we traveled, the public school administrators want to know where and when and they want to see medical records of a PCR test (required under the governors' travel orders, though at this point most other U.S. states have a lower rate of COVID-19 cases within 7 days compared to MA). Example:
We will be strictly enforcing the Governor's Travel Orders and sending students home when we learn about travel and have not received notification and verification of required test results.
The school actually requires additional testing and quarantine days (14) beyond the referenced travel order, which requires 10-day quarantines and testing for those 10 and older:
Children who are 10 years or younger are not required to have a test. However, without a test, they must quarantine before returning to school. So, families will need to choose to either have their children tested and provide the result of the test to the school nurse so that they can return to school immediately if the results are negative or they will need to keep their child home in quarantine for 14 days if a negative test is not provided.
(i.e., if children can keep quiet about that trip to Disney World, they can continue to receive an education!)
The kicker to all of this is that COVID-19 tests aren't available, except to the mostly-imprisoned college students who don't need them (they get tested twice/week). Here's one self-pay $80/test service (recommended by a private school administrator) that you might think would have slots because they don't take insurance and don't provide the taxpayer-funded testing that was supposed to be Americans' right: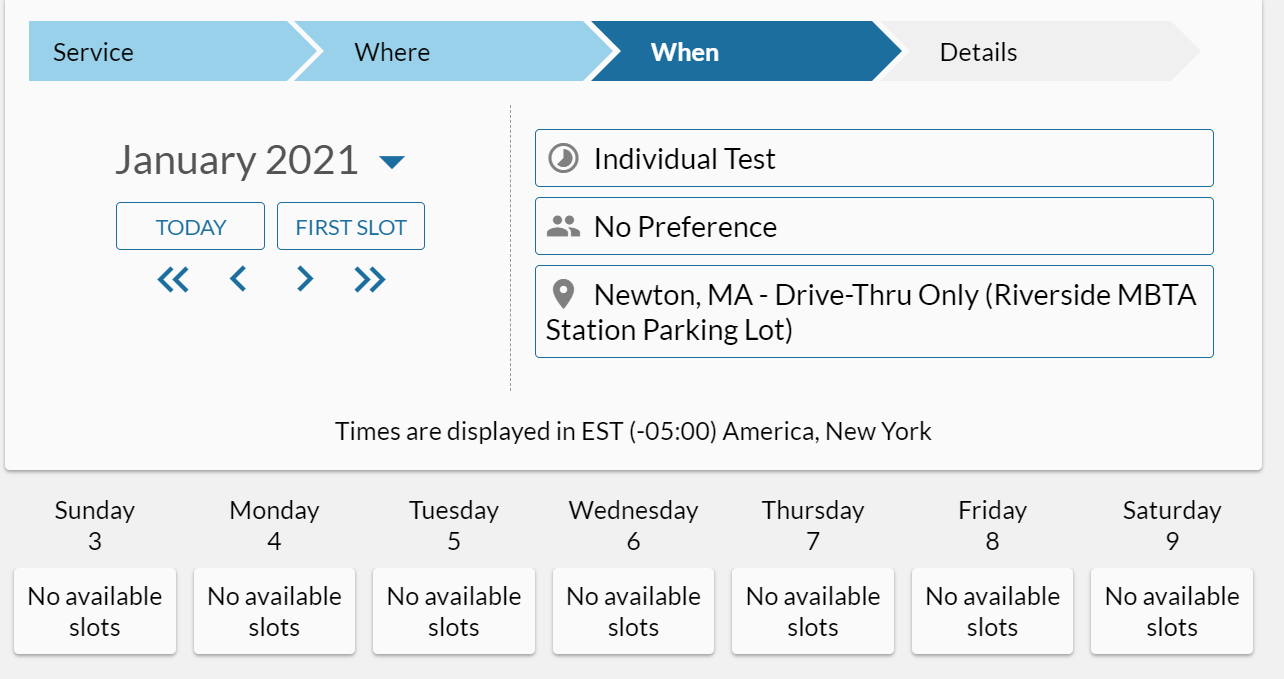 As of Sunday morning, it would be possible to get a test on Friday evening in the Cambridge location: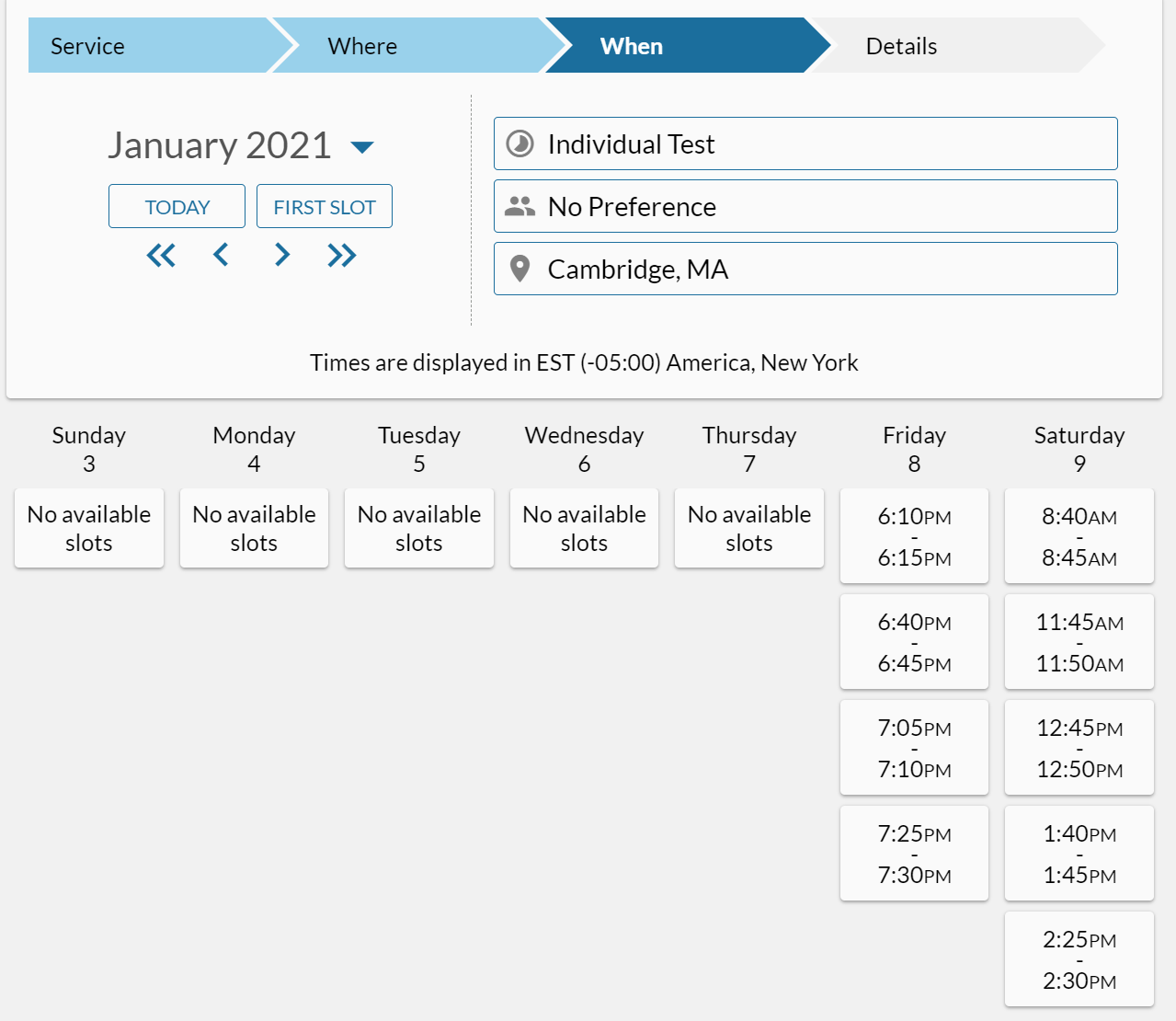 So the result would come back on Monday? That's 8 days later and the governor's travel order requires a 10-day quarantine. So the effort and $$ for the test shortens the quarantine period by only 1-2 days.
Separately, one thing that is great about Americans is that we won't give up our passion for bureaucracy and paperwork even after we declare an "emergency". For example, although a non-physician (the governor) orders subjects to get tested after travel, a subject can't actually be tested without paying a physician in addition to paying the lab. From the CIC Health site, regarding pricing for organizations:
To cover the physician who provides the legally-required referral, the clinician to oversee the test, the software for ordering and reviewing results, and logistics support. This fee ranges considerably based on the components required, and range from $5-$35.
As there is no medical treatment for COVID-19 (remdesivir is approved by the FDA, but considered useless by the WHO) and the vast majority of folks who test positive for COVID-19 have no symptoms and the person getting the test probably isn't sick to begin with, what is the point of paying a physician?
Finally, let me note that rich white people seem to be ignoring the travel order. Friends with vacation houses in other states go to and from freely. A friend recently met up with us for a dog walk in the woods. He talked about having just returned from a ski trip to another state. I asked "Unless you were skiing in Hawaii, didn't you have to get a Covid test to comply with the governor's travel orders?" He responded that he hadn't bothered and wasn't going to bother. What's his day job? Physician.
Related:
Turboprop coast to coast to coast with youngsters (we managed to get a test, but in Kentucky where they're apparently better organized)
beacontesting.com, a massive project; on January 3, the site showed "no upcoming times are currently available" at any of the Boston-area locations, but a 2.5-hour round-trip drive to New Bedford, MA would have enabled a test on January 4
Update: Patrick, below, asked whether the situation was better in Western, Maskachusetts, e.g., Pittsfield. The answer seems to be "no". As of January 3 at 2 pm: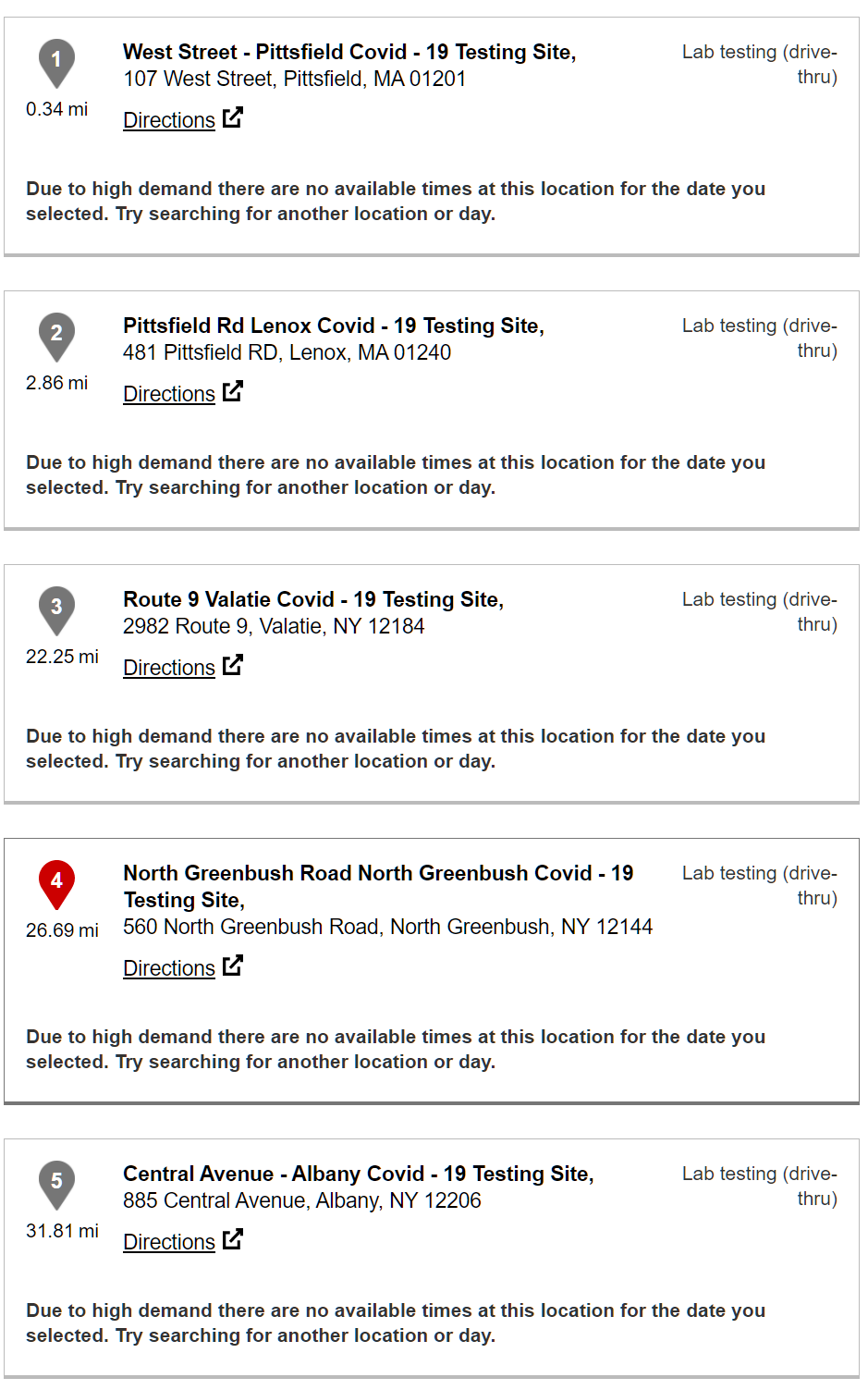 Update from a friend who is considering a brief trip from his all-white COVID-free exurb of COVID-plagued Boston (he's locked down in a 12,000 square foot house on 10 acres) to rural Maine:
I see. So if I leave MA, go to Maine, and come back – I must quarantine for 10 days. But if I go to Boston and back, I don't need to. Got it.