Wikipedia on Mahaprasthanika Parva, a book within the Mahabharata:
Indra appears in his chariot with a loud sound, suggesting he doesn't need to walk all the way, he can jump in and together they can go to heaven. Yudhishthira refuses, says he could not go to heaven with Indra without his brothers and Draupadi. Indra tells Yudhishthira, all of them after their death, entered heaven. Yudhishthira asks if his friend, the dog, can jump into the car first. Indra replies that the dog cannot enter his chariot, only Yudhishthira can. Yudhishthira refuses to leave the dog. He claims the dog is his friend, and for him to betray his friend during his life's journey would be a great sin. Indra says that after abandoning his brothers and wife, he had acquired great merit, then why be stupefied by a dog, he is renouncing everything. Yudhishthira said that there is neither friendship nor enemity with those that are dead. When his brothers and Draupadi died, he was unable to revive them, hence he abandoned them. However, he cannot abandon the one who is alive beside him. Indra urges him to consider his own happiness, abandon the dog and hop into his chariot. Yudhishthira refuses to go into the chariot, explaining he cannot abandon the dog who is his companion, for his own happiness, while he is alive.
Today, from CNN:
The two German Shepherds belonging to President Joe Biden and first lady Jill Biden were returned to the Biden family home in Delaware ..,. Major, who is 3 years old, is the younger of the two Biden dogs, and has been known to display agitated behavior on multiple occasions, including jumping, barking, and "charging" at staff and security, according to the people CNN spoke with about the dog's demeanor at the White House. The older of Biden's German Shepherds, Champ, is approximately 13 and has slowed down physically due to his advanced age.
So the 13-year-old dog will die without the human companions on whom he has depended for 13 years.
Background enthusiasm from November and contrast to the hated dictator… "Biden to Restore a White House Tradition of Presidential Pets" (NYT):
President-elect Joseph R. Biden Jr. is expected to restore a time-honored tradition of having a presidential pet at the White House.

At a February 2019 rally in El Paso, Mr. Trump said that he didn't have a dog because he didn't have time, and felt it would be "phony" for him to get one for political reasons. "You do love your dogs, don't you?" Mr. Trump said. "I wouldn't mind having one, honestly, but I don't have any time. How would I look walking a dog on the White House lawn?"
"Biden tells NASA engineer Indian Americans are 'taking over the country'" (New York Post):
"It's amazing. Indian-descent Americans are taking over the country — you, my vice president, my speechwriter," Biden told Swati Mohan, NASA's guidance and controls operations lead for the Mars Perseverance rover landing.

In May, Biden walked back comments telling voters they "ain't black" if they supported a candidate other than him.

He said in August that blacks are less diverse thinkers than Hispanics.
Fair to say that, despite the above sentiments about the impending take-over, President Biden and Dr. Jill Biden, M.D. will not advocate for the Mahabharata to be taught in our schools (should they ever reopen)?
A photo from the reverse journey, starting with a small-scale breeder saying goodbye to an 8-week-old Samoyed: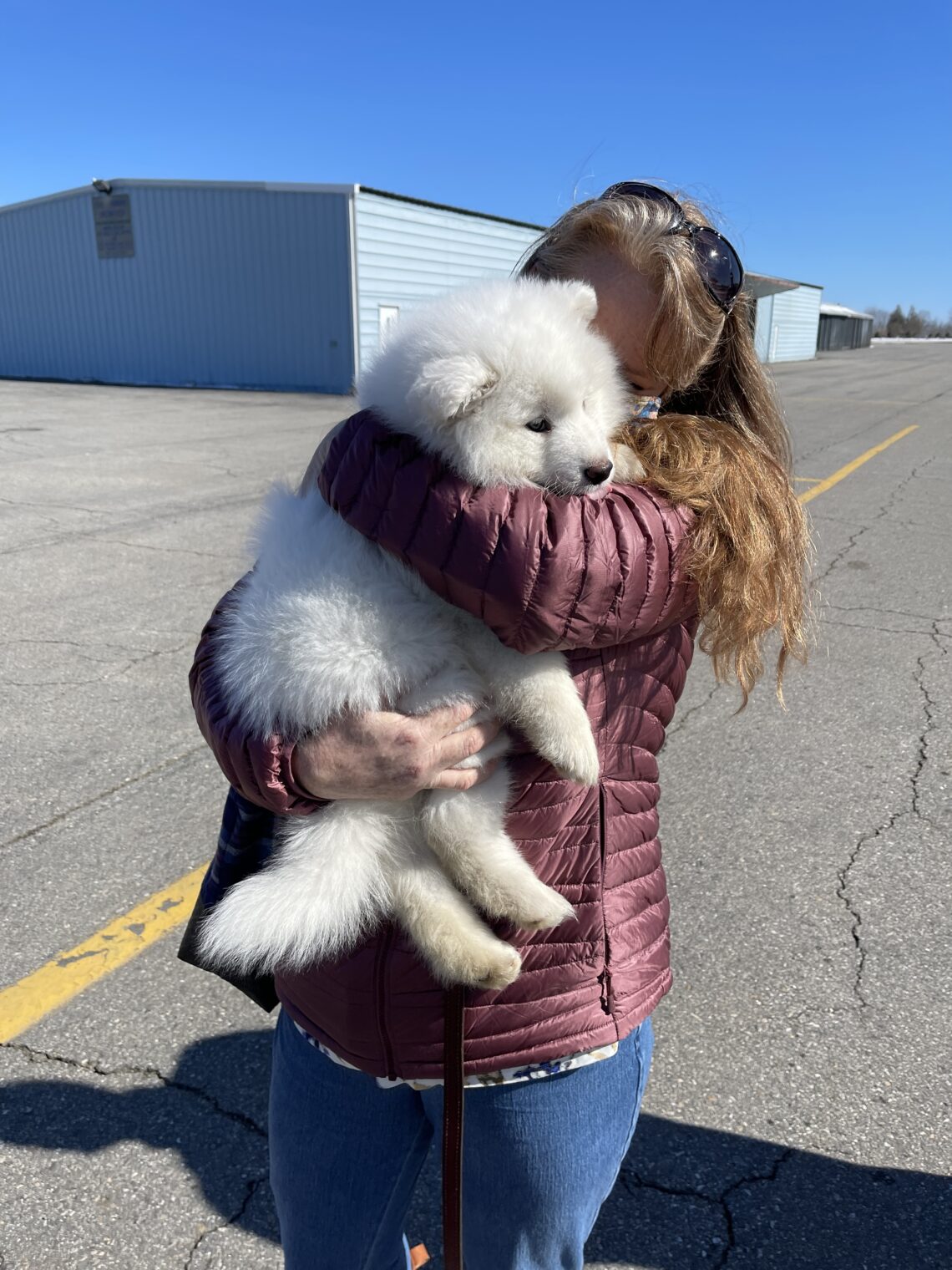 Leo, now 10 weeks old, has been #MarkedSafe from the Bidens and is receiving all of the love to which white privilege entitles him at a friend's secure compound.
Related:
"In Delaware, the largest growth of population is Indian Americans, moving from India. You cannot go to a 7-11 or a Dunkin' Donuts unless you have a slight Indian accent. I'm not joking." (TIME)
"I want a world where Frank junior and all the Frank juniors can sit under a shady tree, breathe the air, swim in the ocean, and go into a 7-11 without an interpreter." — Lieutenant Frank Drebin, 1991 (video)
"Which dog breeds will homeowners insurance not cover?": The most commonly excluded dog breeds are rottweilers, pit bulls, German shepherds, chow chows, and many wolf breeds.