According to Wikipedia, Ahmad Al Aliwi Al-Issa immigrated to the U.S. in 2002, complained that non-Muslims were unreasonably subject to "Islamophobia", and killed 10 of his fellow Americans in a Boulder, Colorado supermarket in 2021.
Why did it make sense to admit Mr. Al-Issa as an immigrant in 2002? Housing in Colorado already cost more than Coloradans could afford: "Denver originally adopted an Inclusionary Housing Ordinance (IHO) in 2002, requiring for-sale developers building more than 30 units to set aside 10% as affordable to moderate-income households" (denvergov.org). Mr. Al-Issa would require 13 years of K-12 school, nominally costing taxpayers roughly $130,000, but the headline "per-pupil spending" numbers don't include capital costs, e.g., for school construction. Arvada, Colorado, where Mr. Al-Issa lived, was considered to have "overcrowded" schools and therefore taxpayers also had to work extra hours to pay for new school buildings. Taxpayers without children would have had to pay for various tax credits and other government subsidies that are provided to non-welfare parents in the U.S. So let's say that the expected cost would have been at least $250,000 by the time Mr. Al-Issa reached age 18.
At this point, would we have expected Mr. Al-Issa to earn more than a median income? Presumably that is the best assumption about someone for whom minimal information is available. We can expect the average person to be average. But already in 2002 the average (median earner) person in Colorado couldn't afford the basics of life (housing, health insurance, etc.) without a government-run program of assistance, such as the above-mentioned affordable housing scheme.
For a working class taxpayer, wouldn't Mr. Al-Issa's presence in the U.S. have led to higher rents (more competition for scarce housing), worse traffic (if Mr. Al-Issa had gotten a job and commuted to work), and higher taxes (to pay for the subsidies that a median earner would require).
Maybe Mr. Al-Issa's immigration could benefit the Colorado elites, as pointed out by Harvard professor George Borjas. A Colorado owner of apartment buildings or real estate could benefit from a larger population generating demand for housing. An upper-income Coloradan could benefit from the availability of labor at lower prices due to Mr. Al-Issa offering his services, e.g., as an Uber driver. A Colorado government worker, e.g., teacher, police officer, prison official, firefighter, or bureaucrat, could benefit from a larger population and resulting increased hiring by the government, thus generating opportunities for promotion.
But how did the elites sell so many non-elites on this kind of immigration? (55 percent of Coloradans voted for Joe Biden and therefore additional low-skill immigration)
(Separately, what will taxpayers spend to prosecute and imprison Mr. Al-Issa? Colorado has no death penalty. Mr. Al-Issa could easily live to 100, so that's 79 years of incarceration, state-funded prison health care, etc.)
Readers: If Mr. Al-Issa hadn't committed 10 murders, but instead had turned out to be a median wage earner, how would that have made the other median wage earners in Colorado better off?
(At first glance the above seems like a stupid question. The best expectation for a native-born baby is that he/she/ze/they will become a median earner. We don't say that we're worse off when a baby is born within our own family, right? The difference is that parents experience a lot of joy from having their own children in the house (except for, at worst, 95 percent of the time!). We value our children even if they never earn a dime, which would offset to some extent the loss to other taxpayers from having to support our children in means-tested housing, on means-tested health insurance, and shopping for food via EBT/SNAP.)
From a 2018 trip to Colorado, where stores began selling marijuana in 2014…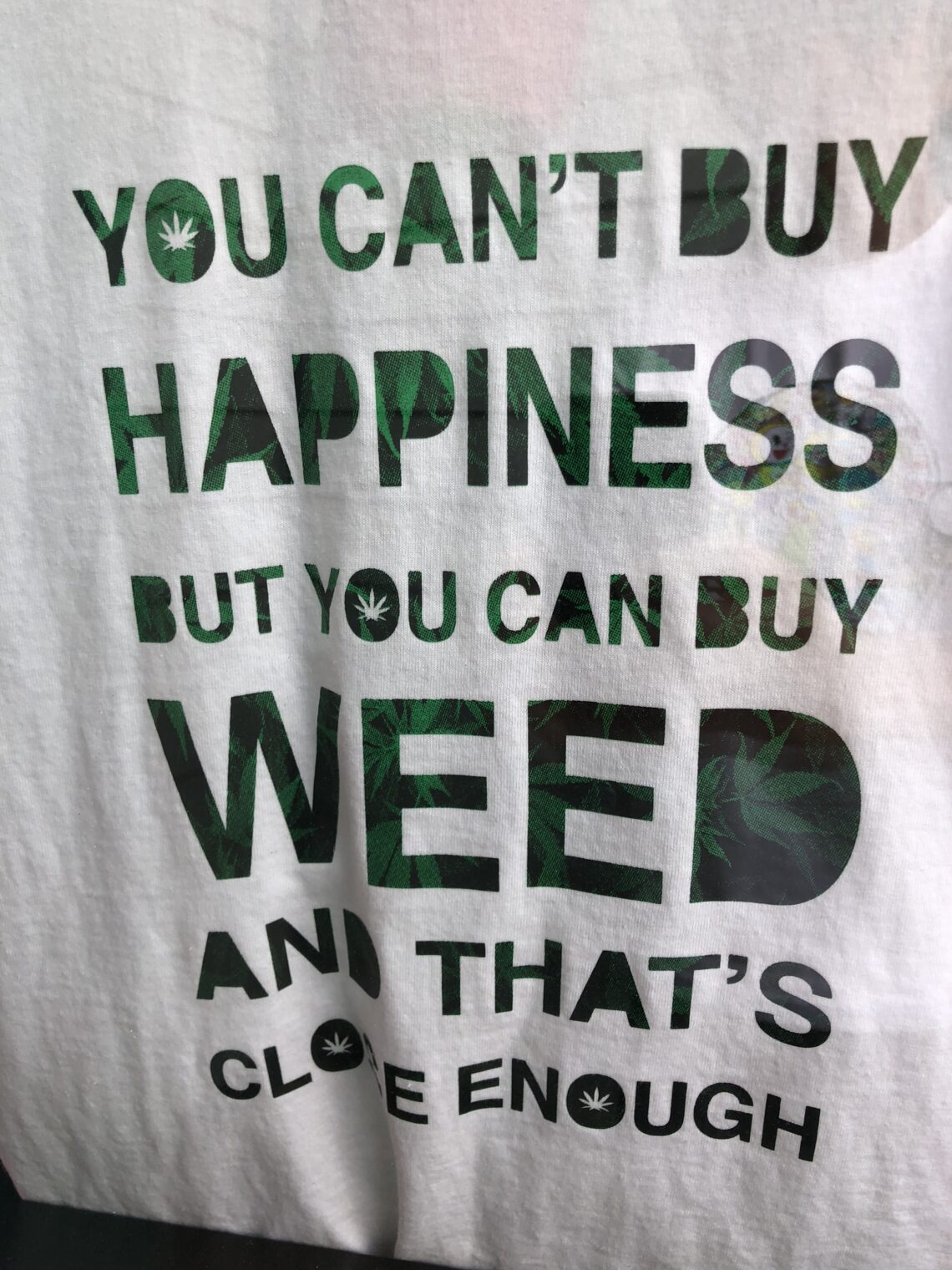 Related:
Quality of Life in Denver (2019): This area certainly won't win prizes for affordability. We didn't see a sandwich for less than $13. A haircut from a barber shop, with tip, was $40. The first native-born Uber driver that I met was during the departure ride to the airport (20-minute traffic jam delay at 8 pm). He said "I've lived here my whole life, but I can't afford it anymore. It is like San Francisco. I think I'll have to move."