From today's New York Times, "Reaching 'Herd Immunity' Is Unlikely in the U.S., Experts Now Believe":
Early in the pandemic, when vaccines for the coronavirus were still just a glimmer on the horizon, the term "herd immunity" came to signify the endgame: the point when enough Americans would be protected from the virus so we could be rid of the pathogen and reclaim our lives.

Now, more than half of adults in the United States have been inoculated with at least one dose of a vaccine. But daily vaccination rates are slipping, and there is widespread consensus among scientists and public health experts that the herd immunity threshold is not attainable — at least not in the foreseeable future, and perhaps not ever.

Instead, they are coming to the conclusion that rather than making a long-promised exit, the virus will most likely become a manageable threat that will continue to circulate in the United States for years to come, still causing hospitalizations and deaths but in much smaller numbers.
This is exactly what the Swedish MD/PhDs said 15 months ago, i.e., that coronavirus would be with us forever so it wouldn't make sense to do anything that you wouldn't be willing to do forever (e.g., close schools).
Let's look at Sweden versus the eager mask-and-lockdown adopters such as the Czech Republic and the U.S. (varies by state):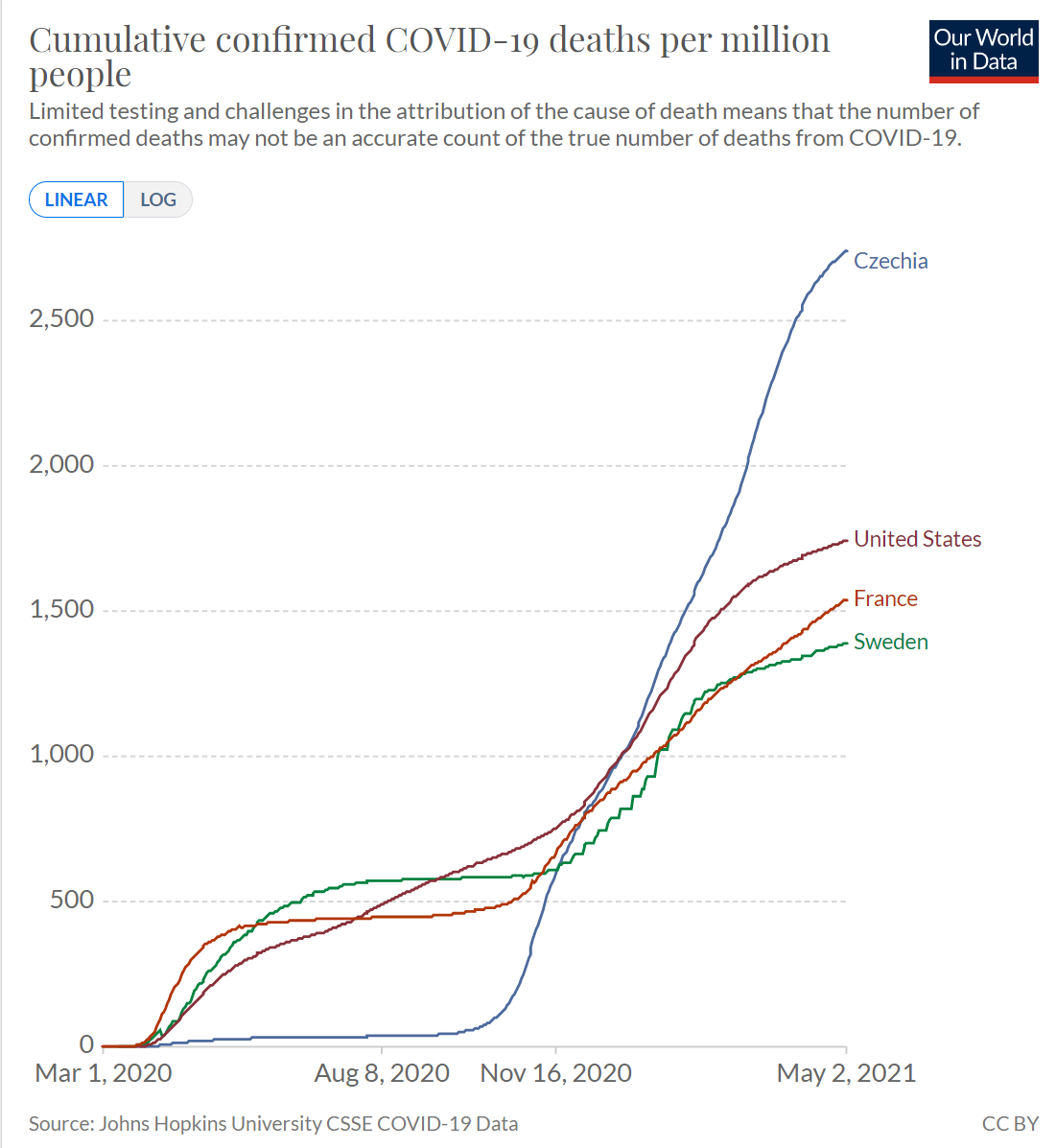 Note that New Jersey, if it were its own country, would be #1 worldwide in COVID-19 death rate. New York and Maskachusetts are just behind NJ (chart). The front page of the NYT reminds me, based on IP geolocation, that right now is a great time to panic:

Everyone old/vulnerable is vaccinated and yet there is a "very high risk"?
Related: