The government assures us that the U.S. inflation rate is 3 percent. Part of the magic of this statistic is that the actual cost of buying a house was removed from the basket of stuff that an American might purchase. So if houses have zoomed up by 50 percent that has no effect on the headline inflation number. The government postulates a hypothetical world in which every American is a renter, despite the fact that renting in the U.S. is not a substitute for owning a house (e.g., if you want a single family home with windows on all four sides you're probably not renting from a big commercial landlord and therefore you're always at risk of being kicked out if the owner wants to use the house, sell the house, etc.).
I wonder if another way to defraud the public is to look at prices without looking at delivery time. A new Cirrus SR20, for example, can be purchased for $500,000. That's an inflation rate of 3.7 percent per year from 2005 when the airplane was $280,000. But the delivery time used to be at most 2-3 months after placing an order. Today it is 15 months. If you wanted to buy out someone else's order and get a Cirrus within 2-3 months you'd likely have to pay $600,000.
Have the Apple AirPods and want to complete the Total Douchebag Package with a Tesla 3? Your luxury dog kennel is 8-12 weeks away, up from 0-3 weeks. Yes, the price is somewhat higher, but a market-clearing price for a Tesla to be delivered in 0-3 weeks would be substantially more.
Want to waste money on the water instead of on land or in the air? Line up! "New boats the latest item hit by a shortage during the COVID-19 pandemic": Chad Chaney drove from Forney to Lewisville with his daughter just to check out a new boat similar to one he ordered back in January and still won't get for a few more months. (Friends who own older boats say that the values for used boats are up 30 percent compared to two years ago.)
Since we're stuck at home with no car, no boat, and no airplane, maybe we can play games on a new PC with an awesome graphics card. If we order an Alienware R12 today it will show up "with express delivery" on August 6 (a two-month wait for a device that is supposed to get better and cheaper every couple of months):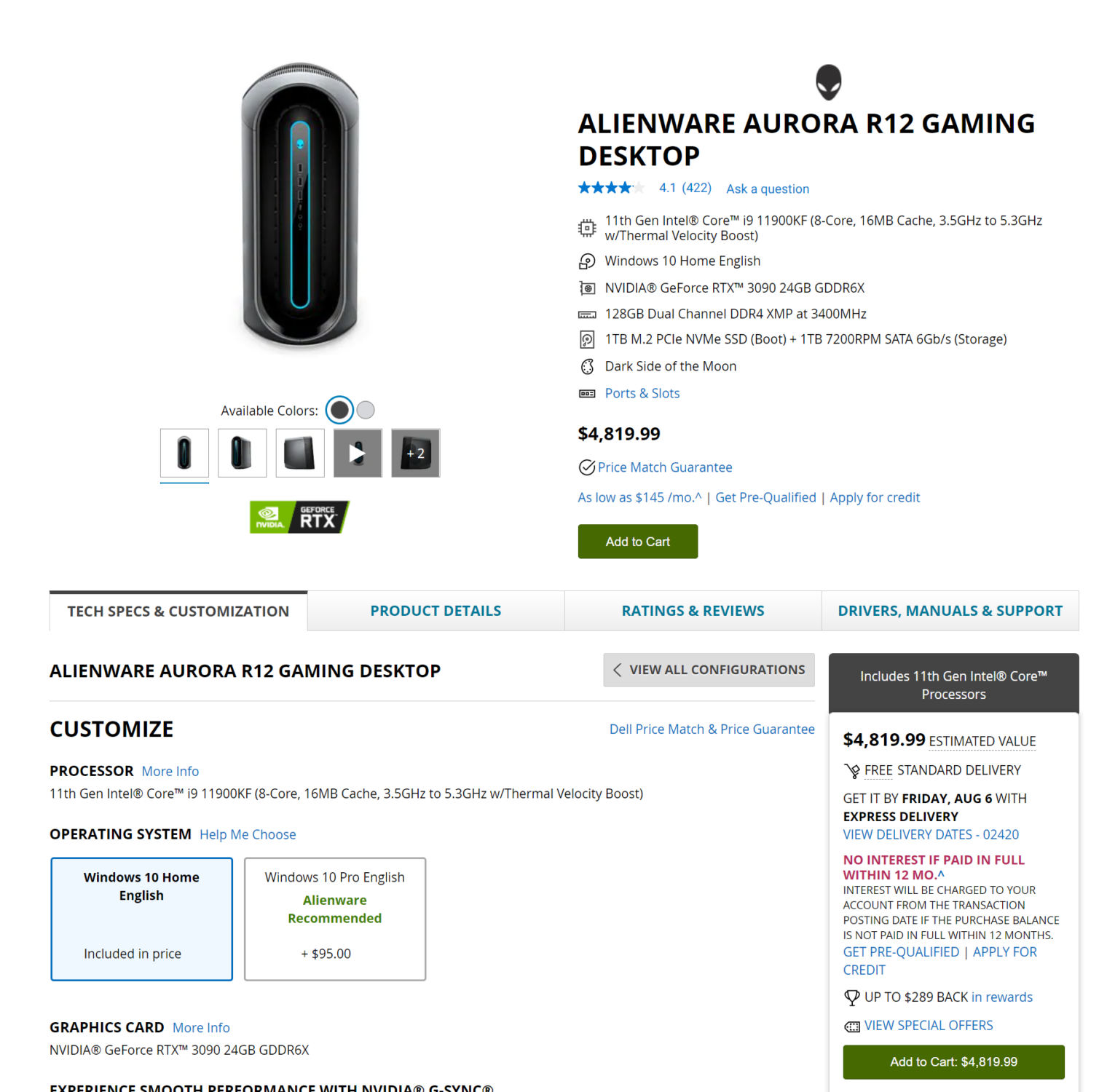 If we can't play games on the computer for two months, maybe we can play games on a tennis court. The local tennis shop says that most balls are on back-order until August. The owner predicted immediate defeat for the U.S. if we ever were to go to war with the Chinese.
As part of our escape from Maskachusetts to the Florida Free State, a contractor is fixing up our already-sold house (condition of the P&S that we do the work we would have done if we had put the house on the market). Most of his materials estimates are turning out to be inaccurate if he wants to see the part, e.g., a picture window, this summer. We are paying 50 percent more for windows and other components, and, of course, 3X for lumber. (see "Sticker shock: Lumber prices up by more than 350 percent") His costs for unskilled labor are 40 percent higher. Where he previously paid $18 per hour he is now paying $25 per hour to compete with Joe Biden and Charlie Baker. That's if he can find someone. "Everyone who is worth hiring already has a job," he says, "and the only people left refuse to work W-2 because they don't want to lose their benefits. I'm too big to pay cash." He says that he understands why $25 is the new minimum: "Nobody can live on $18 per hour anymore." (The Massachusetts and U.S. governments agree; a family of 4 has to earn more than $100,000 per year to become ineligible for health insurance subsidies and over $130,000 to become ineligible for subsidized housing in our suburb.)
For the move itself, we found that the storage container-based moving companies had 2-4-week wait times for a container to be delivered.
Why don't retailers just raise prices to market-clearing levels? My guess is that there is an expectation that shortages will ease and the market-clearing price will fall. Retailers don't want consumers to remember them for "price-gouging".
Readers: What items have you tried to buy lately and found that there were long lead times?