Department of "Surely coronavirus won't be waiting for us after we emerge from our bunkers". From Twitter: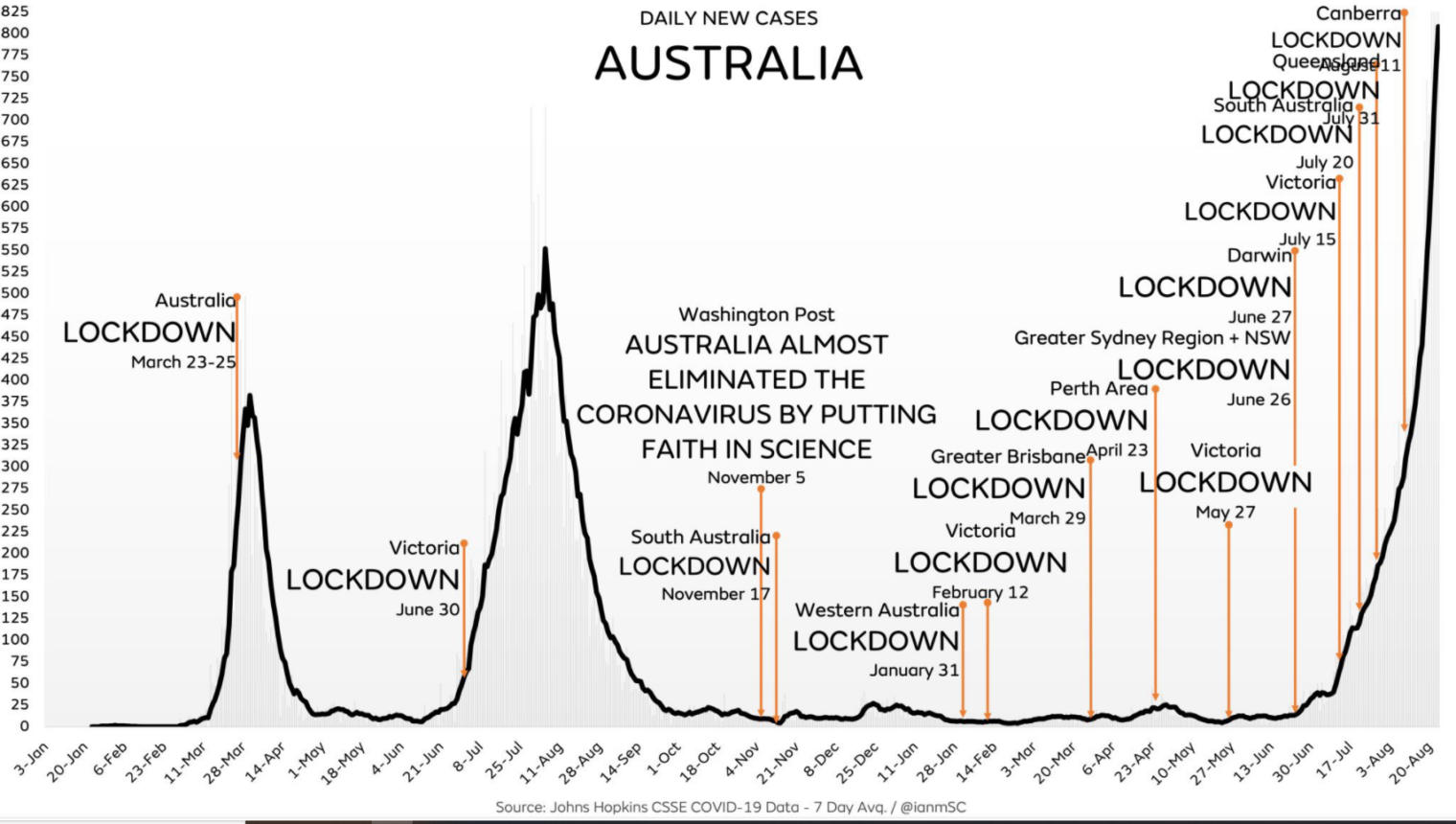 Best headline: "Australia Almost Eliminated the Coronavirus by Putting Faith in Science" (Washington Post, November 5, 2020). From that article:
… unlike the Trump administration, which has criticized its primary infectious-disease adviser, Anthony S. Fauci, Hunt relied heavily on health experts from the start.

And for a time, it appeared Australia's early success was imperiled, after lax security at hotels in Melbourne that were housing returned travelers led to a second outbreak in July. By August, more than 700 cases a day were diagnosed. It looked like Australia could lose control of the virus.

Almost all public life in Melbourne ended. After 111 days of lockdown, the number of average daily cases fell below five. On Oct. 28, state officials allowed residents to leave their homes for any reason.

Australia currently bans its citizens and residents from overseas travel, a decision that has been particularly tough on its 7.5 million immigrants.
Note that prevailing pandemic scientific wisdom prior to 2020 actually did support the idea that an isolated island with tight border controls might be able to delay or prevent infections via closing borders. See WHO guidance on pandemics then and now.
Readers: Will Australia and New Zealand be interesting case studies of what happens to countries where the plague arrives after nearly all of the old/vulnerable people are vaccinated?
Related:
"Covid in Sydney: Military deployed to help enforce lockdown" (BBC, July 30): "The lockdown – in place until at least 28 August – bars people from leaving their home except for essential exercise, shopping, caregiving and other reasons. Despite five weeks of lockdown, infections in the nation's largest city continue to spread. Officials recorded 170 new cases on Friday."