Compared to Maskachusetts or California, one of the remarkable features of life in our corner of Florida (Palm Beach County) is the lack of folks telling others how and what to think. In the Boston suburbs, I would be reminded every few minutes while driving or walking the dog to (1) have faith in leaky vaccines to end the global COVID-19 pandemic (highway electronic billboards), (2) stop hating Asians, (3) celebrate that Love is Love, (4) agree that Black Lives Matter, (5) welcome immigrants, (6) vote for Democrats, etc.
When we departed the Boston area (see Relocation to Florida for a family with school-age children), I said "I've paid for my last shopping bag at the supermarket, driven by my last BLM sign in an all-white neighborhood, and read my last governor's order." We have yet to see a BLM sign, a Trump bumper sticker or hat, or a Biden/Harris bumper sticker. We haven't bothered to check what Ron DeSantis is up to in Tallahassee and learn whether a recent order might make one of our daily activities newly illegal. Over the weekend, however, we flew the Cirrus SR20 down to Key West. Some folks were displaying rainbow flags, which didn't necessarily qualify as educating others regarding the path of righteousness. Unlike our old neighbors (boring cisgender white heteros), the folks in Key West flying rainbow flags might actually have been living an LGBTQIA+ lifestyle. However, we did encounter the following "love comes in all flavors" sign prominently displayed on the Ben & Jerry's ice cream freezer: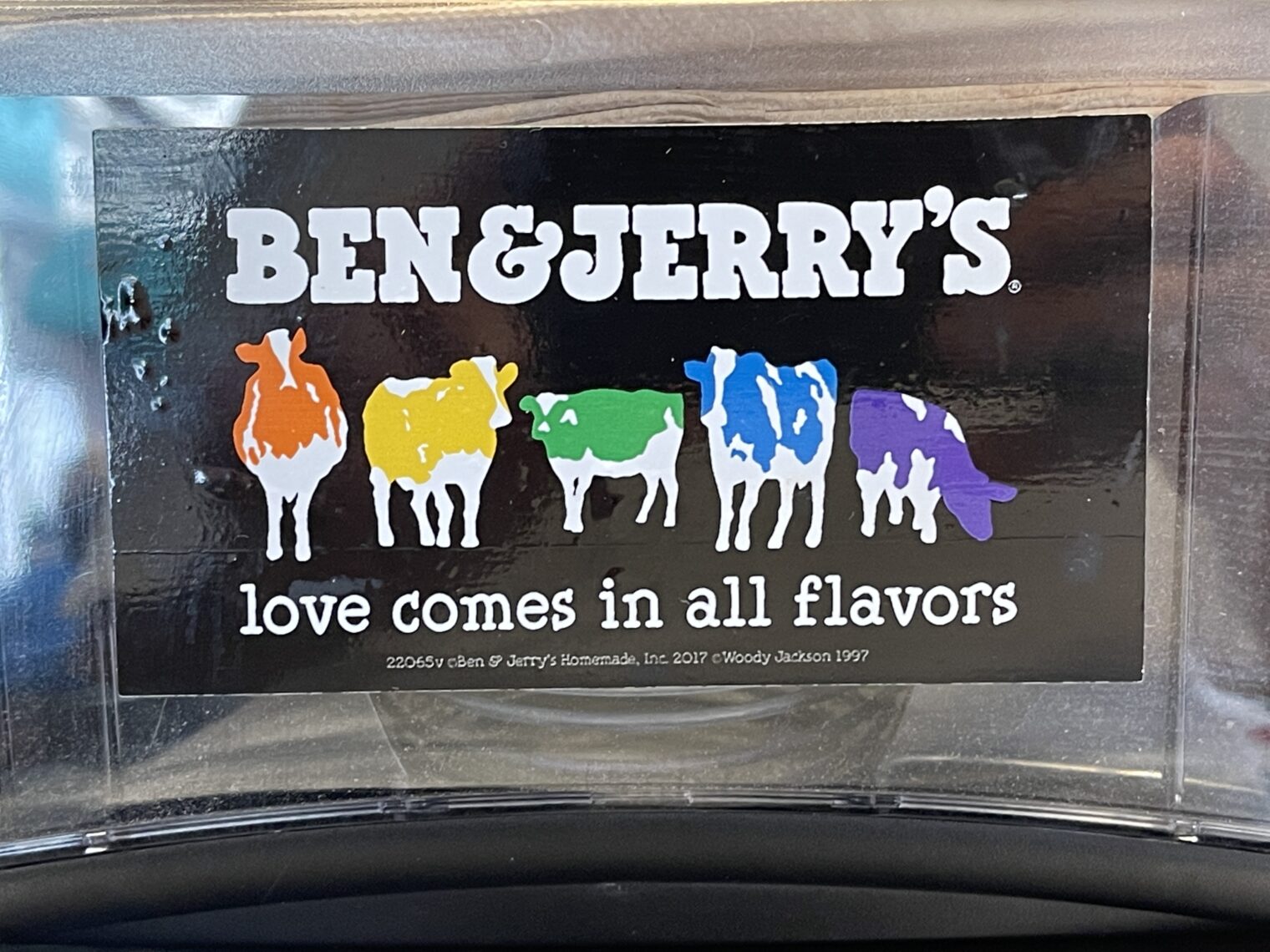 This is consistent with Is LGBTQIA the most popular social justice cause because it does not require giving money? There were no signs in the shop regarding other social justice causes, e.g., poverty or homelessness. That might lead to questions regarding how a "single mom" (who forgot to have sex with a high-income defendant and therefore was reliant on what we no longer call "welfare") with two kids could afford to pay $14 for two small ice creams. There were no signs reminding customers to boycott Israel. Ben & Jerry's did not urge us to assist the tens of thousands of Haitians who've recently arrived, nor protest the fact that at least some are being deported in violation of international law.
(Separately, let me note for the record that I think Häagen-Dazs is much better ice cream, as long as we're talking about mass-market. Here in Jupiter, we've managed to maintain a reasonable level of obesity, and therefore our coronavirus cross-section, at Matty's Gelato Factory and Loxahatchee Ice Cream Company.)
Related:
Wikipedia: Cohen has severe anosmia, a lack of a sense of smell, and so relies on mouthfeel and texture to provide variety in his diet. This led to the company's trademark chunks being mixed in with their ice cream. [i.e., the co-founder had COVID-19 symptoms before COVID-19 symptoms were popular!]