From CNET, originally a source of information about technology, "Women aren't the only people who can get pregnant":
Not everyone who gives birth is a mom. Trans, non-binary and intersex people can and do get pregnant, too, and they have a place in the parenting world.

Though it's hard to fight the centuries-old idea that womanhood and childbirth are inextricably linked, the ability to get pregnant doesn't automatically make someone a woman. Many of the issues that affect women can affect trans, non-binary and intersex people, too, and that includes pregnancy.
Yet fight we must!
Some helpful vocabulary:
Chestfeeding: Some trans and non-binary parents choose to feed their babies with their own milk. You can swap out "chest" for "breast," and "chestfeeding" for "breastfeeding." Refer to the milk as "chest milk" or "human milk."
But don't men have breasts? (After 1.5 years of coronalockdowns, sometimes pretty significant in size!)
Earlier this month, CNN celebrated two apparently healthy guys who didn't give birth occupying one of the hospital beds that CNN also said were scarce to the point that Americans were dying for want of a hospital bed. I like the implication that the depicted individuals had actually pushed the babies out themselves (is there no limit to the credit that white men will steal?) and also that the browser renders this with a "99% acceptance" ad. Let's hope that not even 1% of Americans would be sufficiently Deplorable to object to these guys getting credit for baby production.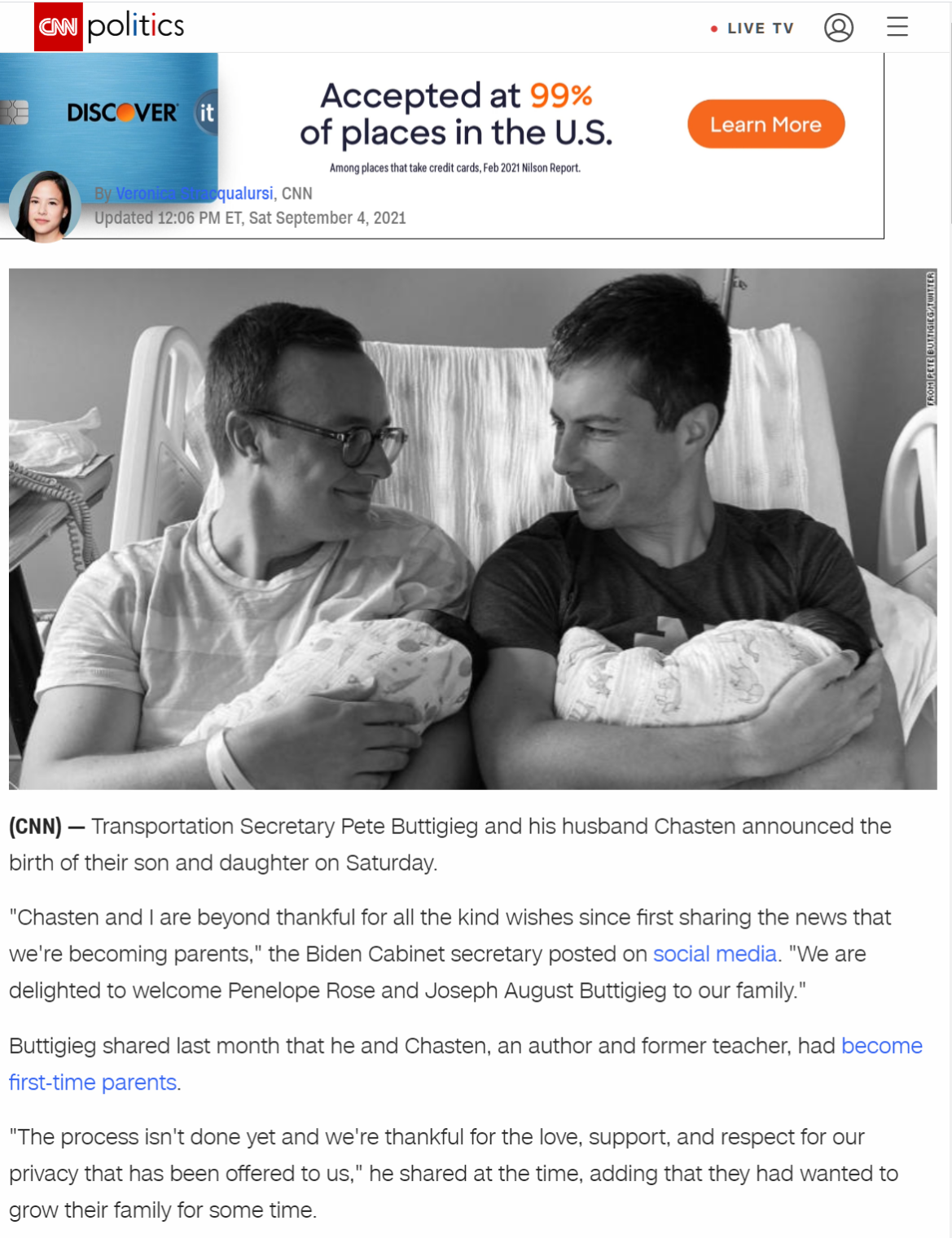 See also "Why that tired 'men v. women' line won't work with Texas' new abortion law" (Arizona Central):
Harvard Medical School agrees, using "birthing person" to include "those who identify as non-binary or transgender because not all who give birth identify as 'women' or 'girls.' "
The webinar panelists used the term "birthing person" to include those who identify as non-binary or transgender because not all who give birth identify as "women" or "girls." We understand the reactions to this terminology and in no way meant for it to erase or dehumanize women.
Women will not be erased, but let's also not forget that men might be better at giving birth.
Not every corner of the CDC is up to date on this, despite energetic efforts. An August 24, 2021 page doesn't mention using "birthing person":
not inmate, but "People/persons who are incarcerated or detained (often used for shorter jail stays or youth in detention facilities)"
not disabled but "People with an intellectual or developmental disability"
(great news here) not alcoholics, but "Persons with alcohol use disorder"
not homeless people, but "People experiencing homelessness"
not the poor, but "People with lower incomes"
not crazy, but "People with a diagnosis of a mental illness/mental health disorder/behavioral health disorder"
not foreigners, but "Asylee or asylum seeker"
not illegal immigrants, but "People with undocumented status"
not elderly or frail, but "Older adults or elders" (also, not Elizabeth Warren, but "Native American elder"?)
not Afro-American, but "Black or African American persons"
not Eskimo, but "American Indian or Alaska Native persons/communities/populations"
not rural people, but "Residents/populations of rural areas"
not Using MSM (men who have sex with men) as shorthand for sexual orientation to describe men who self-identify as gay or bisexual, individually or collectively, but "Using MSM (men who have sex with men) to mean people who report being male at birth and having had sex with a person who was male at birth, regardless of self-identified sexual orientation"
not homosexual, but "Two-spirit"
(To the above I would add, in light of Maskachusetts law and the 69 governor's orders, not pothead, but "Person who smokes healing essential marijuana every hour.")
We're in a fight to the death (ours!) against an unprecedented respiratory virus that has caused a global pandemic, but taxpayer-funded workers at the CDC had time, at least on August 24, 2021, to write up the above.
Related:
"The Culture War Over 'Pregnant People'" (Atlantic): Last year, a brand-new labor-and-delivery hospital opened on the well-to-do Upper East Side of New York City. Its name, the Alexandra Cohen Hospital for Women and Newborns, might strike most people as innocuous or straightforward. But to some people, the suggestion that a hospital where babies are born is for women is offensive, because transgender and nonbinary people who do not identify as women can also get pregnant and deliver babies. … I called Louise Melling, the deputy legal director of the American Civil Liberties Union, who leads projects on women's rights and LGBTQ rights. Louise Melling: First of all, if we're talking about "pregnant people," that language says to people—to transgender men and to nonbinary people—"we see you." It should do a fair amount of work to help address discrimination. If we talk about "pregnant people," it's a reminder to all of us to catch ourselves when we're sitting in the waiting room at the GYN that we're not going to stare at the man who's there. We're not going to be disconcerted. … It's interesting to me, for example, that the CDC website now speaks of "pregnant people." With every passing year, it's more pervasive. My GYN just talked to me about this: "Oh, I just learned this," and was really working to change her language. … I work on LGBTQ rights. My colleagues are people who are in pain. … They are threatened because of language. [i.e., some language is far more painful than childbirth and potential birthing persons who are concerned that childbirth will be painful should know that it won't be any worse than hearing the term "pregnant woman"]