"In-N-Out closes in San Francisco over refusal to enforce vaccine mandate" (Guardian, 10/20):
In-N-Out burger has become the first restaurant in San Francisco to be temporarily closed for failing to enforce the city's vaccine mandate. City officials made the move on 14 October after the burger chain said it won't force staff to check that customers were fully vaccinated before allowing them to dine inside the restaurant.

"We refuse to become the vaccination police for any government," Arnie Wensinger, the company's chief legal and business officer, said in a statement. "It is unreasonable, invasive and unsafe to force our restaurant associates to segregate customers into those who may be served and those who may not."
Do we say that In-N-Out Burger is boldly #Resisting the San Francisco city government's demand that they check vaccine papers for each would-be customer? Or maybe we say that In-N-Out Burger is weakly hesitating to do the right thing?
Let's ignore the question of whether the policy makes sense given that COVID-19 vaccines don't prevent infection or transmission (and, in fact, might increase infection/transmission because vaccinated people will take more risk than the unvaccinated). That leaves us with a big question: Why would it be restaurant workers' job to perform this police-type job? If the government makes it illegal for people without vaccine papers to eat in restaurants, shouldn't the government station "vaccine wardens" just outside the restaurants and pay these wardens? (They can be armed with guns, since Americans love the idea of government workers with guns, or simply tightly connected to nearby armed police officers who can use force as necessary.)
Alternatively, automate the process, as I suggested in August: How can city vaccination requirements be enforced without RFID chips in residents' necks? The government owns the city sidewalks from which people walk into restaurants in urban areas where vaccine document checks are now required. As a condition of continued employment, the government can install RFID chips in working citizens' necks (migrants and those on welfare would be exempt, as with current vaccine requirements). Scanners overhead the sidewalk outside restaurants could notice if anyone unvaccinated is going in and then automatically deduct a fine from the working citizen's paycheck. Receipts from fining the unrighteous could be used by cities to acquire original Hunter Biden paintings for municipal buildings.
Here I am at In-N-Out on the way back to Reno from Burning Man 2014, thus earning me the Playa name of "Double Double."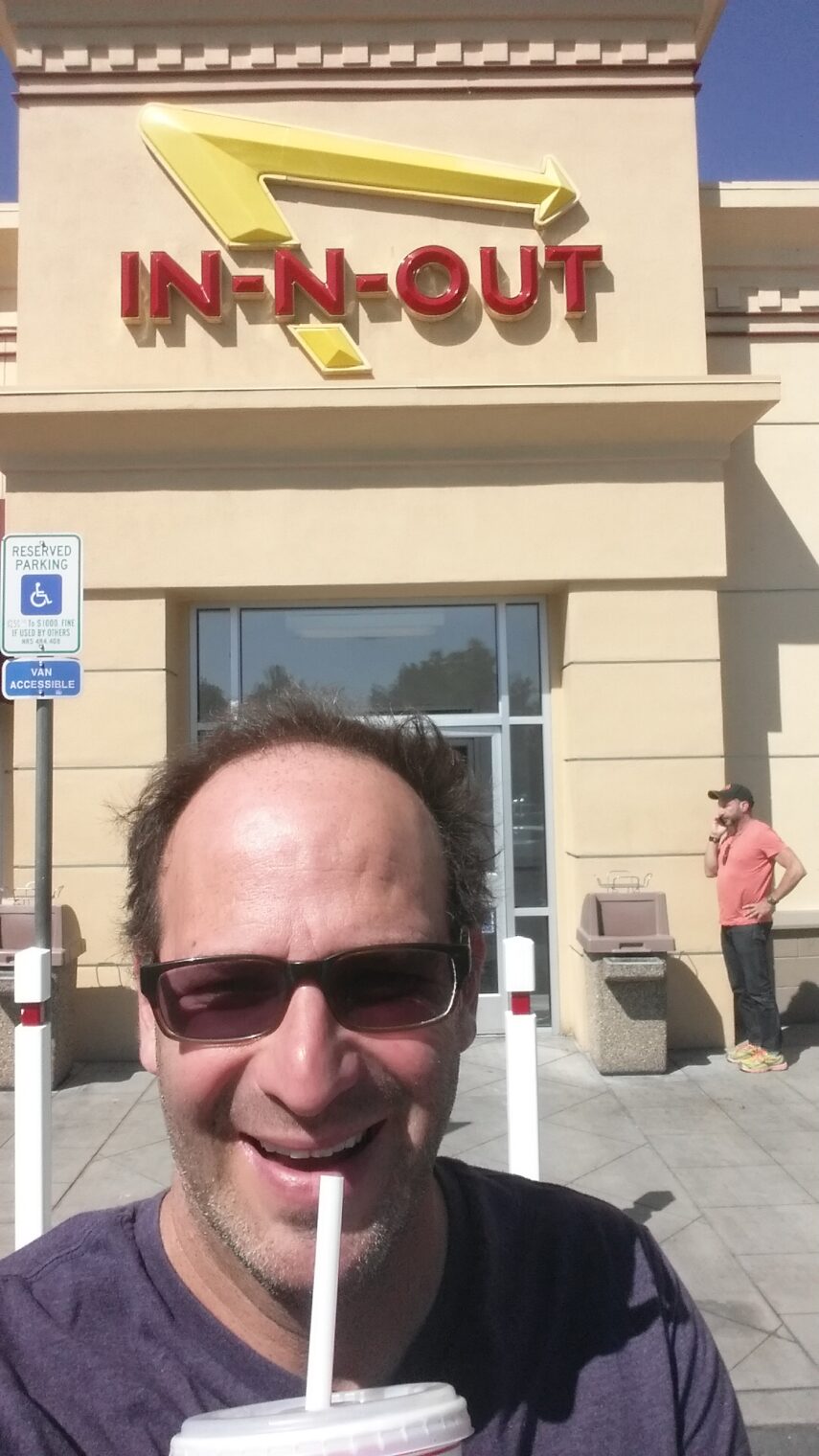 Update, November 1… Swiss police use concrete to block access to Covid sceptic restaurant (The Local):
Police in Switzerland have placed several large concrete blocks in front of a bar in the canton of Valais after the bar owners repeatedly refused to enforce the country's Covid measures.
After the owner of the Walliserkanne restaurant in Zermatt (Valais) failed to comply several times with the obligation to check the customers' Covid certificates, local police took a drastic measure of installing cement blocks in front of the entrance.

Covid certificates – which show that someone has been fully vaccinated, recovered or has tested negative to the virus – have been required to eat and drink in indoor areas in Switzerland since mid-September.

Both owners were arrested by the police on Sunday morning.

A fine of up to CHF10,000 can be levied, while jail time is also possible in aggravated cases.
There's a photo too: