One country we haven't heard much about during the Ominous Omicron Oscillation is Sweden. As noted in Coronascientists are the modern Aristotles? for those who Follow the Science the original comparison countries to Sweden were Ireland, Britain, and France (NYT, April 28, 2020, "How Sweden Has Faced the Virus Without a Lockdown").
The wicked Swedes followed the WHO pandemic guidebook in what we characterize as an "experiment." (Closing schools, using bandanas as PPE, keeping marijuana shops open as "essential", and giving non-FDA approved drugs to 5-year-olds is, by contrast, decidedly not an experiment.) Why isn't Sweden featured in our media lately? Don't the righteous among us want the satisfaction of seeing how badly the wicked are being punished by a just CoronaGod?
How about let's look at cumulative deaths tagged to COVID-19 compared to the NYT's originally chosen comparison set of nations. (I added the U.S. as well so that we can see the effect of Joe and Kamala's Plan to Beat COVID-19.)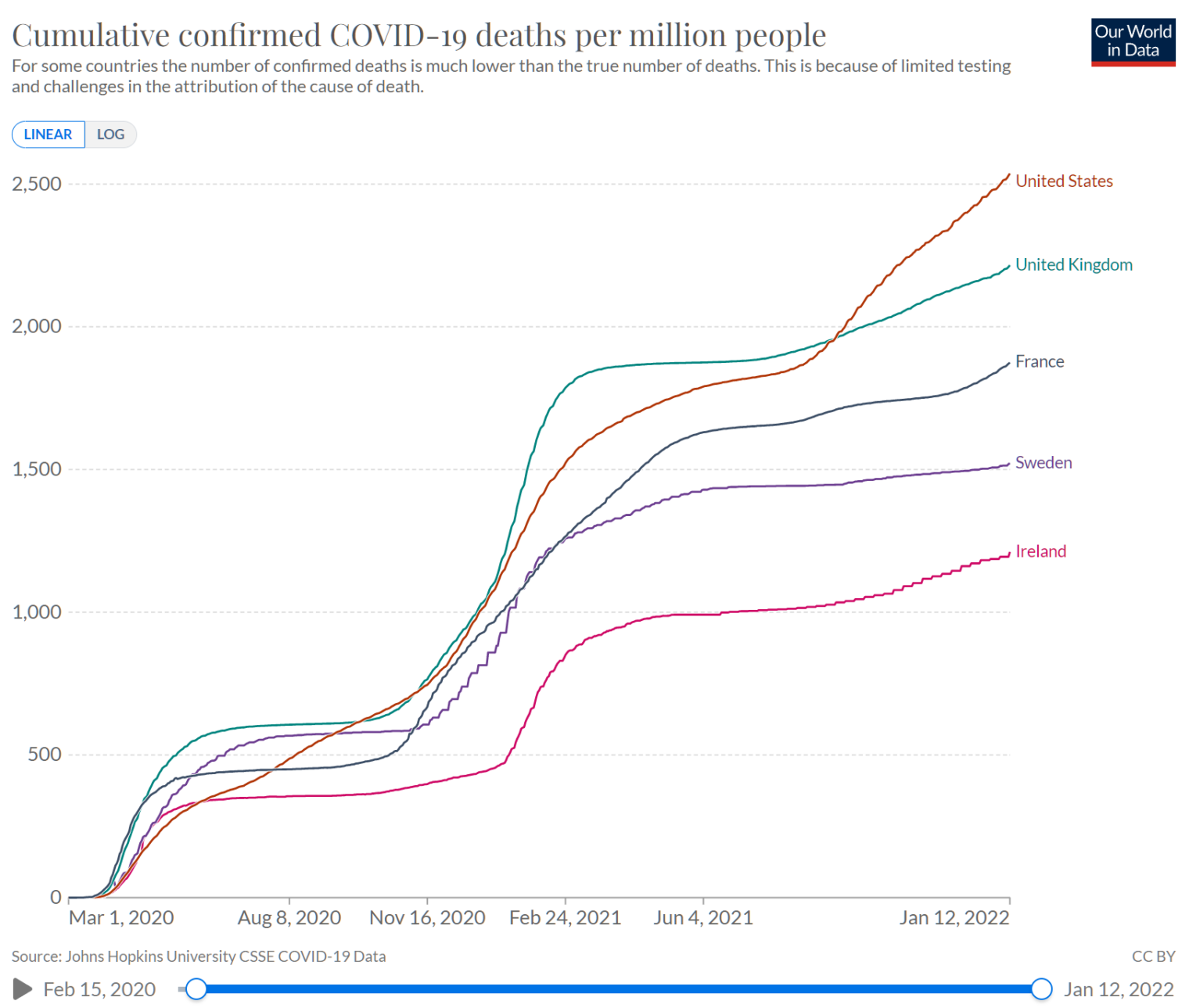 Maybe the flat line is because Omicron hasn't hit Sweden? The answer seems to be "no"; cases are rising exponentially there, more or less as they are everywhere else.
What about vaccination rates? Perhaps these can explain any country-to-country variation in death rates. From the New York Times, January 6:
Ireland: 79% at least one dose; 45% turboboosted
France: 79% at least one dose; 35% turboboosted
United Kingdom: 78% at least one dose; 52% turboboosted
Sweden: 75% at least one dose; 25% turboboosted
United States: 74% at least one dose; 22% turboboosted
There doesn't seem to be anything remarkable about Sweden in terms of attempts to induce artificial immunity via vaccination.
Heretical thought: Should we suspect that the country's decision to allow young people to get infected in the spring of 2020 (while sheltering the elderly/vulnerable) built powerful natural immunity, even against the yet-to-develop Omicron variant?
Also, we can look at all of 2021 (source):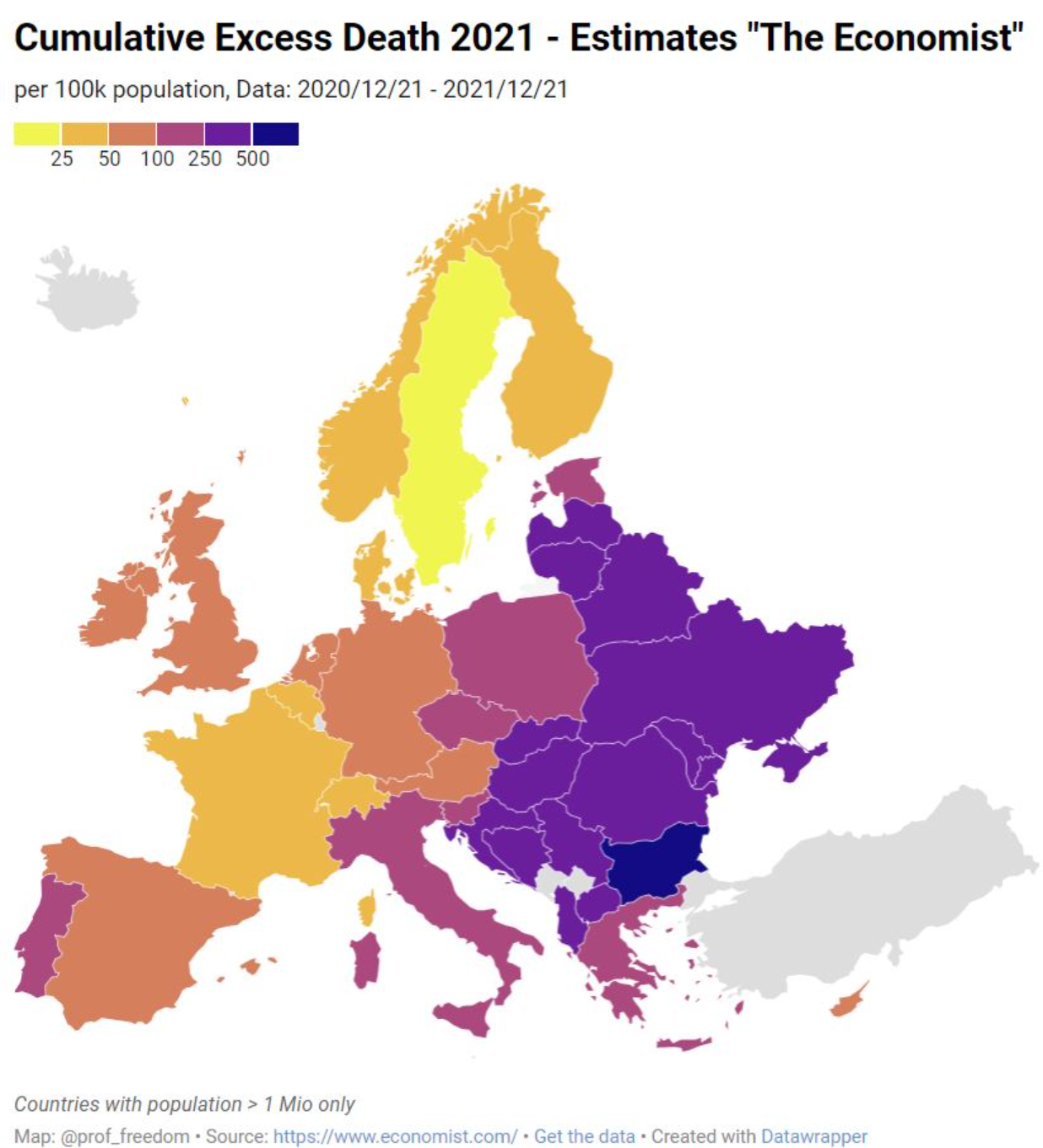 Related:
From August 16, 2020… "'History will judge the hysteria'" (Israel National News): Prof. Udi Qimron will soon head the Department of Clinical Microbiology and Immunology at Tel Aviv University. In an interview with Yediot Ahronot, Qimron shed further light on the coronavirus. "There is a very great interest for anyone who has supported the draconian measures taken around the world to say that Sweden's policy has failed. Because if it succeeded, and trillions went down the drain for no reason, someone will have to answer for it." (I'm willing to bet that Professor Qimron is dead wrong on that last point!)
Also from Professor Qimron, from January 6, 2022: "Ministry of Health, it's time to admit failure". The best English summary from the original Hebrew: "I never want to get another government grant", but it also contains some choice sentences, e.g., "Two years late, you finally realize that a respiratory virus cannot be defeated and that any such attempt is doomed to fail. You do not admit it, because you have admitted almost no mistake in the last two years, but in retrospect it is clear that you have failed miserably in almost all of your actions, and even the media is already having a hard time covering your shame. … There is currently no medical emergency, but you have been cultivating such a condition for two years now because of lust for power, budgets and control."