Since the 17th century (see Francis Bacon), people who call themselves "scientists" have been using the scientific method:
Make an observation.
Ask a question.
Form a hypothesis, or testable explanation.
Make a prediction based on the hypothesis.
Test the prediction.
Iterate: use the results to make new hypotheses or predictions.
As previously documented here in this weblog, the "scientists" on whose advice politicians have ordered lockdowns, masks, etc. have consistently failed at Step 4 (making predictions). This failure, though, has been mostly invisible to the public due to the lack of media interest in going back a few weeks or months and comparing prediction to reality. In the rare cases when a false prediction, e.g., that the Czech Republic would have a low death rate due to masks and shutdown (in fact, the country ended up at #1 in the Covid death rate Olympics), is revisited it will be a "scientist" explaining how someone did something during the intervening period and that this action (or inaction) explains the current situation.
Is it Science when you can't make accurate predictions, but you can tell a convincing tale? Yes! We just have to go back to 350 B.C. and Aristotelian physics. A lifted rock falls toward the earth because it is seeking its natural level. Air bubbles rise because the air seeks its natural place around the earth.
For concreteness (and remember that concrete seeks its natural level underneath highways!), let's look at the official newspaper of those who #FollowScience. In "'Life Has to Go On': How Sweden Has Faced the Virus Without a Lockdown" (New York Times, April 28, 2020), the obvious comparison countries to Sweden were Ireland, Britain, and France. Once additional data are received, and it turns out Britain and France have higher COVID-19-tagged death rates than Sweden while Finland, Norway, and Denmark are outliers, the same scientifically minded folks will assert that Finland, Norway, and Denmark are the only sensible countries to which to compare Sweden and that it would be absurd to use France or Britain as a comparison. We did the same thing domestically. In March 2020, the experts predicted that locked-down Massachusetts would end up with a far lower death rate than Florida (and we should have, since only 14 percent of our population is over 65, compared to 20 percent in Florida). Now that data are available and Florida has suffered only 62 percent of the MA death rate, it is plain to scientists that comparing MA to FL would be nonsensical.
(The article has a funny-in-retrospect section:
From the first signs of the pandemic, the Swedish Public Health Authority decided that a lockdown would be pointless. "Once you get into a lockdown, it's difficult to get out of it," the country's state epidemiologist, Anders Tegnell, said. "How do you reopen? When?"
California teachers' union answer: never! To the Swedes who say "Life Has to Go On," the majority of Americans say, resoundingly, "No, it does not!")
A more recent example… "Iowa Is What Happens When Government Does Nothing" (December 3, 2020, Atlantic, owned by someone who got rich by marrying Steve Jobs and now advocates for unlimited migration into parts of the U.S. other than her own Palo Alto neighborhood):
The story of the coronavirus in the state is one of government inaction in the name of freedom and personal responsibility.

"In a lot of ways, Iowa is serving as the control group of what not to do," Eli Perencevich, an infectious-disease doctor at the University of Iowa Hospitals and Clinics, told me. Although cases dropped in late November—a possible result of a warm spell in Iowa—Perencevich and other public-health experts predict that the state's lax political leadership will result in a "super peak" over the holidays, and thousands of preventable deaths in the weeks to come. "We know the storm's coming," Perencevich said. "You can see it on the horizon."

Experts expect to see a spike in COVID-19 cases in the state roughly one week from now [December 10], two weeks after the Thanksgiving holiday. That spike will likely precede a surge in hospitalizations and, eventually, a wave of new deaths—maybe as many as 80 a day, Perencevich, the infectious-disease doctor, estimates. Add Christmas and New Year's to the mix, and Iowans can expect to see nothing less than a tsunami, Perencevich says.
What actually did happen? From the NYT: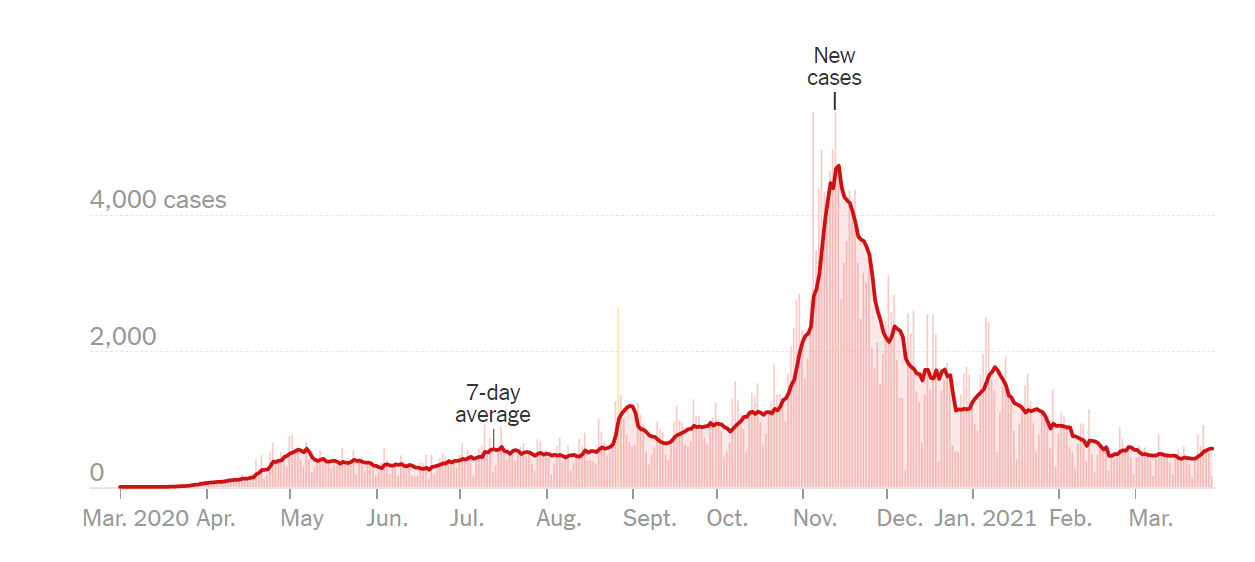 Cases peaked on November 13. Given that "cases" are subject to much human whim, e.g., whether people are fed into PCR machines or not, let's look at deaths: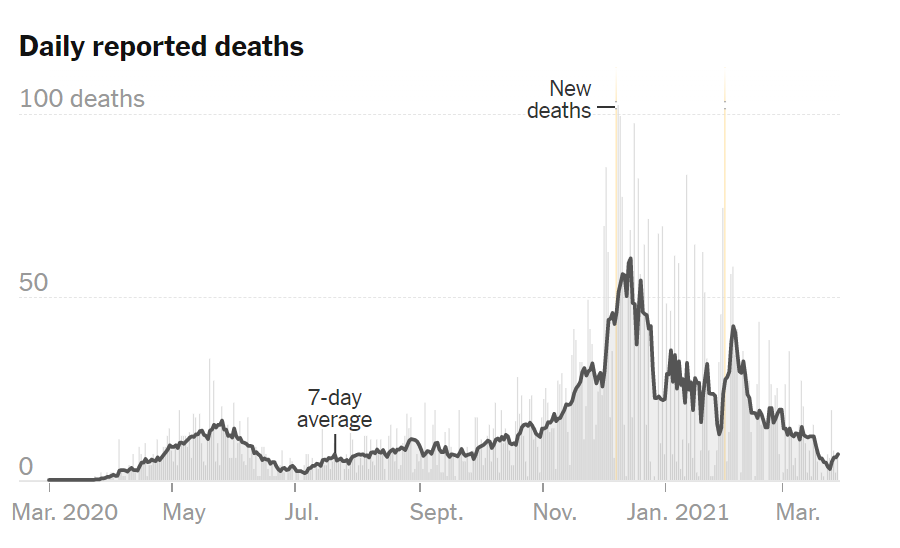 What happened to the predicted "tsunami" of death after Christmas and New Year's gatherings? Deaths peaked on December 15. a month after the "case" peak and, thus far, have failed to reach that level again.
Readers: What do you think? If Aristotle can be a great "scientist" despite an inability to predict projectile trajectories or planetary orbits, is it also reasonable to call the coronascientists great despite their inability to predict the likely impact of coronavirus?
Related: