There is a high demand for pageantry in our household, but we don't have a TV, so I signed up for the "ad-free" "Peacock Premium Plus" streaming service and used an iPad to show the Olympics opening ceremony (which arrived… with ads, disrespectfully side-by-side with athletes from countries that NBC deems unimportant; the Chinese refused to insert commercial breaks, apparently, so the righteous American boycotters (see below) added commercials to the event itself).
Science tells us that only N95 masks stand any chance of blocking Omicron, yet the athletes paraded out using various forms of non-N95 masks. Other than some performers, Vladimir Putin seemed to be the only person at the event who wasn't wearing a mask.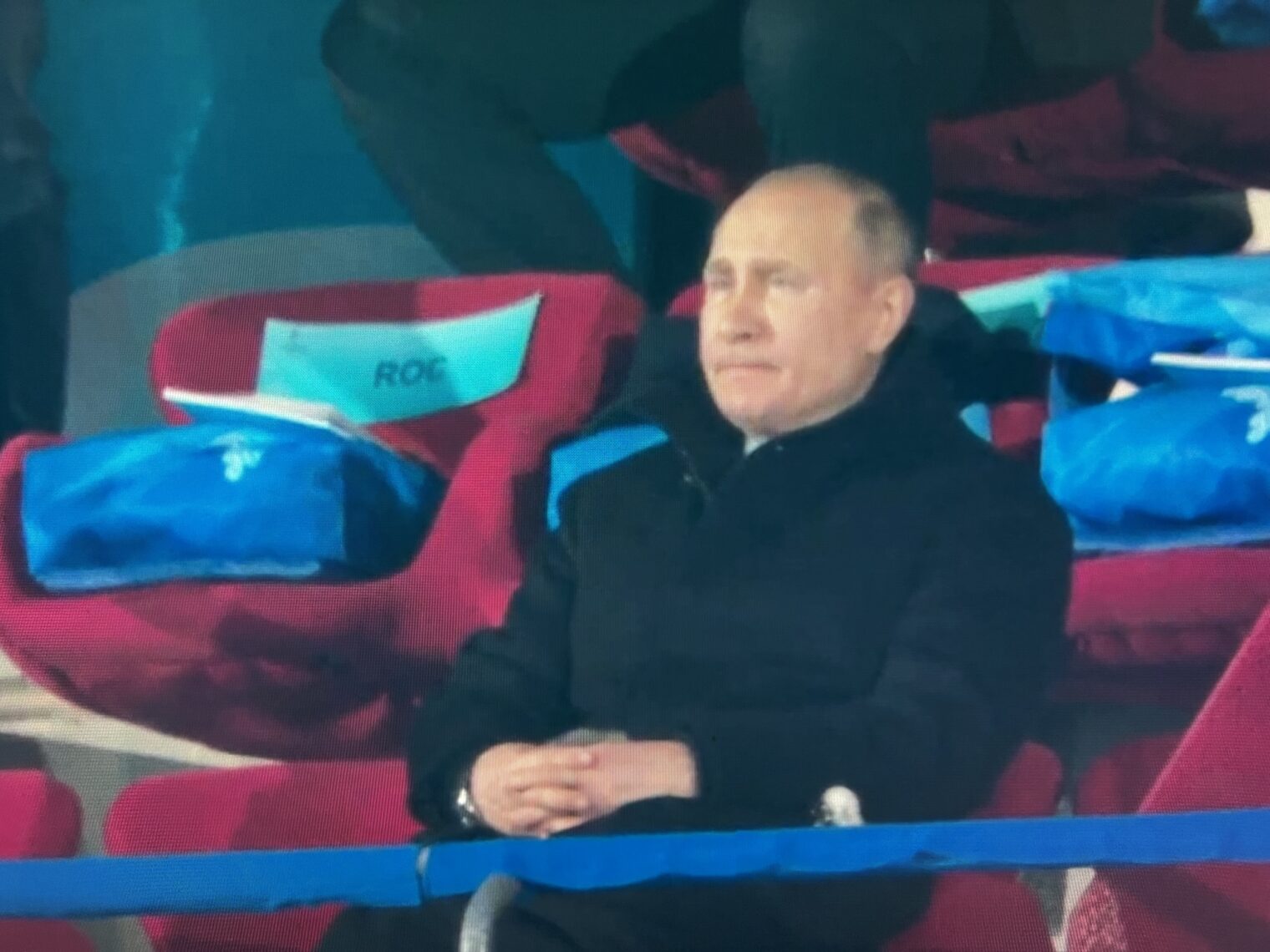 Given that nearly everyone in the stadium is vaccinated, was in quarantine before and after international flights, and has been tested multiple times for COVID-19, what's the chance that SARS-CoV-2 got through to the stadium? The official stats page shows that 308 people involved in the Olympics have thus far tested positive: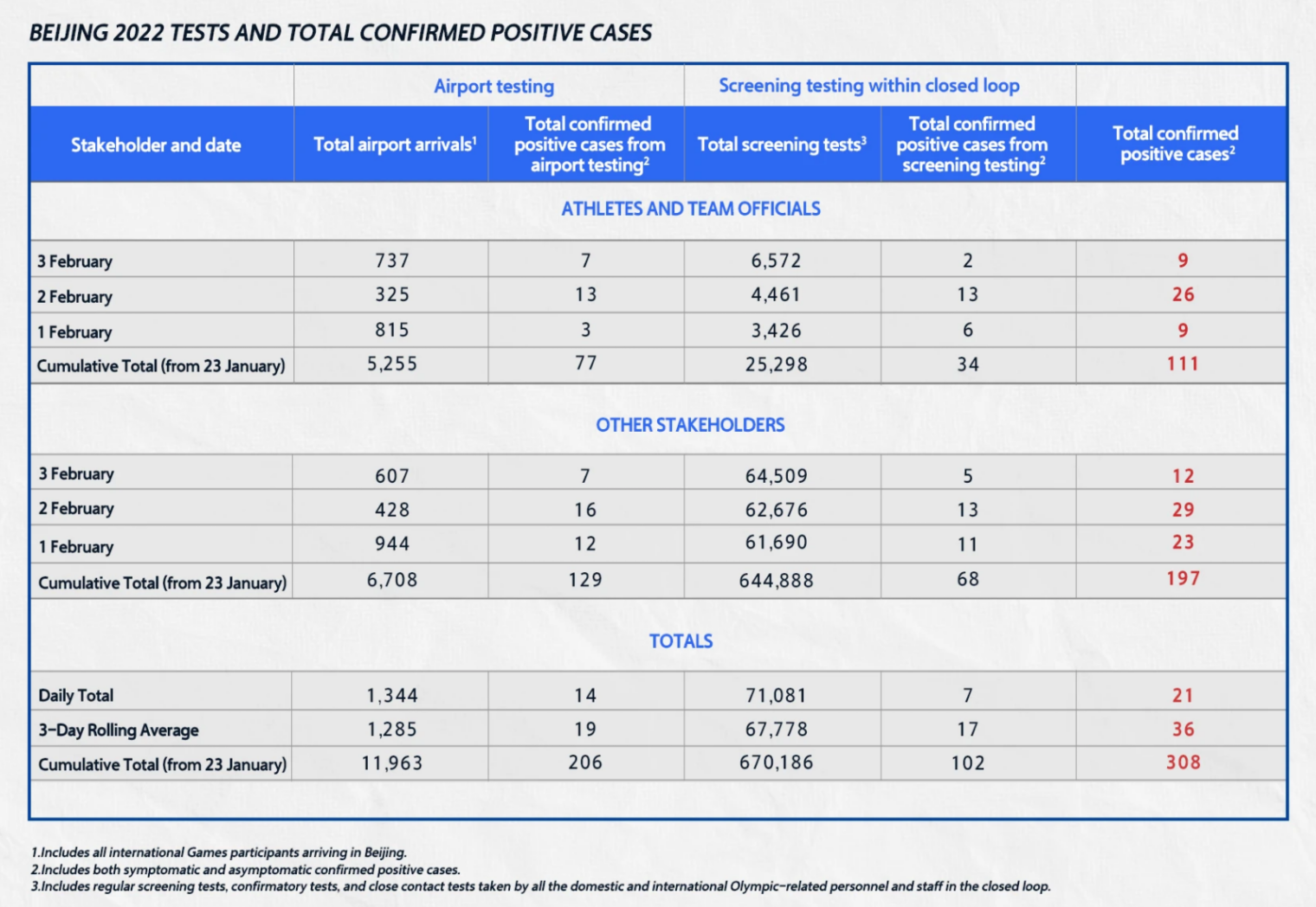 See also "A COVID-Free Pacific Nation Opened Its Border a Crack. The Virus Came Rushing In" (TIME):
On Jan. 14, the first passenger plane for 10 months landed in the country, which is located about 2,500 miles southwest of Hawaii. It may also be the last for the foreseeable future. The plane brought the first cases of COVID-19 to the country; more than two-thirds of the passengers tested positive. The flight subsequently set off a wave of COVID-19 cases in the archipelagos, where 120,000 people live across 33 islands with land area smaller than Rhode Island.

Thirty-six out of 54 passengers on the flight to Kiribati tested positive on arrival. Six others tested positive in quarantine. That's despite the travelers spending two weeks in pre-departure quarantine, and only being allowed on the flight after testing negative for COVID-19.

The border closures also bought Kiribati and others time to roll out vaccinations. Over 93% of Kiribati's eligible population has received one COVID-19 vaccine shot, but just over 50% are fully vaccinated.
A few times NBC's commentators (sports experts?) mentioned "human rights abuses" in China, but their own coverage of the event contradicted their statements. The NBC reporters sounded relaxed. The people in the stadium looked happy and relaxed, including Chinese ethnic minorities such as the Uyghurs who are purportedly victims of "genocide" (we throw this word around and then show up en masse with $1 billion in TV rights cash?). See this statement from the Chinese embassy for another perspective:
The so-called allegations of "forced labor" and "genocide" in Xinjiang are nothing but vicious lies concocted by anti-China forces. Xinjiang's economic development and social stability is recognized by the whole world. The fact that residents of all ethnic groups there enjoy happy and fulfilling lives is witnessed by all. The US side keeps using Xinjiang-related issues to create rumors and make trouble. Essentially it is engaging in political manipulation and economic coercion, and seeking to undermine Xinjiang's prosperity and stability and contain China's development under the pretext of human rights.

It is preposterous for the US, a country with a deplorable track record of human rights issues, to accuse and smear China. The US has serious problems of human trafficking and forced labor. Up to 100,000 people were trafficked into the US for forced labor annually over the past five years. Crimes against humanity against Native Americans in the past constitute de facto genocide. The US should save the labels of "forced labor" and "genocide" for itself.

Xinjiang-related issues are not human rights issues at all, but in essence about countering violent terrorism and separatism.
Who else watched the opening ceremony? What did you notice?
Related: