While visiting the new Peppa Pig Theme Park, I researched the glorious history of this cartoon. Wikipedia:
Peppa Pig is a British preschool animated television series by Astley Baker Davies. The show revolves around Peppa, an anthropomorphic female piglet and her family and her peers are other animals. The show first aired on 31 May 2004. The seventh season began broadcasting on 5 March 2021. Peppa Pig has been broadcast in over 180 countries.

Peppa and her family did not wear seat belts in cars in the first two series. After receiving several complaints, Astley Baker Davies announced that all future animation would include characters wearing seat belts, and that the relevant scenes in the first two series would be re-animated to include them. Similar changes were also made to add cycle helmets to early episodes with characters riding bicycles.
The main propaganda challenge of the past couple of years has been getting children to worry about a disease that kills 82-year-olds. Depending on the whims of Science at any given moment, we need to convince children to wear masks, give up school and social life, meekly accept injections of emergency use authorized vaccines, etc.
There has been some original propaganda produced in this genre, e.g., Disney's Goofy series that includes "How to Wear a Mask":
(Directed by Whoopi Goldberg's cousin Eric Goldberg?)
But why not go back and rewrite history, as the New York Times did with the history of mRNA vaccines? Break into the cryptomines and steal enough GPUs to digitally update all of the beloved animated movies and TV shows going back to the 1930s.
Snow White, kissed without consent (because she was as unconscious as a typical American college student on a Friday night), could be approached by a prince in an N95 mask. WALL-E could vaccinate EVE as soon as she arrives on a poisoned-by-SARS-CoV-2 Earth. Timothy Q. Mouse could cooperate with a TSA search and wear a mask at all times, except when eating and drinking, while flying on Dumbo:
Depending on the current CDC guidance and community transmission levels, the masked or unmasked versions of cartoons could be shown/streamed to kids depending on their physical location.
Readers: What do you think about the idea of content that adapts to the latest advice regarding mask-wearing?
Separately, you might ask how the Peppa Pig Park is. The rides are not too exciting, so it isn't worth going on a crowded day.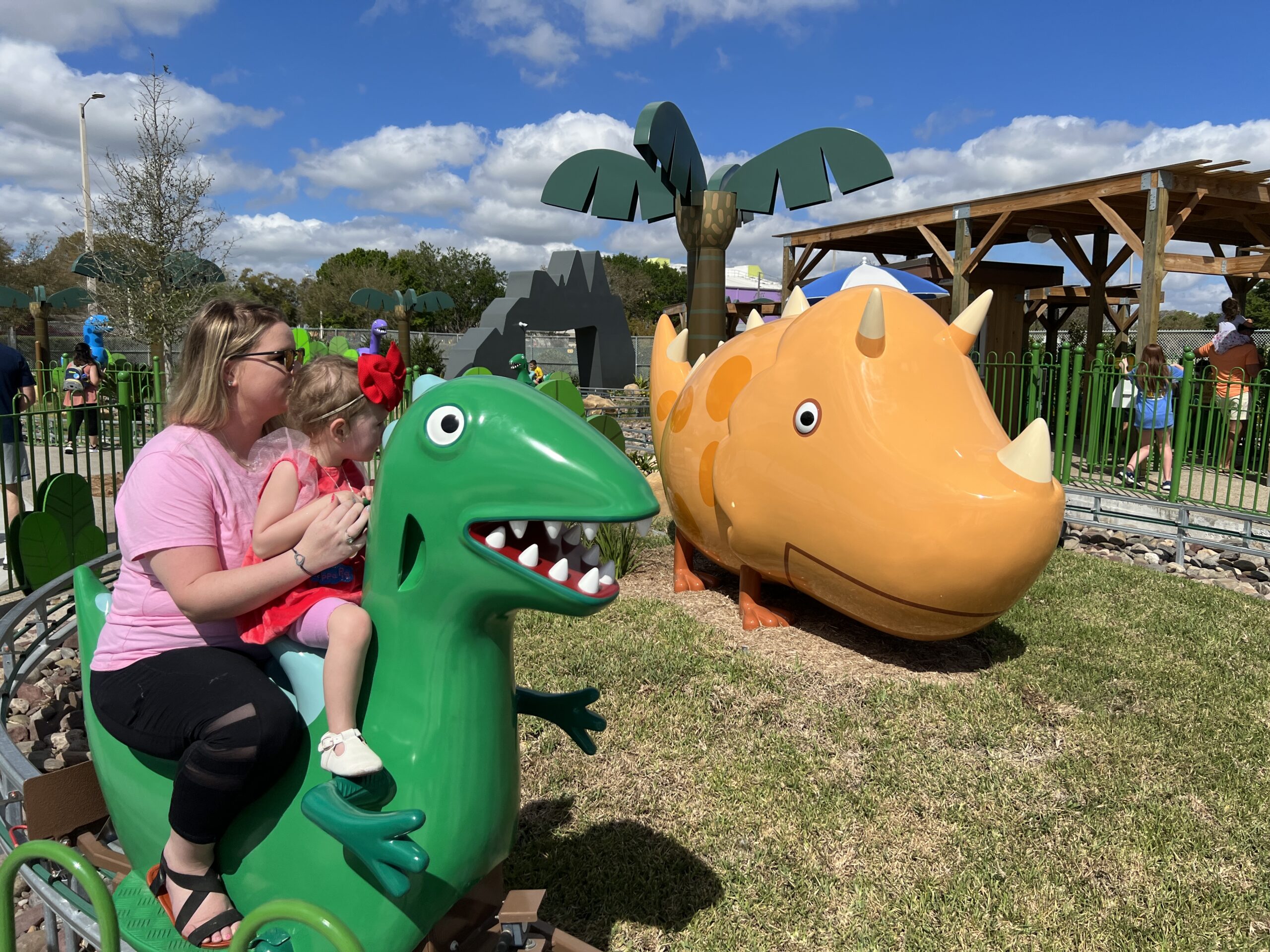 As long as we're talking about COVID-19, it is tough to understand how so many Americans were killed by a virus that attacks the obese:
(Thank you, Apple, for the 13mm-equivalent lens that enables everyone to fit into the frame.)
There is an air-conditioned TV-watching room:
The line to get lunch at the sole in-park restaurant was epic, but this was a Sunday just a week after the park opened and, in fact, they were turning away anyone without pre-purchased tickets or annual passes. Children 2-4 can probably be entertained for hours in the playground, splash park, etc. Our kids wanted to walk across the street to Legoland after about 1.5 hours and said that they wouldn't go back unless there were no lines.