This is one of my favorite New York Times headlines ever: "G.D.P. Report Shows the U.S. Economy Shrank, Masking a Broader Recovery".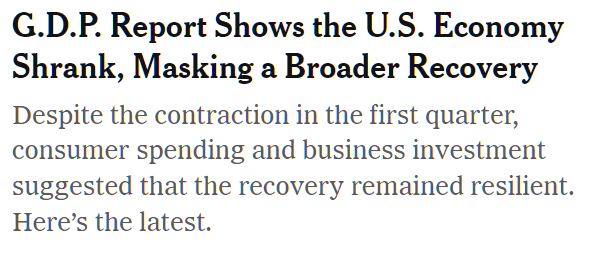 Our technocratically-managed economy is thriving, even if shrinking a bit (the per capita shrinkage would be more dramatic if you consider population growth, just as the headline "GDP growth" figures that we're accustomed to seeing don't represent an actual improvement for the average person because there are more people in the US every day). So we shouldn't lose faith in the central planners.
Speaking of central planners, I visited a friend in D.C. who works as an economist at the Federal Reserve. A few days earlier, she had received the Economist magazine in the mail. The cover story: "The Fed that failed; Why the Federal Reserve has made a historic mistake on inflation".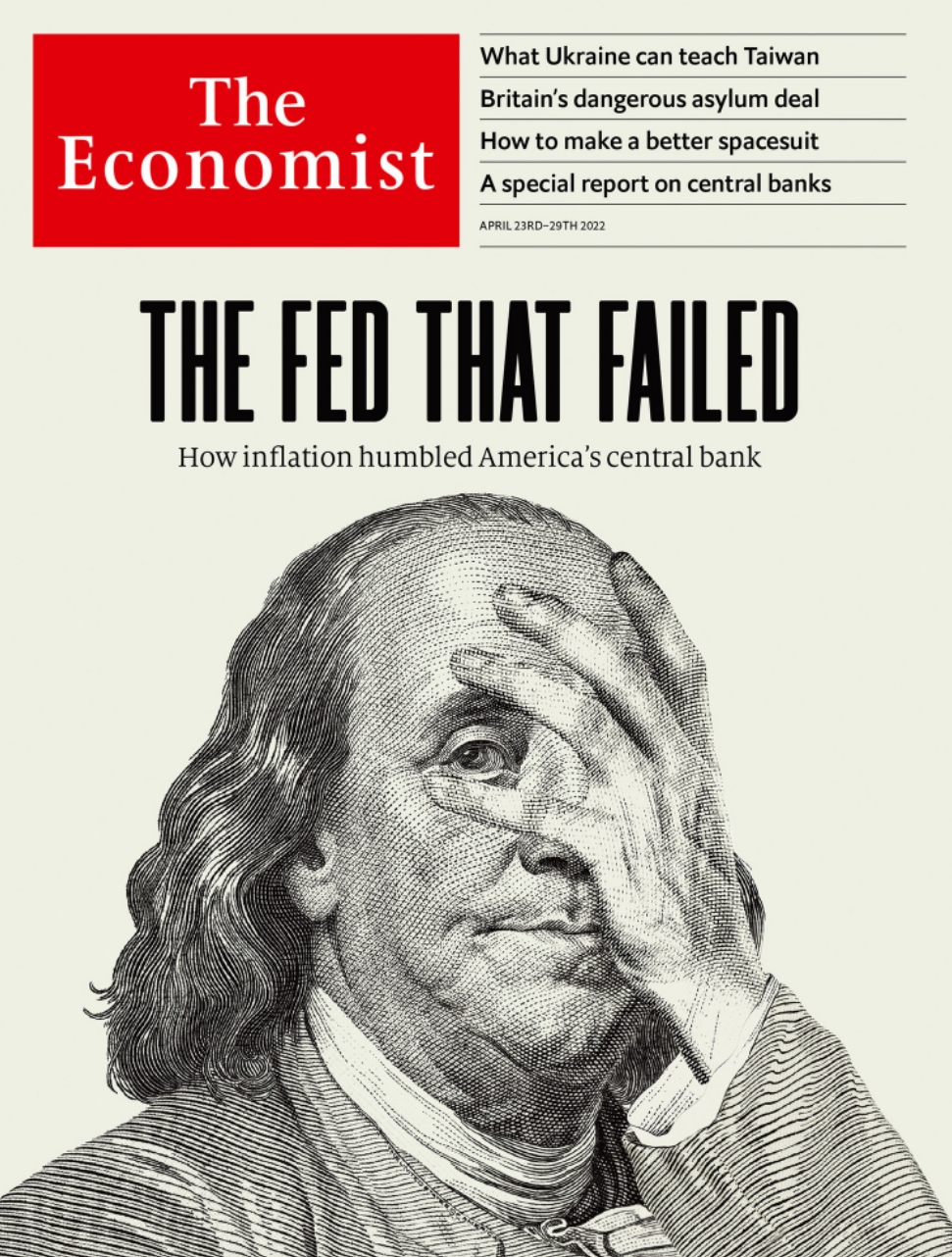 One of the things that I like least about the Economist is their faith in technocracy. All of the world's problems can be solved with enlightened leadership. Here's how the article begins…
Central banks are supposed to inspire confidence in the economy by keeping inflation low and stable. America's Federal Reserve has suffered a hair-raising loss of control. In March consumer prices were 8.5% higher than a year earlier, the fastest annual rise since 1981. In Washington inflation-watching is usually the preserve of wonks in shabby offices. Now nearly a fifth of Americans say inflation is the country's most important problem; President Joe Biden has released oil from strategic reserves to try to curb petrol prices; and Democrats are searching for villains to blame, from greedy bosses to Vladimir Putin.

It is the Fed, however, that had the tools to stop inflation and failed to use them in time. The result is the worst overheating in a big and rich economy in the 30-year era of inflation-targeting central banks.
(I'm not a subscriber, so I don't know how it ends. Maybe a reader can enlighten us all!)
Update: After disabling JavaScript for this site in Microsoft Edge, I can see the whole article. Some choice excerpts:
Strip out energy and food and the euro zone's inflation is 3%—but America's is 6.5%. Also, America's labour market, unlike Europe's, is clearly overheating, with wages growing at an average pace of nearly 6%.

Uncle Sam has been on a unique path because of Mr Biden's excessive $1.9trn fiscal stimulus, which passed in March 2021. It added extra oomph to an economy that was already recovering fast after multiple rounds of spending, and brought the total pandemic stimulus to 25% of gdp—the highest in the rich world. As the White House hit the accelerator, the Fed should have applied the brakes.
Is it fair to blame the Fed? When the government is spending like an alimony plaintiff, what could the Fed possibly have done to stop inflation?
The good news is that we can continue cheating hard-working foreigners, even as Americans continue to relax at home:
Inflation that is stable and modestly above 2% might be tolerable for the real economy, but there is no guarantee the Fed's stance today can deliver even that. And breaking promises has consequences. It hurts long-term bondholders, including foreign central banks and governments which own $4trn-worth of Treasury bonds. (A decade of 4% inflation instead of 2% would cut the purchasing power of money repaid at the end of that period by 18%.)
When the Japanese (holders of $1.3 trillion of our debt) come over to redeem the 30-year Treasury Bonds that they purchased in good faith reliance on our integrity, they'll be able to use that money to buy a one-week visit to Disney World for a family of three?