Subhead from the newspaper of record today, "The Consumer Price Index climbed 8.5 percent in July, a bigger slowdown than expected, but inflation may remain uncomfortably high for some time." Let's dig into the article:
The Consumer Price Index climbed 8.5 percent in the year through July, compared with 9.1 percent the prior month, a bigger slowdown than economists had projected. After stripping out food and fuel costs to get a sense of underlying price pressures, prices climbed by 5.9 percent through July, matching the previous reading.

On a monthly basis, the price index did not move at all in July. That's because fuel prices, airfares and used cars declined in price, offsetting increases in rent and food costs.

Core inflation was also slower than economists had expected on a monthly basis, climbing by 0.3 percent. In June, that figure was 0.7 percent.
The best official number that we have for the current inflation rate is actually 0 percent ("the price index did not move"). Or perhaps 3.65 percent (0.3 percent per month, annualized). But we are informed that inflation is a frightening 8.5 percent because of price changes that occurred at some point prior to July.
Do we believe that the 0 percent rate will endure? On the one hand, the typical American has bought so much since 2020 that it is tough to believe he/she/ze/they could fit anything more into his/her/zir/their house or apartment. On the other hand, every kind of service enterprise, including travel and tourism, is jammed, struggling to raise wages enough to attract labor, etc. (As noted here previously, one would expect that these enterprises would be half empty as the Followers of Science shied away from crowded environments so as to #StopTheSpread, but it seems that Science says the best way to end the COVID-19 pandemic is to gather unmasked in airliners, theme parks, concert halls, etc.)
Here's the saddest photo from our Oshkosh trip, a donut shop in Chattanooga that has cut its hours due to "staffing shortages". When they finally decide that they need to pay a high enough wage to open long enough to make enough profit to pay the rent, won't they also have to contribute to inflation by raising donut prices?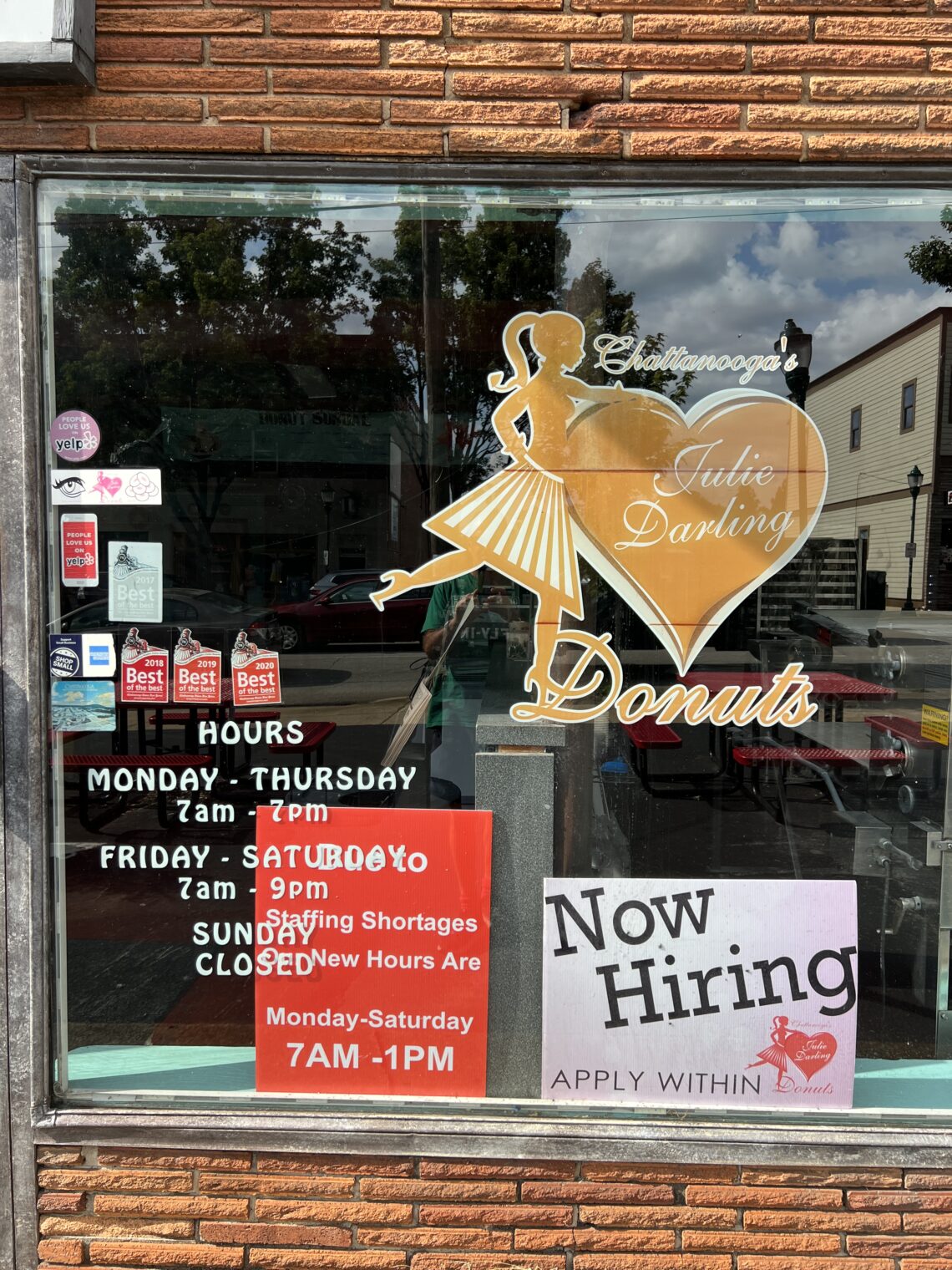 In other words, until the labor market has cleared via employers raising wages, shouldn't we expect more inflation? Also, we are still addicted to deficit spending since we can't accept that the appropriate size for government is whatever we're willing to pay in tax. It is tough to imagine inflation staying anywhere near 0 percent while politicians in D.C. are, at our behest, borrowing and spending (and then having the Fed magically absorb the new debt?).
Related: