The typical electric aircraft company is stuffed with cash on one end (e.g., "Joby Aviation raises $1.6 billion in SPAC merger at $6.6 billion valuation") while huge promises come out the other end. So far there is little evidence of delivery on the promises that were made years ago, much less on the more recently made promises. Example promise: Joby now says that they'll be operated eVTOL air taxis in 2024; they tout the fact that they got an air carrier certificate using, apparently, a Cirrus, as evidence that they are progressing toward this goal.
Generally speaking, the electric aircraft folks who showed up to Oshkosh 2022 had the same promises that they were making at Oshkosh 2018, e.g., "we'll be certified and flying commercially in three years." It doesn't seem as though any progress has been made. The batteries are the same as in 2018. The computers and software that enable autonomy and/or idiot-proof human piloting are functionally the same as in 2018. The overall aircraft architectures are the same as in 2018. What these folks are doing with their $billions is a mystery. Let's keep in mind that the U.S. involvement in World War II spanned the same time period: four years. Admittedly the percentage of GDP devoted to improving aircraft technology was larger, but the changes from 1941 to 1945 were dramatic indeed (B-17 to pressurized B-29, for example; development of the Lockheed P-80 jet fighter).
One area where it seems as though electric-powered aviation has a good chance of near-term success is carrying cargo, e.g., for "last mile" deliveries or going out to islands. What vehicle is already big enough to carry 200 lbs. of cargo and doesn't need a runway? A single-seat helicopter! These have always been niche products since there aren't a lot of folks who want to build and fly their own one-seat helicopter that is even trickier to fly than a Robinson R22. But what if the cabin is turned into a cargo compartment and the flying is handed over to a computer with the fast reflexes required to make this kind of machine safe? The folks behind the Mosquito helicopter, in partnership with a Canadian company, are doing just this: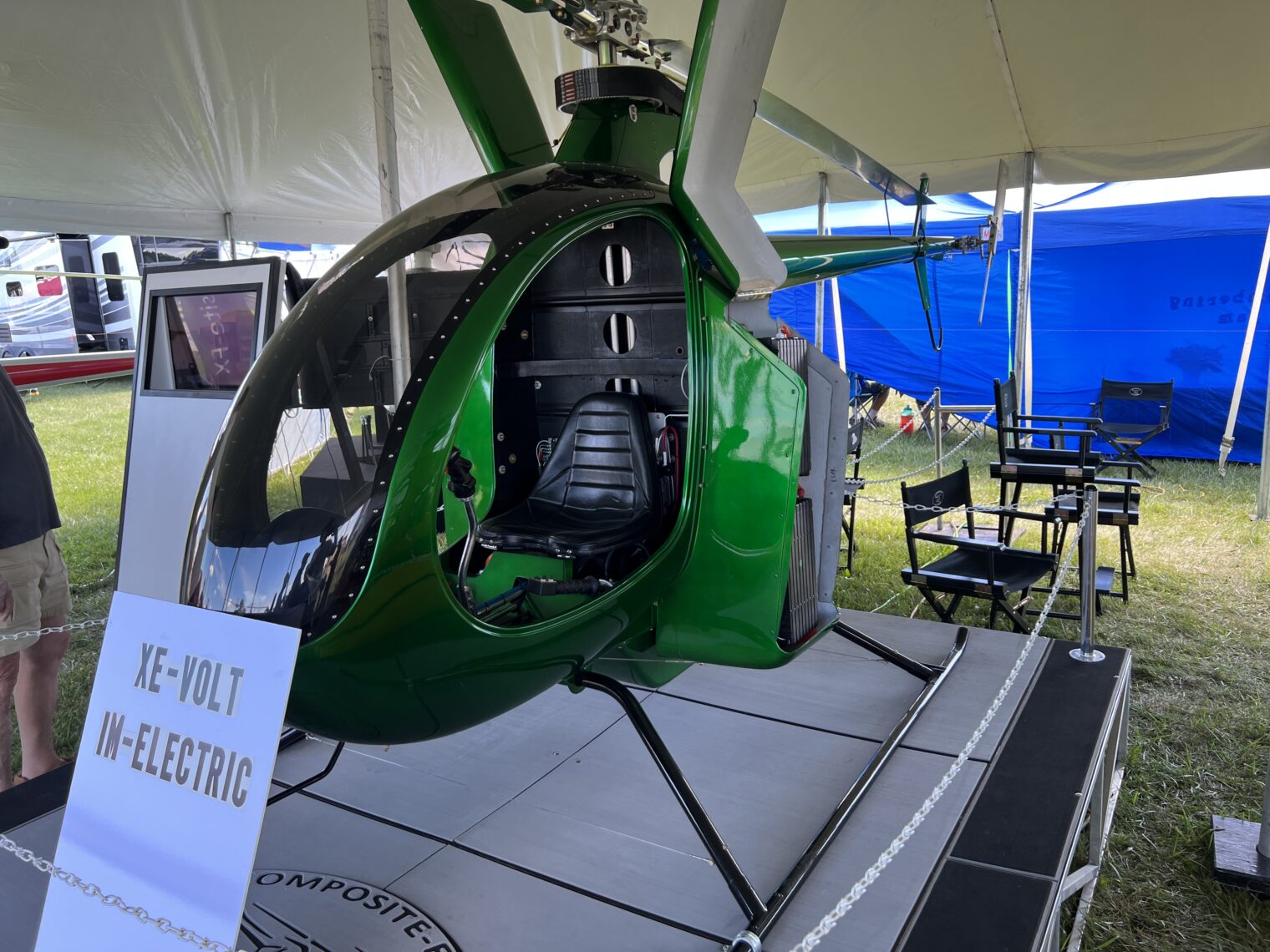 At least for the moment, the heavy lifting will be done by a conventional gasoline-powered engine. Since Oshkosh is more about the human experience of aviation, including building one's own aircraft, the biggest companies in drone cargo weren't there, but the event reminded me to check in with Amazon. A June 2022 press release says "We are working with the Federal Aviation Administration (FAA) and local officials in Lockeford [California] to obtain permission to conduct these deliveries and will continue with that collaboration into the future." So it could happen next week, next year, or next decade!
Readers: What's your best guess as to when it will be possible to get an aerial Uber in at least 5 U.S. cities? And your best guess as to when it will be possible to get packages delivered by drone to your suburban house in at least 5 U.S. metro areas? Given the technical and regulatory challenges, I'm going to say 2028 for the Ubers and 2026 for the delivery-to-house drones. I think there will be regular drone-based delivery services to at least 5 remote areas of Canada, however, by 2024 (smaller population means it will be easier to get everyone to agree).
Related:
NASA at Oshkosh (thinking about how to ensure that these autonomous vehicles are airworthy on a continuing basis)