The local power company wants to sell us an $11/month surge protector that is sure to protect our home from a 100-million-volt lightning strike and then, because it works so well, charge an additional $6/month to clean up the damage when the surge protector fails to provide any protection: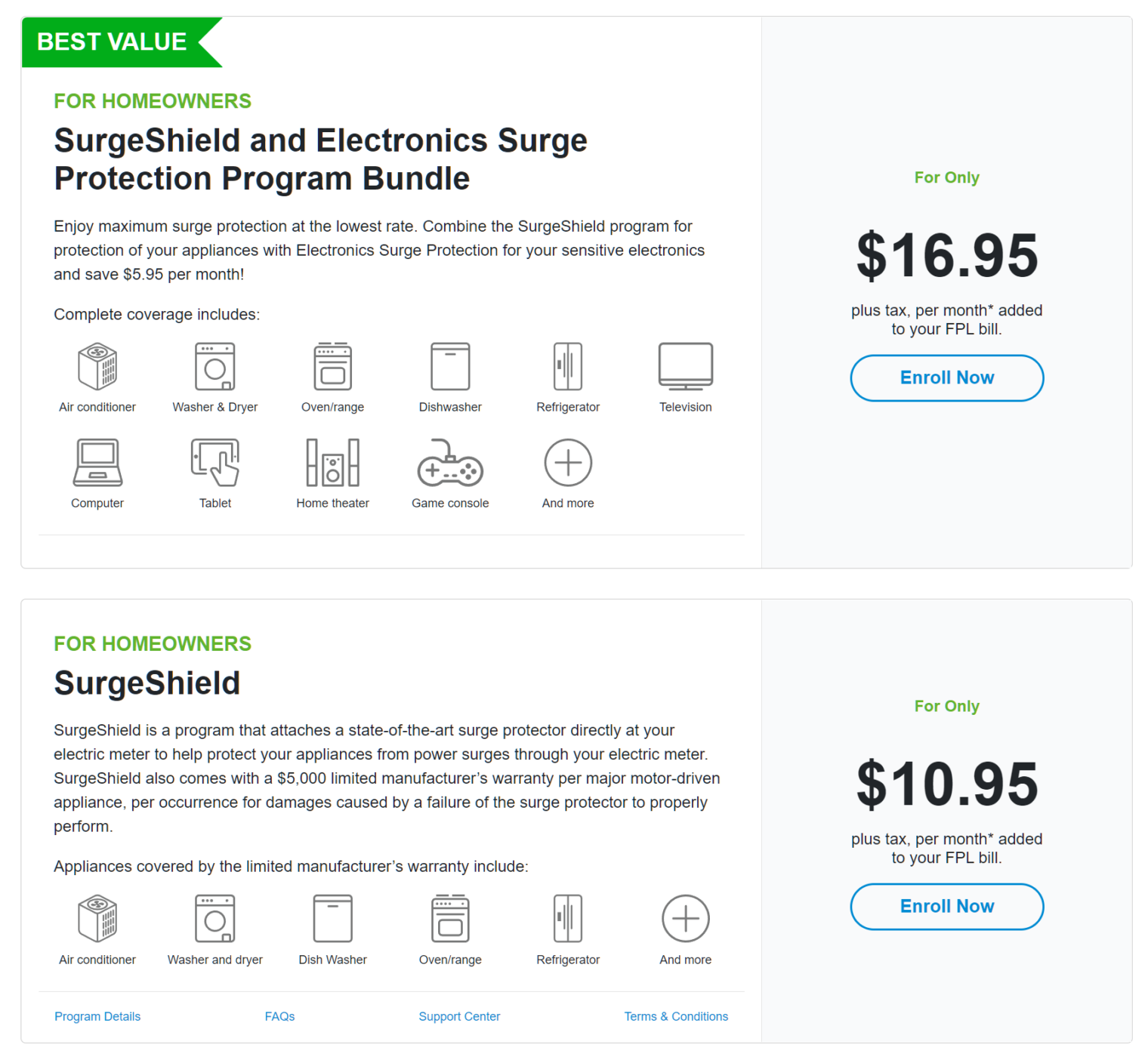 Florida has epic thunderstorms, for which climate change can be blamed, but the lines feeding our house are underground so I don't see why we would be vulnerable. I'm wondering if we can infer from the pricing that the surge protector is only 50 percent effective. It costs $12/month to buy electronics surge protection as pure insurance, with no hardware installed in the house. It costs $6/month additional to get this surge protection if one is already paying $11/month for the protection hardware plus insurance on the appliances that will be zapped when the protection hardware does not protect.
Having gone my whole life without suffering anything damaged by a power surge or knowing anyone personally who has lost anything electronic to a power surge, I would ordinarily map this into the "total waste of money" category, especially given our underground lines. I would also be concerned that the surge protector would fail in a way that shuts down power to the house despite no surge having occurred. A neighbor who has been here since the inception of Abacoa (2003 for this corner) has never had or heard of a surge problem.
But given that everything is out of stock forever, I'm wondering if the idea isn't as dumb as it seems. If our KitchenAid 42″-wide built-in refrigerator failed, it would be four weeks before we could get the required two service visits plus part replacement to restore it to functioning. If we wanted to replace it, that would take months. If we wanted a new GPU card for the PC, we'd have to rob a crypto miner. Working from home makes a power surge that takes out cable modem, network switch, WiFi access points, or PCs far more destructive than if one were using a house only for sleeping and watching TV.
Readers: Has anyone ever had anything damaged by a power surge?