I hope that each of you did his/her/zir/their reading assignment from a month ago, i.e., The Lost Bank: The Story of Washington Mutual – The Biggest Bank Failure in American History.
Now that I have finished the book myself and have given folks a chance to avoid spoilers, a brief post about the end of the book.
It turns out that it wasn't clear that WaMu had actually failed. Even when it was seized by the FDIC, wiping out shareholders and bondholders, and then sold for almost nothing to politically connected and savvy JPMorgan Chase, the bank may well have had sufficient liquidity under Federal rules. A quiet bank run, in which billions of dollars left WaMu daily, was precipitated by the following factors: (1) leaks from Washington, D.C., (2) the FDIC insurance limit of $100,000 per depositor (almost enough to buy a car today!), (3) consumer ignorance regarding the practicalities of FDIC insurance, (4) consumer reluctance to become embroiled in a process of getting money from the FDIC. If not for the leaks about the regulators' concerns, the bank run probably wouldn't have happened and the regulators wouldn't have been able to seize WaMu's assets.
We may never know the answer to whether the bank actually met the relevant criteria for being shut down. Kirsten Grind, the Wall Street Journal reporter who wrote the book, gives various estimates for the bank's liquidity on the day of shutdown but is unable to say which one is correct.
Why is it that 5 banks enjoy roughly half of U.S. commercial bank assets?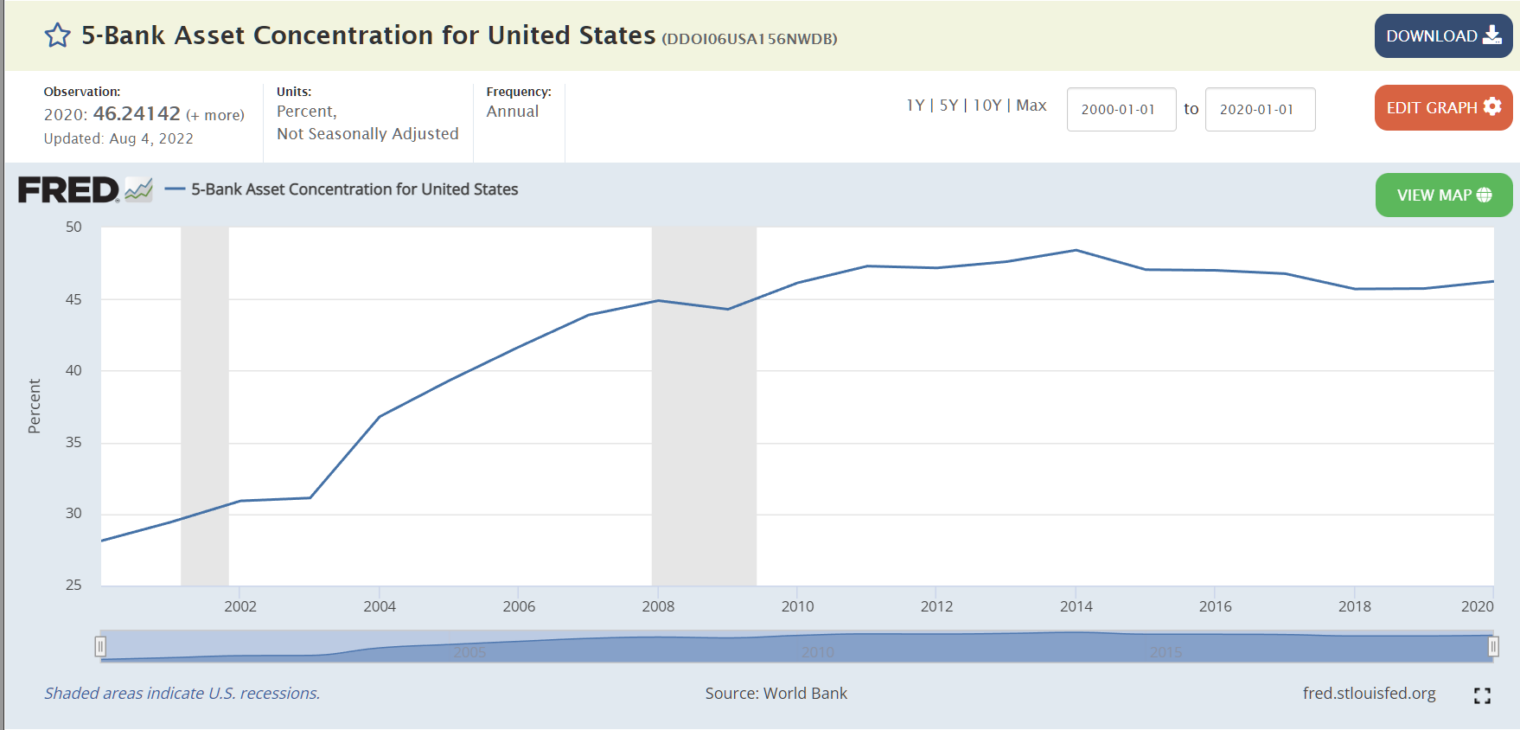 Partly this is due to the reasons discussed in the previous post regarding this book. But it is also due to the fact that the government treated some of the biggest New York banks differently than WaMu, only slightly smaller. The NY banks, donors to Senator Charles Schumer, had similar liquidity issues to what WaMu suffered. But they were deemed "systemic risks" a.k.a. "too big to fail" and, therefore, were showered with government money (taxed, borrowed, or printed) that was denied to WaMu. A handful of political appointees and government workers at the Fed, the US Treasury, the FDIC, and the OTS had a tremendous amount of discretion regarding which banks would get bigger and which would be seized.
So in addition to the topics mentioned in my previous post, the book serves as a good example of the importance of lobbying and political donations!
Related:
"A Champion of Wall Street Reaps Benefits" (NYT, 12/13/2008): Senator Schumer plays an unrivaled role in Washington as beneficiary, advocate and overseer of an industry that is his hometown's most important business. Mr. Schumer led the Democratic Senatorial Campaign Committee for the last four years, raising a record $240 million while increasing donations from Wall Street by 50 percent. That money helped the Democrats gain power in Congress, elevated Mr. Schumer's standing in his party and increased the industry's clout in the capital. Calling himself "an almost obsessive defender of New York jobs," Mr. Schumer has often talked of the need to avoid excessive regulation of an industry that is increasingly threatened by global competition.
Is LGBTQIA the most popular social justice cause because it does not require giving money? (includes photos of Seattle from August 2019, including one in which the truth of the Rainbow Flag religion is proven mathematically)