Joe Biden's economic policy seems to follow the same logic as that used by my 88-year-old mom's circle of friends. These women are generally innumerate, despite having enjoyed elite educations, because they took their last math class in high school and, as stay-at-home wives, could enjoy afternoons at the theater rather than reviewing accounting reports or doing the other tedious stuff with numbers that is required to earn money. They believe that the U.S. has an infinite supply of wealth, partly because Asians are inferior to Americans in creativity and, therefore, cannot truly compete with us. Due to the fact that our wealth is infinite, there shouldn't be any limit to what the government can spend. Any spending program that might help at least one American, therefore, should be approved.
Joe Biden seems to hold similar beliefs, but what about the professional economists who have been advising him on his Inflationary Journey? Jerome Powell, chair of the Federal Reserve, must be one of the world's leading experts on macroeconomics, right? Wikipedia says that his/her/zir/their degrees are in "politics" and law. I.e., there was no formal training in economics behind "Fed's Powell says high inflation temporary, will 'wane'" (AP, June 2021).
The Chair of Biden's Council of Economic Advisors is Cecilia Rouse. In May 2021, she characterized inflation as "transitory" and "temporary" (Reuters). Here she is in June 2021 doubling down:
And then in December 2021… "Top Biden Economist: 'I Really Do Believe' Inflation Will Ease" (Bloomberg):
"As supply chains ease, as people get back to work, as we normalize our economy, the price pressures will start to ease," said Rouse, who's on leave from her post as a Princeton University economics and education professor.

Rouse called the coronavirus the biggest, ongoing threat to the U.S. economy — one that could upend Americans' willingness to take jobs, travel and spend money on activities like dining out. It's still too early to know the ways in which the new variant called omicron could affect the U.S. economy, she said.
(It is not politicians ordering lockdowns and school closures that are threats to the economy, but SARS-CoV-2 itself.)
She's 58 years old so at least has the potential to not be senile. On the other hand, Cecilia Rouse seems to be a specialist in labor economics, a potentially irrelevant specialty given a country where the long-term trend is people preferring not to work: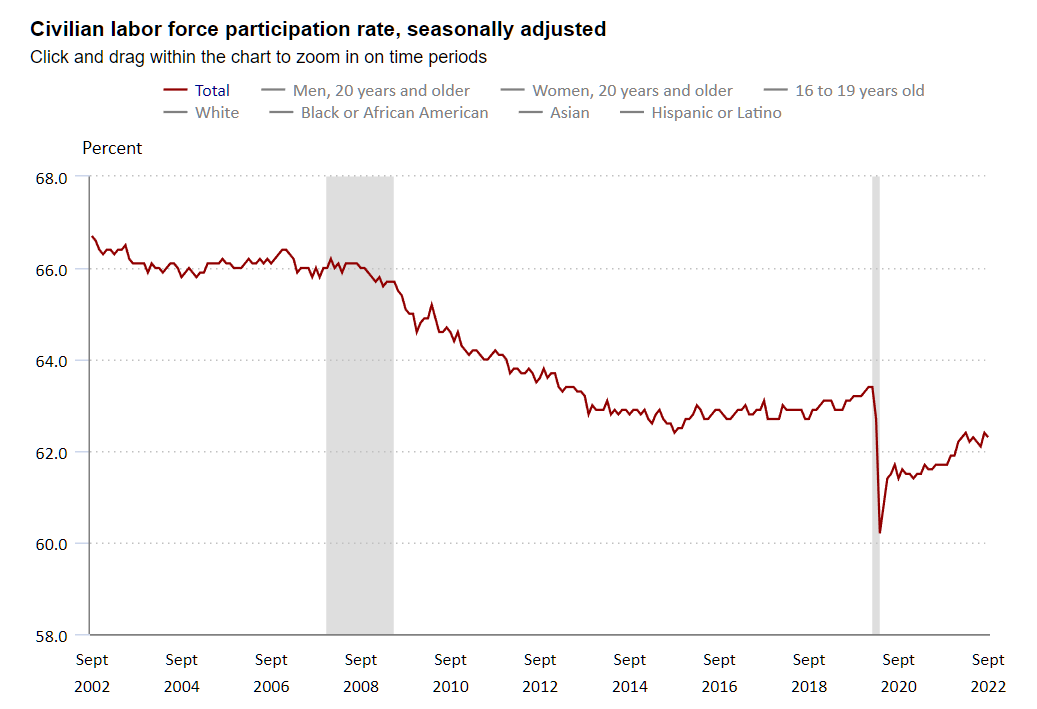 Google Scholar shows this top advisor's papers. A sampling:
"Orchestrating impartiality: The impact of blind auditions on female musicians" (possibly flawed; see also this critique)
"Diversity in the economics profession: A new attack on an old problem"
"Constrained after college: Student loans and early-career occupational choices"
"The Costs and Benefits of an Excellent Education for All of America's Children" (Science says that the obvious answer is to close schools entirely for 12-18 months, particularly anywhere that Children of Color are to be found)
None of these seem to relate to the central questions of our day: Can the government borrow and/or print $31 trillion without causing hyperinflation? If everything that the government spends is indexed to inflation, can the government itself cause an inflation spiral?
Is it possible that the central planners are completely unqualified for the job that they've given themselves?