From an immigrant friend on the East Coast:
I drove to my [athletic] club today and listened to NPR to get my pulse up.

Started counting how many times they said "democracy is on the ballot", "election deniers", "threat to democracy" and so on

47 times in 50 minutes
What was the period covered by this study? 5:20-6:10 pm. In other words, there was enough time for the righteous listener to wipe the sweat off his/her/zir/their brow after a demanding day of pretend-to-work-from-home and respond to these threats by driving the working-class-subsidized electric car to the still-open polls.
Sadly, the call was not heeded by the righteous in Florida. The candidate who warned of fascism rising and democracy ending if he were to be defeated actually was defeated, even in counties where the majority of voters are registered in his party.
From The Google: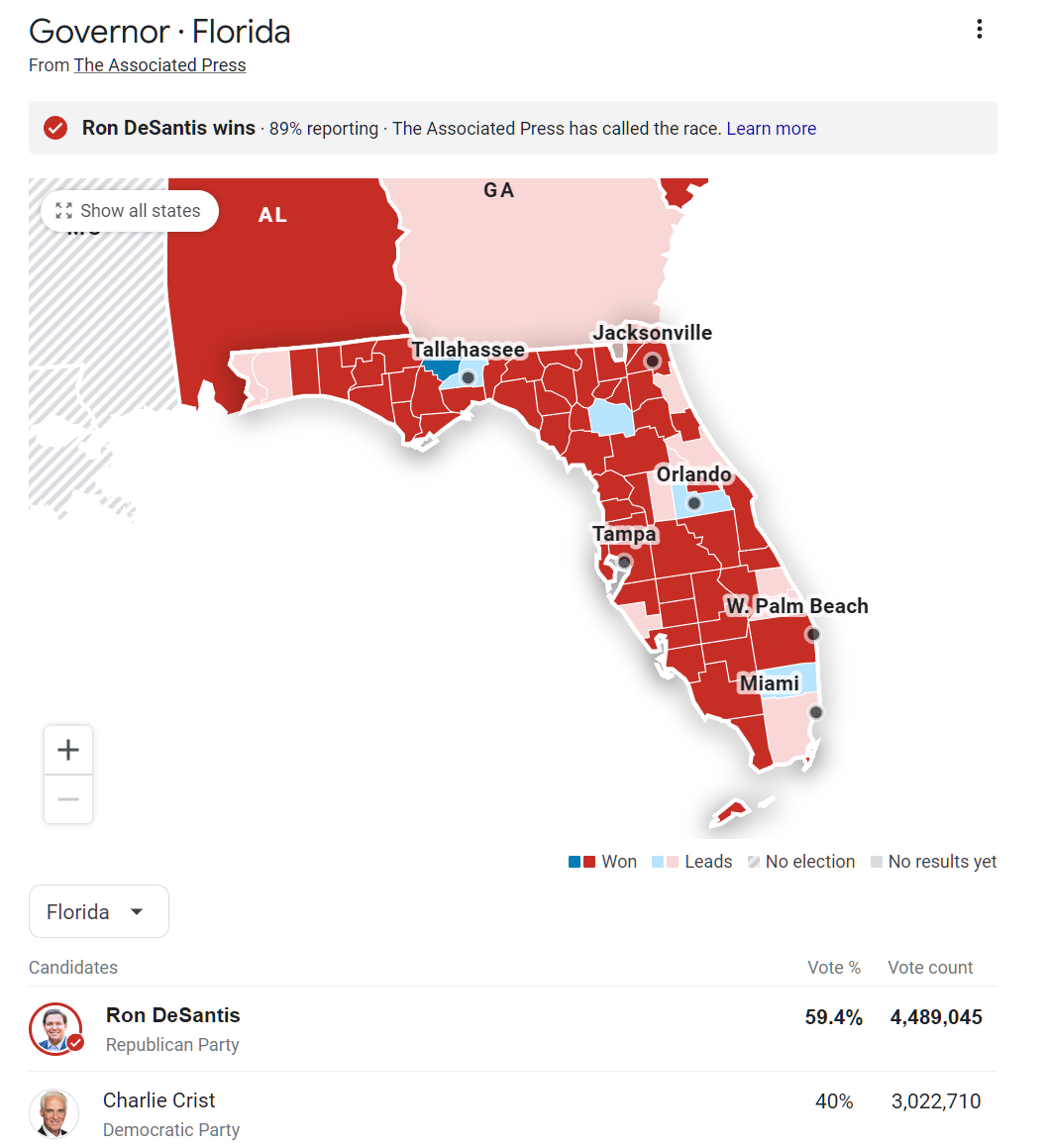 Charlie Crist lost in traditionally Democrat Miami, abandoned by his Latinx brothers, sisters, and binary-resisters, despite having been endorsed by the Miami Herald. It isn't surprising that Mr. Crist won in Tallahassee, where everyone works for the government or a government-run university. It would be interesting to try to figure out what made Orlando and Fort Lauderdale outliers. Why don't they love Ron?
Suppose that you are concerned about the end of democracy here in Florida. The New York Times has us covered.
I do like the Science-based "Take a deep breath and then plunge your face into a bowl or sink filled with ice water for 15 to 30 seconds" idea, but I would prefer "Put your head deep into a toilet and close the lid on your back to feel safe, making sure not to compress your breathing straw."
How are things going back in our former home state? History was made:

The Human Rights Campaign applauded Healey's win, saying, "as one of our nation's first lesbian governors, she will not only be a champion of pro-equality policies, but also a role model for the entire LGBTQ+ community."

The U.S. also has a chance to see its second openly lesbian governor elected on Tuesday. Tina Kotek, Oregon's Speaker of the House, is running for governor of her state against Republican Christine Drazan and independent candidate Betsy Johnson. Oregon has had a Democratic governor since 1987.
Maybe this new role model can find some common ground with Ron DeSantis? From Healey's campaign page on immigration:
Maura has been a leading advocate for immigrant rights. As Governor, she will ensure that all Massachusetts families can thrive.
Ensuring that eligible undocumented residents can receive a driver's license, regardless of immigration status.
Ending state and local law enforcement's involvement in federal immigration matters.
Expanding the state's capacity to meet the language access needs of our communities.
At the federal level, providing a meaningful pathway to citizenship for undocumented immigrants.
She wants to take care of migrants and the Florida legislature has appropriate funds to help migrants to where go to where they will be welcomed.
Related: