Zillow managed to lose nearly $1 billion buying and flipping houses during the most dramatic real estate inflation in the history of the United States. They could have bought houses at random and made money, at least in nominal dollars, yet they managed to lose.
MIT alum and major Joe Biden donor Sam Bankman-Fried managed to lose his own money and also money that he stole from depositors in the crypto marketplace. But how? His trading operation, Alameda Research, was started in November 2017. Bitcoin was about $7,000 back then. Today, however, Bitcoin is quoted at over 16,000 Bidies. Adjusted for inflation, perhaps this is not a great return but it looks good in nominal dollars at least.
How did a guy celebrated as a genius by Sequoia Capital and the rest of the Silicon Valley smart set manage to lose money while operating in a strong tailwind? Is it like the Florida real estate boom of the mid-1920s in which people who'd been successful kept doubling down and, therefore, the recent dip in crypto prices caused losses far greater than what had been earned on the way up?
Let's look at what was motivating this rare genius. "How the newest megadonor wants to change Washington" (Politico, August 4, 2022):
… part of life as Sam Bankman-Fried is about embracing paradoxes. The 30-year-old, who has amassed an estimated $20 billion fortune over the last four years through cryptocurrency, drives a hybrid Toyota Corolla.

He was also one of just a handful of donors who spent $10 million-plus backing President Joe Biden in 2020, and in the last year, he's hired a network of political operatives and spent tens of millions more shaping Democratic House primaries. It was a shocking wave of spending that looked like it could remake the Democratic Party bench in Washington, candidate by candidate. Looking ahead to the 2024 election, he has said he could spend anywhere from $100 million to $1 billion.

… Bankman-Fried has what it takes to be the biggest donor in politics — an eleven-figure bank account he's committed to giving away before he dies…
Looks like he followed through on that last commitment. What was his main political objective? More and better coronapanic:
In politics, that's led Sam Bankman-Fried to dual objectives. There's the one he has talked about most: preventing the next pandemic, which he fears could be more lethal than Covid-19 and would pose a huge threat to humanity, an obsession for effective altruists.
But if he needed only $1 billion to deliver a Democrat-ruled paradise to Americans and that was his main objective, why did he keep placing risky bets? He already passed the $1 billion mark a long time ago, right?
Maybe it was his parents who were motivating him to bet big and steal big? His dad is a Trump-hating Stanford Law professor, Joe Bankman. Mom is Barbara Fried, another Stanford Law professor, who was a leader of a Silicon Valley PAC funneling money to Democrats (Vox). Perhaps the parents said that they needed $10 billion to prevent Republicans from exercising any political power in the U.S. going forward? (plus another $300 million for vacation houses in the Bahamas to be owned by mom and dad that would also be nice enough to host Bill and Hillary Clinton)
Maybe it was about J.K. Rowling and the 2SLGBTQQIA+ community? "Sam Bankman-Fried shifts blame for FTX collapse to ex-girlfriend's crypto firm" (New York Post, 11/17/2022):
Disgraced crypto mogul Sam Bankman-Fried unleashed a wild, wide-ranging interview in which he appeared to shift blame for the collapse of his company FTX to the trading firm run by his ex-girlfriend, Caroline Ellison.

Bankman-Fried is under intense pressure to address his decision to funnel $10 billion in FTX client funds to prop up Alameda Research, where Ellison — a 28-year-old, professed "Harry Potter" enthusiast who has tweeted about taking amphetamines — served as CEO.

Of that money, at least $1 billion in customer funds is still missing.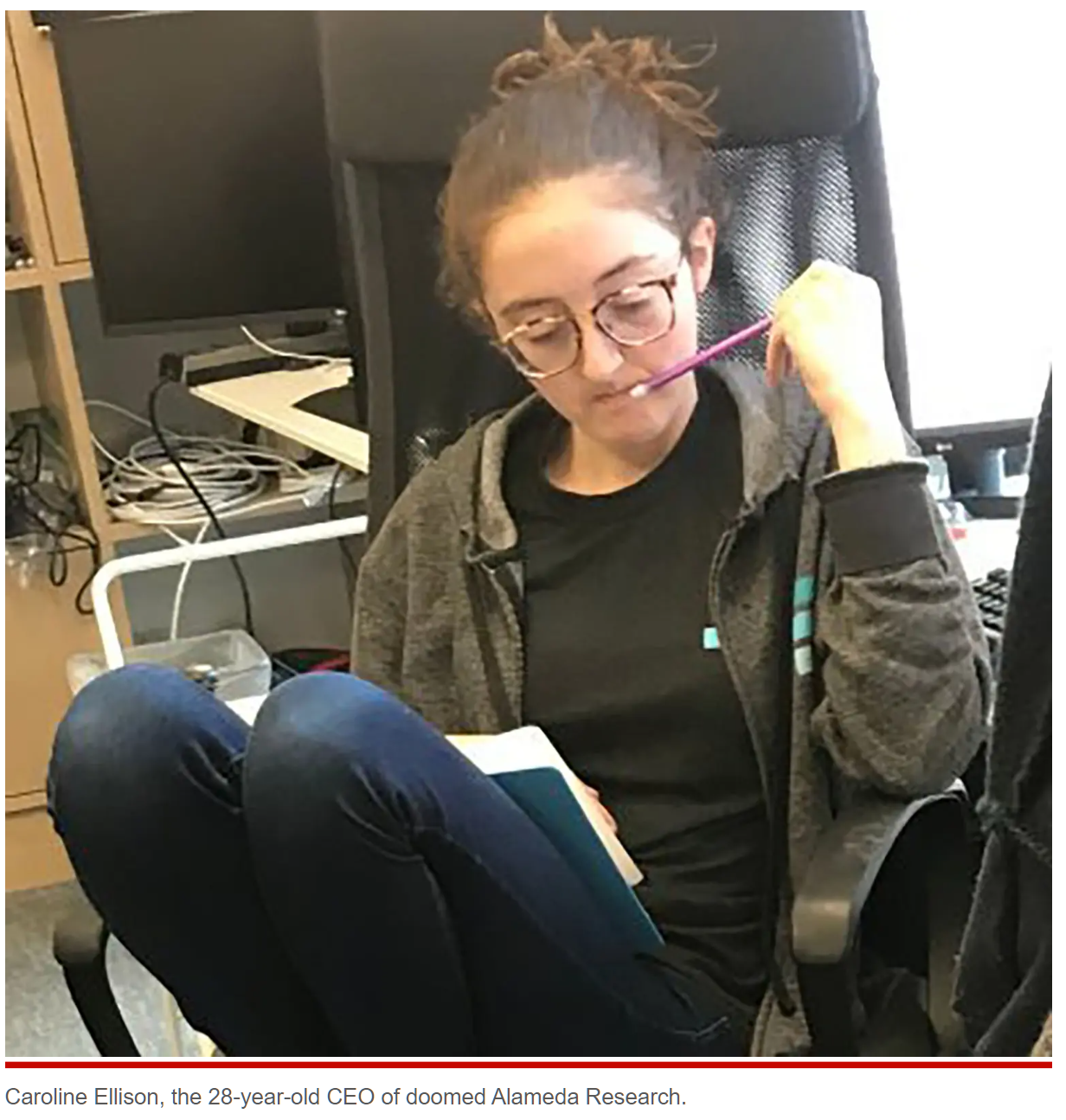 The company ran its own cryptocurrency, i.e., Ponzi scheme, in which the bits that they pulled out of their servers' butts were worth more than $2 billion (CNBC). So we need to try to understand how Sam Bankman-Fried and Caroline Ellison managed to lose at least $2 billion.
How did these two lose so much money? The modern equivalent of CDOs?