If humans and SARS-CoV-2 need to co-evolve, as my medical school professor friends said back in March 2020 when heaping scorn on lockdowns, school closures, and mask orders, we might be at half-time here, three years in.
The Swedish MD/PhDs agreed with the professors and, consequently, set up the country's Give-the-Finger-to-the-Virus policy. At the time (Feb/March 2020), they said that their goal was to have the same death rate, by the time the dust settled in 2022, as other continental European nations. Did they succeed?
Our World in Data offers a cumulative deaths, compared to projections, statistic for the entire period of coronapanic (almost 3 years). This will capture COVID-19 deaths and also near-term deaths that were caused by lockdown, e.g., deaths from extra alcohol and drug abuse, from deferred medical care and screening tests, etc. It won't capture the likely premature deaths of those of today's children who lost 12-18 months of education, the expected premature deaths of those who were unemployed for a long period, the expected premature deaths of those who gained weight during the lockdowns, etc.
What do we see against the comparison group that the Swedes set up prior to the experiment being run? Sweden suffered 5 percent more deaths than expected during the three-year period. Austria had lockdowns, mask orders, and forced vaccination. They're at 9 percent. Slovakia and Czech Republic were celebrated for their early and eager adoptions of forced masking. They're at 19 percent and 9 percent. Germany, which won all kinds of praise for doing everything in a German manner? 5 percent. Infinitely rich neighboring Norway? 4 percent. K-12 education PISA test champion neighbor Finland? 5 percent.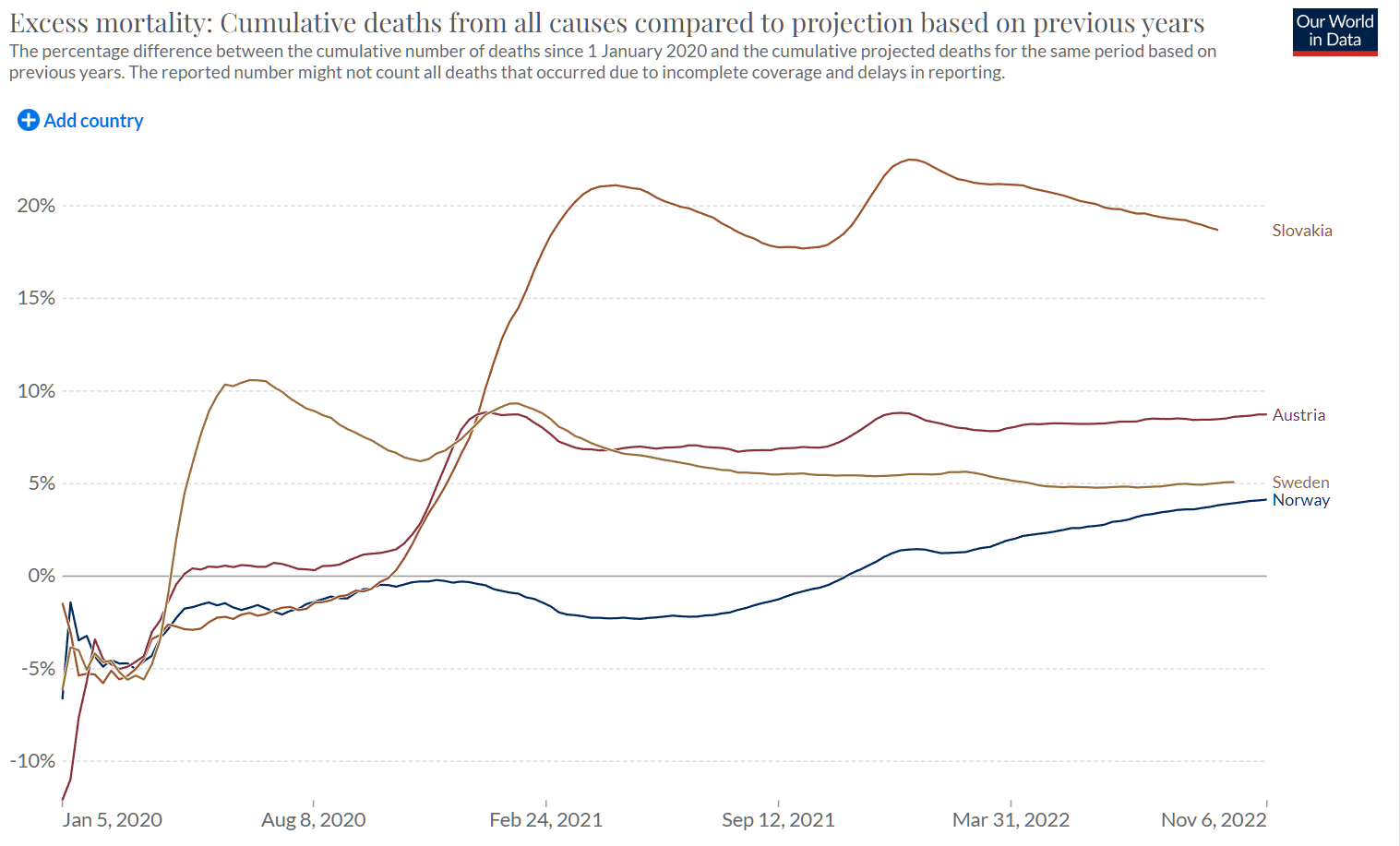 How about the comparison group that the NYT set up? Ireland (5%), UK (10%), France (6%).
What about looking at some countries that weren't part of the original experiment but might yet be interesting? Peru, which brought out the police and military to enforce lockdowns and masks… 41 percent. Spain, where you had to borrow the neighbor's dog if you wanted to legally walk out of your apartment? 11 percent. Greece, which was celebrated for its Science-informed response to COVID-19? 11 percent. ("they approached this initial crisis in an exemplary manner. We should all consider following their lead of consistent messaging, evidence-based evaluation, and adherence to the scientific method."; or give the finger to the virus and experience fewer than half as many excess deaths?) How about the U.S., where just over half of us were clean and tidy Followers of Science and where, for 2/3rds of the covered period, we have enjoyed the best and most competent Science-following government? After spending $20 trillion(?) and cowering in place for 1-2 years (in the states and cities that followed Science)…. we're at 14 percent.
Caveat: these data are not age-adjusted, which is critical to do with a virus that targets the elderly (see this ranking of U.S. states for how much the needle can move, e.g., for a younger-than-average state such as California). The median age in Ireland is 5 years younger than Spain's, with Sweden's median age falling in the middle.