Florida's state Department of Education's rejection of the College Board's AP African American Studies Course (already obsolete? Why isn't it called "Black Studies"?) provides a window into the problems being tackled by America's best academic minds.
First, most media articles on this controversy are likely mostly false. "Ron DeSantis government bans new advanced African American history course" (BBC) says the course is "banned" and that it was done by Ron DeSantis and staff. The New York Times:
Florida will not allow a new Advanced Placement course on African American studies to be offered in its high schools, stating that the course is not "historically accurate" and violates state law. … Even before Mr. DeSantis signed the contentious laws last year restricting what can be taught, his administration rejected dozens of math textbooks for use in public school classrooms, claiming their incorporation of social-emotional learning and critical race theory.
See "Florida school boards, not state officials, choose textbooks" (Miami Herald, April 21, 2022) for an explanation of how the purportedly "banned" textbooks ("Florida says why it banned these math textbooks" (Washington Post)) could be used in any and every school in Florida. Was this course actually "banned" or was it "banned like the textbooks were banned"? Public schools in Florida are run by counties and if a county wishes to teach a particular class, I don't think that there is a mechanism for the state to stop it. Palm Beach County Schools, for example, could teach a class on "The Social Justice of Kiteboarding" even if state-level bureaucrats allege that it "lacks educational value". Here's the "ban" letter from the Florida DOE, in which the cruel bureaucrats have refused to include the course in a "directory", not banned counties, which they do not control, from teaching it: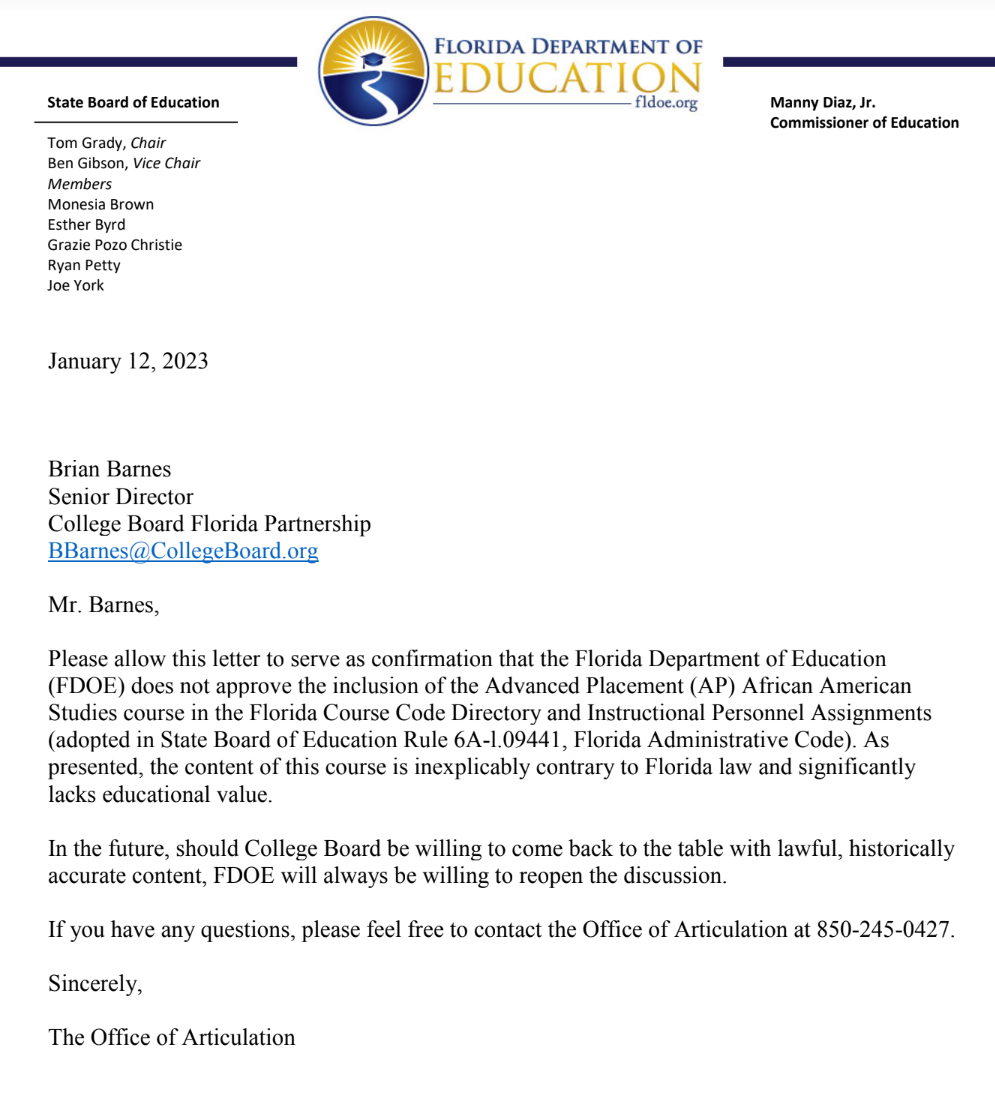 More interesting is a document that is generally absent from media reports of the atrocities committed by Ron DeSantis. It contains excerpts of material in the class and, therefore, a window into what Black Studies scholars in our elite universities are grappling with. Students are taught the importance of "overthrow[ing] capitalism" (Topic 4.31) and also that reparations must be paid (Topic 4.30). For each American who identifies as Black (roughly 50 million says the Census Bureau) to get $5 million (the fair number according to a learned committee in San Francisco), the country needs to scrape up (or print?) $250 trillion, more than 10 years of current GDP. Given that our economy is based on transferism, how is the $250 trillion to be found if capitalism is overthrown? This is the question that the PhDs in Black Studies who put together the AP African American Studies course raise. Who says that high school students aren't being challenged?