Yesterday was the last day on which a child could receive "medically necessary" gender-affirming care, the end of a one-year bureaucratic process (even in Florida, government does not move at Amazon speed!). From April 2022… "Gender-affirming care, a 'crucial' process for thousands of young people in America" (CNN):
The Florida Department of Health now says a vital kind of medical care known as gender-affirming care should not be an option for children and teens, even though every major medical association recommends such care and says it can save lives.

The department's new guidelines suggest that children should be provided social support from peers and family and should seek counseling. But it says they should be denied treatments that can be a part of this care, including calling the child or teen by the name and pronoun they prefer and allowing them to wear clothing or hairstyles that match their gender identity.

Gender-affirming care is medically necessary, evidence-based care that uses a multidisciplinary approach to help a person transition from their assigned gender – the one the person was designated at birth – to their affirmed gender – the gender by which one wants to be known.

The gold standard of care
Major medical associations – including the American Medical Association, the American Psychiatric Association, the American Academy of Pediatrics and the American Academy of Child & Adolescent Psychiatry – agree that gender-affirming care is clinically appropriate for children and adults.
The regulators of Florida's MDs began to shut down the gold standard in September 2022 (source):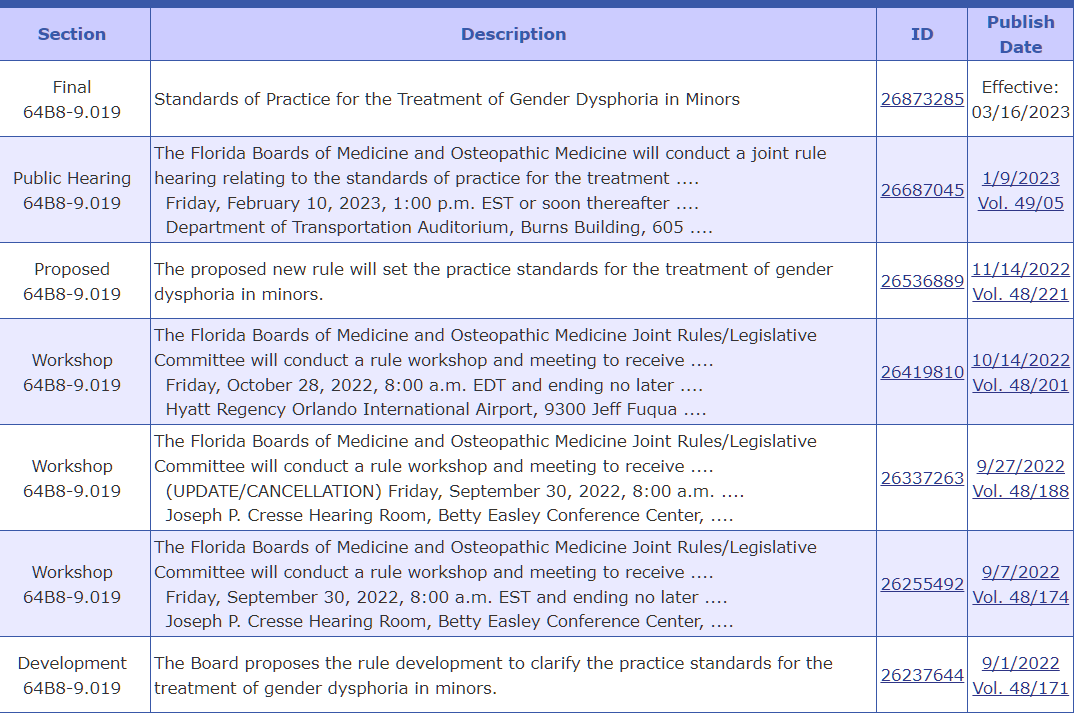 The final rule:
64B8-9.019 Standards of Practice for the Treatment of Gender Dysphoria in Minors.
(1) The following therapies and procedures performed for the treatment of gender dysphoria in minors are prohibited.
(a) Sex reassignment surgeries, or any other surgical procedures, that alter primary or secondary sexual characteristics.
(b) Puberty blocking, hormone, and hormone antagonist therapies.
(2) Minors being treated with puberty blocking, hormone, or hormone antagonist therapies prior to the effective date of this rule may continue with such therapies.
The regulators of Florida's DOs went off the gold standard effective today (source) with an identical rule.
And on the other coast… "California Becomes First Sanctuary State for Transgender Youth Seeking Medical Care" (from state-sponsored media):