April 5 email from Mass General, below. Customers are reminded that coronapanic officially ends next month and that, to keep the OxyContin flowing, it will be necessary to actually see a physician before taxpayers will pay for the pills. (i.e., for more than three years you've been able to get Oxy the same way that Californians with a sniffle get their Paxlovid: an audio or video call from the comfort of your sofa). Given that it takes a month or more to get in and see a physician in the U.S. (the miracle of open borders for the low-skilled and closed borders and onerous re-licensing requirements for qualified European physicians), I'm providing this reminder as a public service.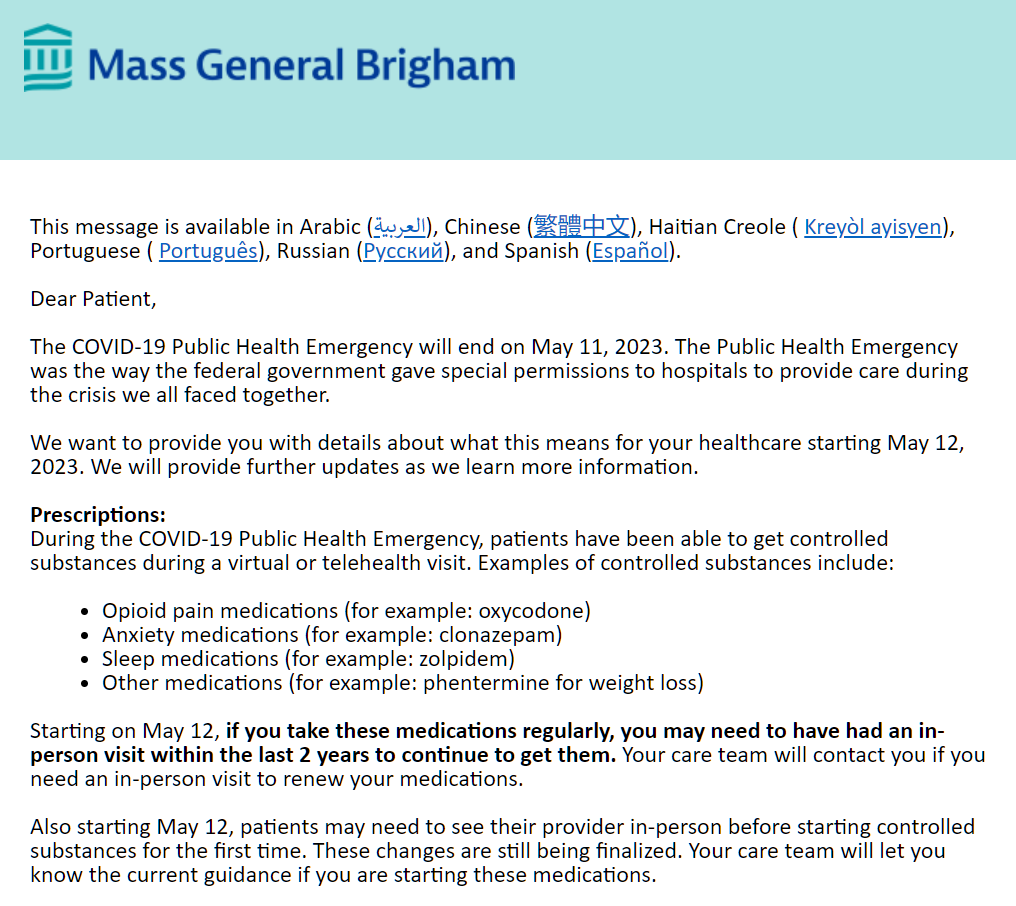 Related:
Focusing on race and racism just makes the problem worse. (true or false?) (there is one answer that will enable a person to continue receiving a paycheck from Mass General Brigham)
Should you wear a mask when going to the doc to get your opioid prescription? "Were masks in hospitals a waste of time? Hated NHS policy made 'no difference' to Covid infection rates, study finds" (Daily Mail, April 7): Researchers from St George's Hospital in south-west London analysed routinely collected infection control data over a 40-week period between December 4, 2021 and September 10, 2022. … Researchers found removing the mask policy in phase two did not produce a 'statistically significant change' in the hospital-acquired Covid infection rate. Equally, they 'did not observe a delayed effect' in the Covid infection rate once the policy was removed. … Lead author Dr Ben Patterson said: 'Our study found no evidence that mandatory masking of staff impacts the rate of hospital SARS-CoV-2 infection with the Omicron variant. … Fellow researcher Dr Aodhan Breathnach added: 'Many hospitals have retained masking at significant financial and environment cost and despite the substantial barrier to communication.