Friends on Facebook have been celebrating a variety of companies previously condemned as "greedy" for their 20-50 percent price increases that have contributed to Bidenflation. What did these companies do to get out of the doghouse? Promise to pay for employee travel related to abortion care. "Here are the companies that will cover travel expenses for employee abortions." (NYT):
A handful of companies have committed to helping their employees access abortion services.

Companies began to come out with policies on covering travel expenses for employees who need abortions in May, when a leaked memo from Supreme Court justices previewed their decision on the case, Dobbs v. Jackson Women's Health Organization. This small group included Starbucks, Tesla, Yelp, Airbnb, Microsoft, Netflix, Patagonia, DoorDash, JPMorgan Chase, Levi Strauss & Co., PayPal and Reddit. Others, including Disney, Meta, Dick's Sporting Goods and Condé Nast, joined them on Friday when the decision became final, though most of them avoided making public statements directly referencing the ruling.

"As the world's most broadly based health care company, we strive to improve access and affordability, create healthier communities, and put health within reach for the people we serve," Johnson & Johnson said Friday. "We also believe health care decisions are best determined by individuals in consultation with their health care provider."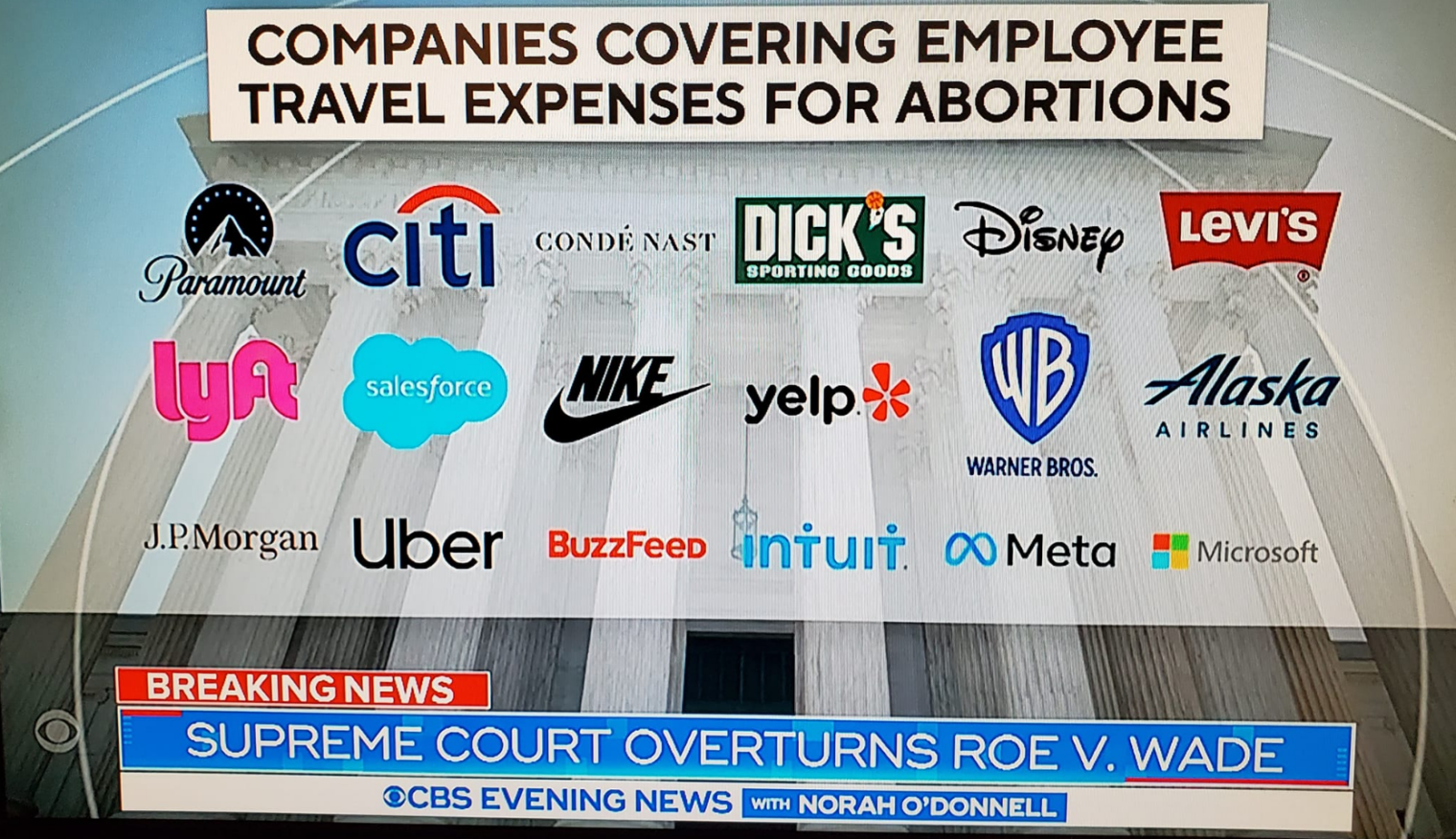 Ordinarily we assume that corporations seek to maximize profit. It is much cheaper to pay for abortion care, even if travel is involved, than to pay for parental leave and then to pay 100 percent salary for the reduced productivity of a worker with a baby at home waking him/her/zir/them up at night. But the assumption of the Righteous, who just last week were condemning these companies for "greed", seems to be that these companies are doing the good work for altruistic/philanthropic reasons.
Yet more curious is that the folks who previously celebrated pregnant people in a rainbow of 74 different gender IDs now refer to abortion care as something only for "women". Examples:
Women are going to die because of this horrific decision. This a cry for body autonomy, and equality itself.

Women are now second class citizens…

Are there Republicans in Congress who share the view of our [Maskachusetts] Governor Charlie Baker who will vote to protect a women's right to choose in Congress.

I don't want to hear from anyone about how taking away reproductive rights from women is a pro-life move.
Regardless of your views on whether abortion care should be regulated at the federal or state level (if abortion care is to be regulated at all), it seems clear that decades of progress in gender science have been wiped away by the Supreme Court.
Related:
"Amazon will pay US staff travel expenses for abortions and other treatments" (BBC): A message to Amazon staff said that the firm will pay up to $4,000 (£3,201) in travel expenses each year for treatments not available nearby. (Why is there a limit if abortion care is important?)
Broody hen compared to gravid human in the office (2018): Just as a broody hen negatively impacts a farmer's productivity, a gravid human poses a significant inconvenience to her employer. That's why companies like Google, Facebook, and Apple pay for female employees to extract and freeze their eggs. It's great to see tech companies empowering women the same way that factory farms empower their battery hens!
Full post, including comments