Interested in escaping to the mountains for all or part of the summer? Here's a report, based on 2023 visits, regarding three possibilities.
Park City, Utah (elevation 7,000′) is the best choice if you're passionate about Pride and 2SLGBTQQIA+. The city purchased at least 100 trans-enhanced rainbow flags and has hung them from every lamppost in the small downtown area. You can pay obeisance to Rainbow Flagism before you think about entering a business establishment, which might in turn have its own 2SLGBTQQIA+ talismans on the windows or door. If you're not a follower of the state religion, however, you might be annoyed by Park City's tilted situation. There are no level streets downtown. Park City is great if you're planning to break a bone doing an adventure sport or if you're planning on suffering a total body meltdown due to old age. A friend went from ski accident in Park City to world-class University of Utah hospital in 25 minutes via ambulance. The surrounding area is certainly more scenic than most of Florida, but it is far from any National Park.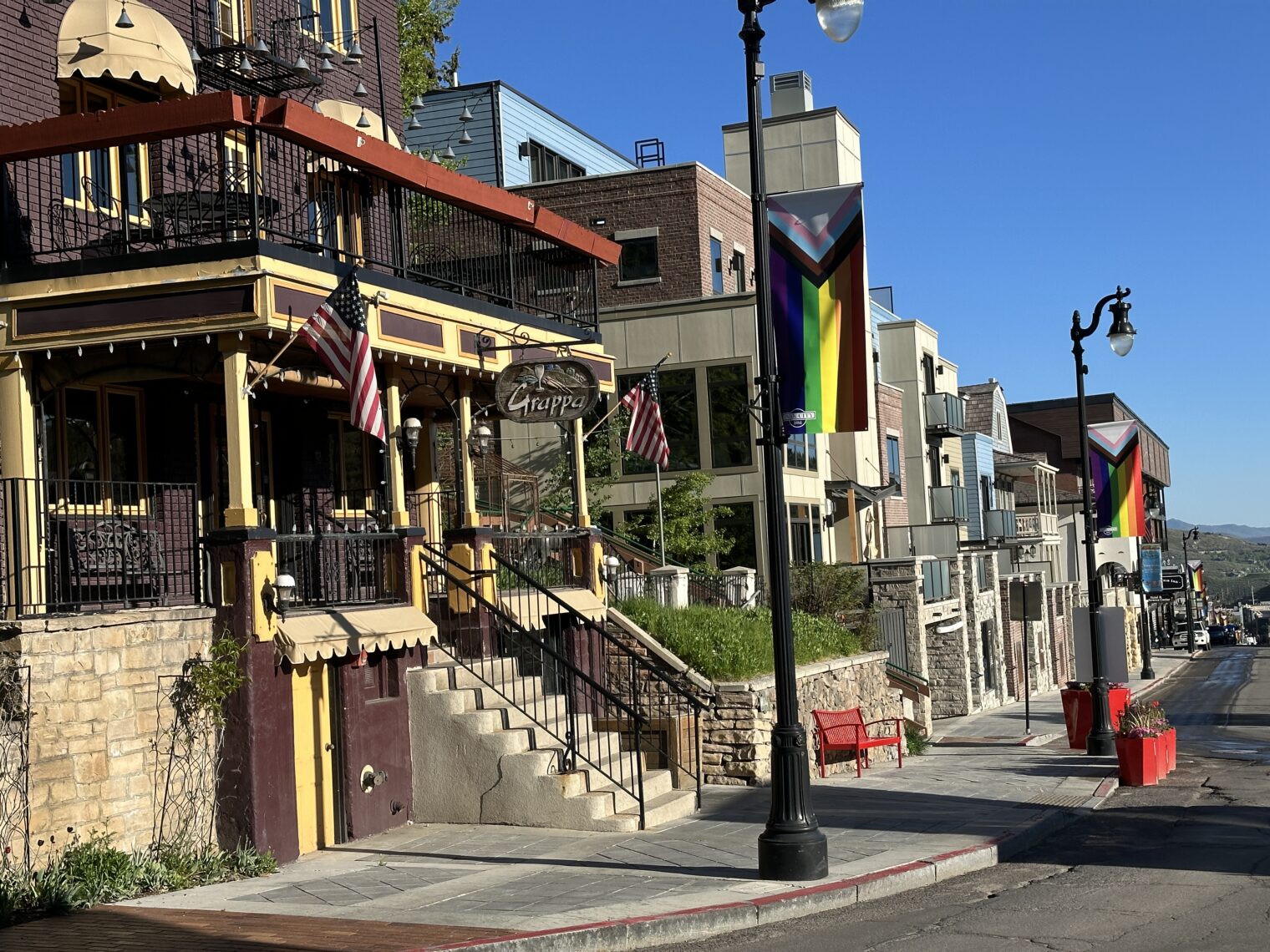 Big Sky, Montana exemplifies everything that is bad about American sprawl. There are three main developments spread out along a highway, none of which has sufficient critical mass to constitute a city or even a "town". Let's call them three strip malls, one of which includes ski lifts. Everything is part of a single "resort", which is able to impose a 4% sales tax on everything sold by the stores within Big Sky (Montana itself has no sales tax, so stock up in Bozeman or West Yellowstone!). But the resort corporation ignored all of the principles of New Urbanism and the sprawl does not feel planned. You can be crammed into a townhouse or condo development or you can be isolated and car-dependent far out from one of the three strip malls.
For peasants, Big Sky is tough to access. It is a 1.5-hour drive from the regional airport in Bozeman. The elite will sometimes do this or Gulfstream it to KWYS, a 35-minute drive away and blessed with an 8400′ runway and approaches down to 200′ AGL.
The exception to the above might be for the rich folks who hang out together in the Yellowstone Club (two shared and one private helipad inside so that the above drives are rendered unnecessary). Otherwise, Big Sky shows the genius of the New Urbanism folks who created our community. The shared gym, pool, lawn, playground, etc. for every 150-200 households and the compact layout (but still mostly single-family homes) facilitate social connections.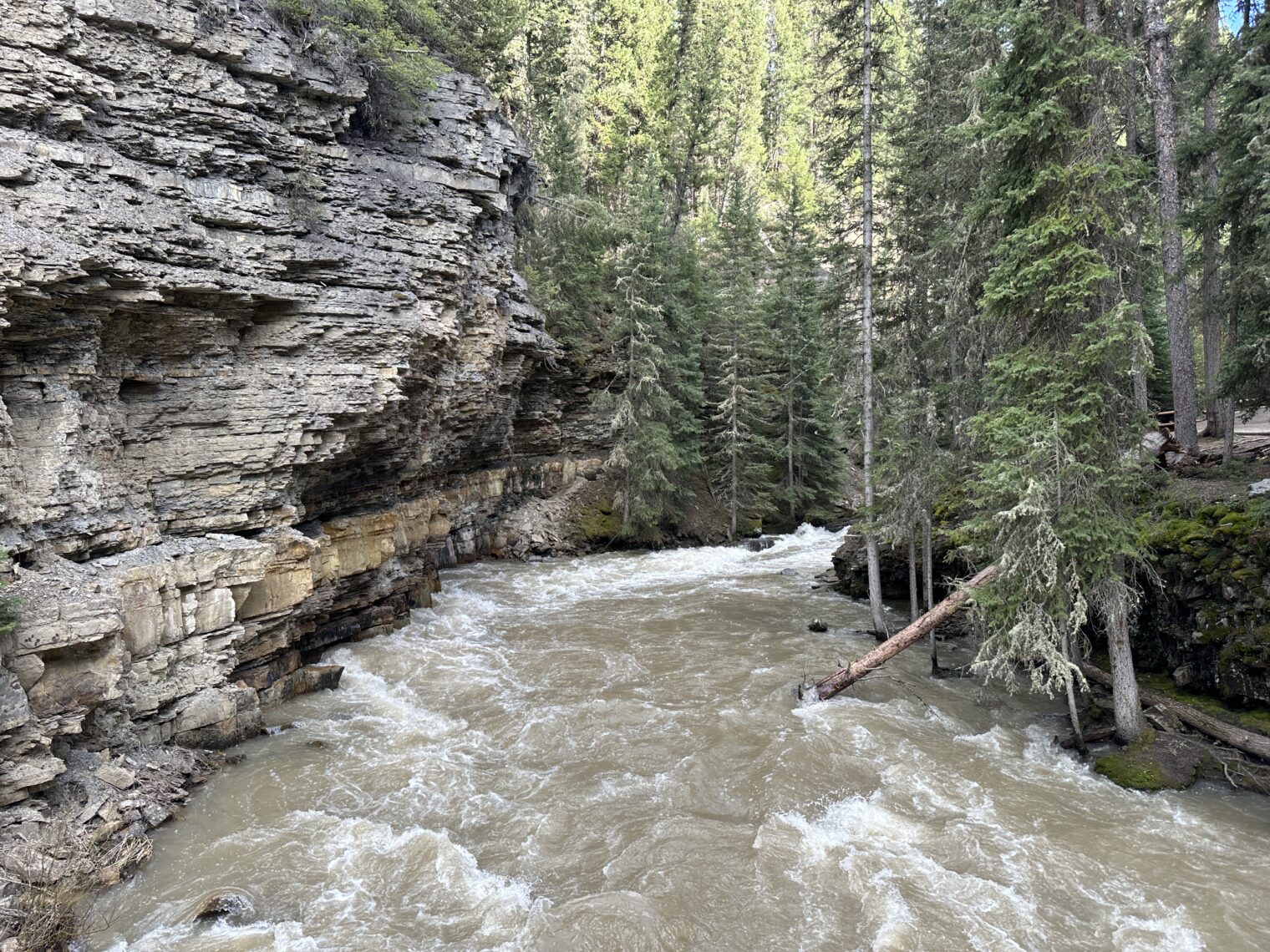 If you're going to check out Big Sky and coming from sea level, I recommend the Marriott "Wilson", which is in the middle strip mall that is 1,000′ lower than the base of the ski hill. This hotel was built in 2019 and folks say that the base lodges are getting worn and tired. There is a good walk down to an impressive waterfall. Bidenflation is a Republican lie: my haircut (without shampoo) at the local barber shop was only $55 plus tip. Here are the prices at the local Mexican food truck where local laborers get lunch (13 Bidies for a sandwich):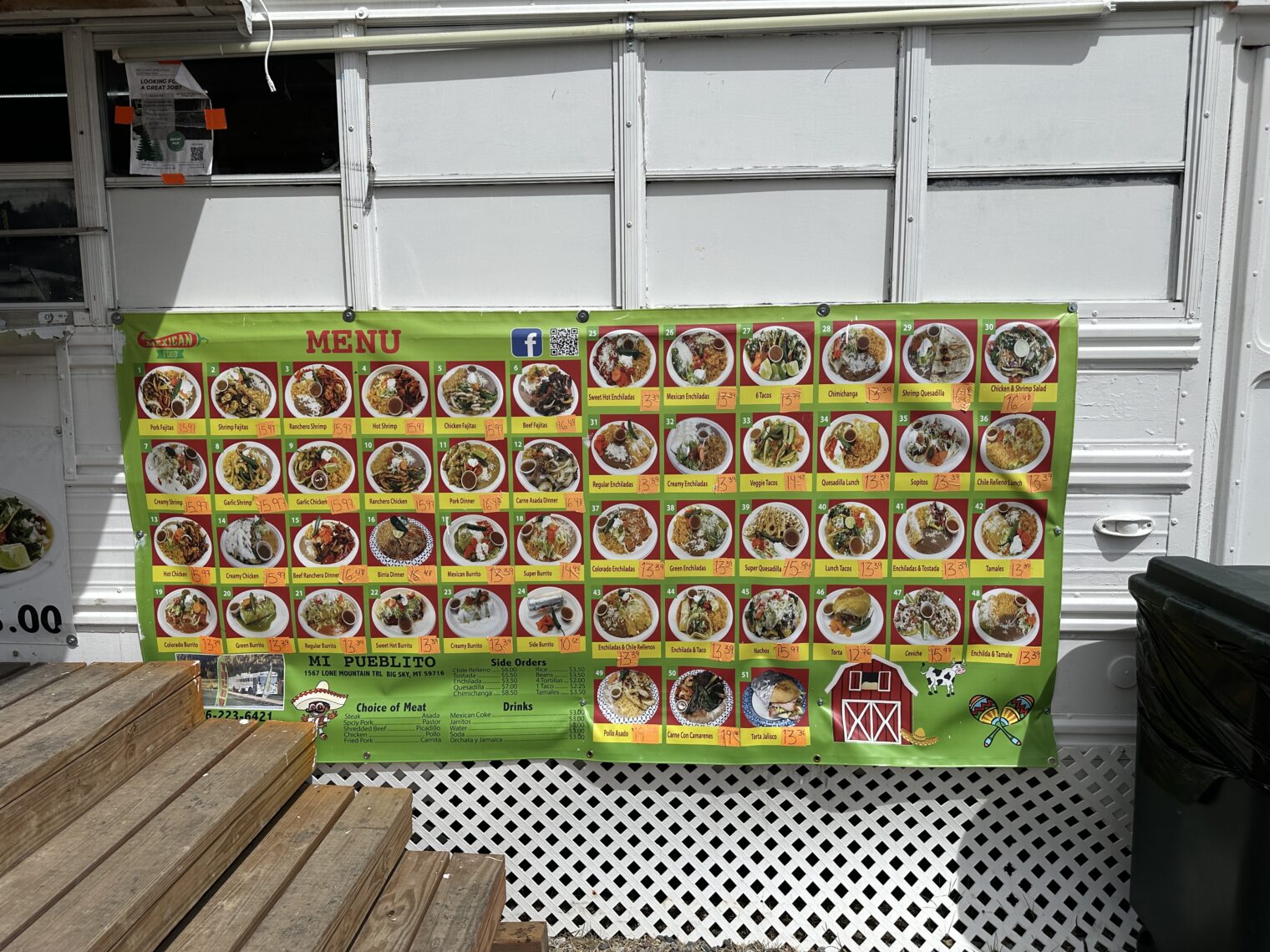 Jackson, Wyoming (elevation 6,237′) shows the importance of flatness. Hills are great if it is winter and you want to ski, but they're annoying if you're going to the supermarket. Jackson has a huge amount of more-or-less flat valley area that enables the development of a functional city, an extensive bike path network that you don't need to be a hero to enjoy, etc. The wildlife art museum is a great place to hang out, especially because the members' room is open to all and there is a good restaurant on site. You could spend 4-5 hours here with a meal and then doing some reading while looking out over the elk refuge. Jackson has its own regional airport (kind of a short runway and the approaches aren't great, but airlines serve it). It also has an in-town low-elevation ski hill that looks good for beginners (the eponymous ski resort for Jackson is huge and terrifying).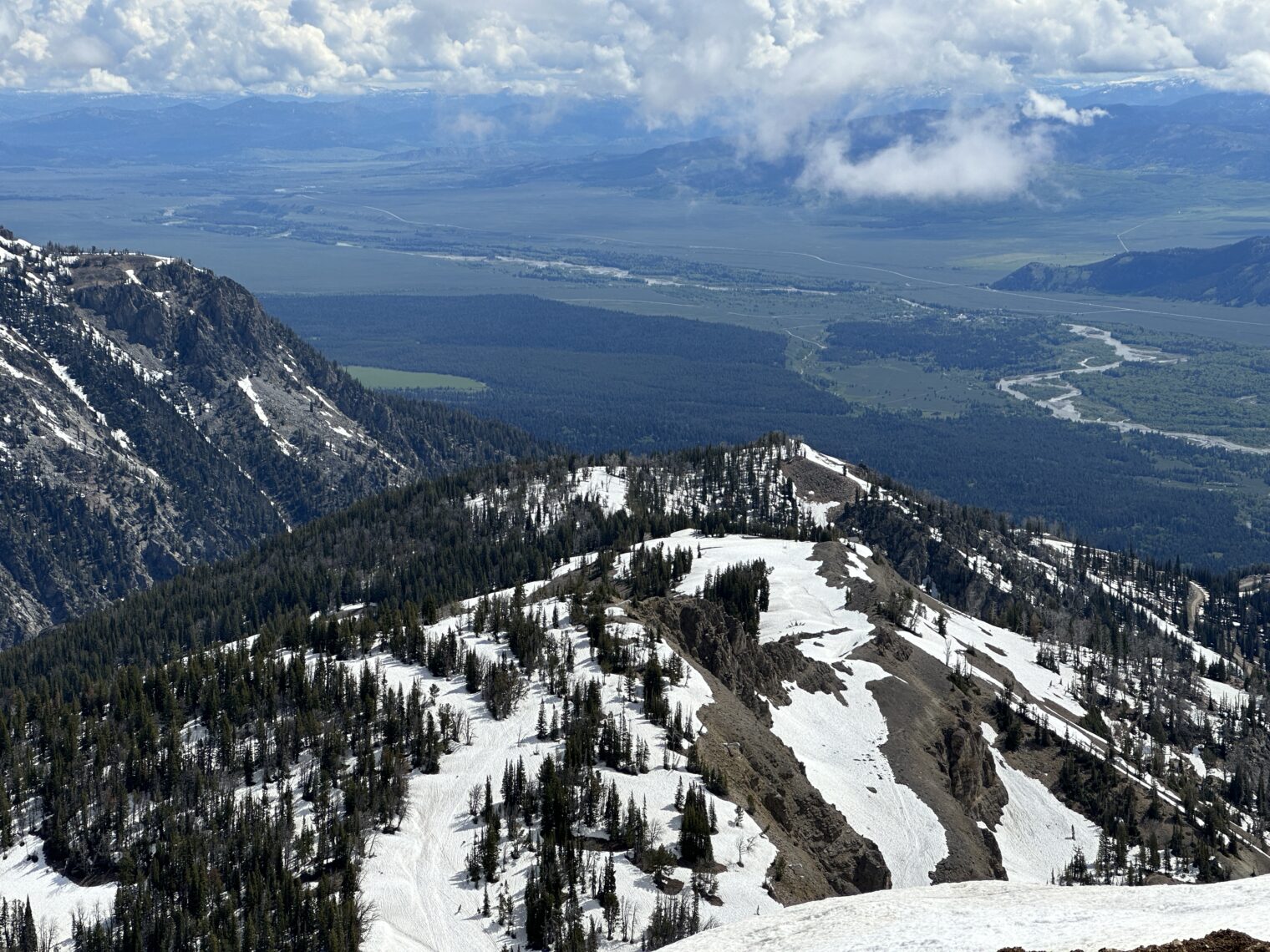 Jackson offers quick access to Grand Teton National Park and Yellowstone National Park. Unfortunately, the flip side of this is that it will take nearly 5 hours to drive to the nearest real city: Salt Lake. I'm sure that the local hospital is great for orthopedics, but if you need any other high-end specialist it will be quite a project to see a doctor in Salt Lake City. The lack of inflation meant that it was only $30 plus tip for Pad Thai in Jackson: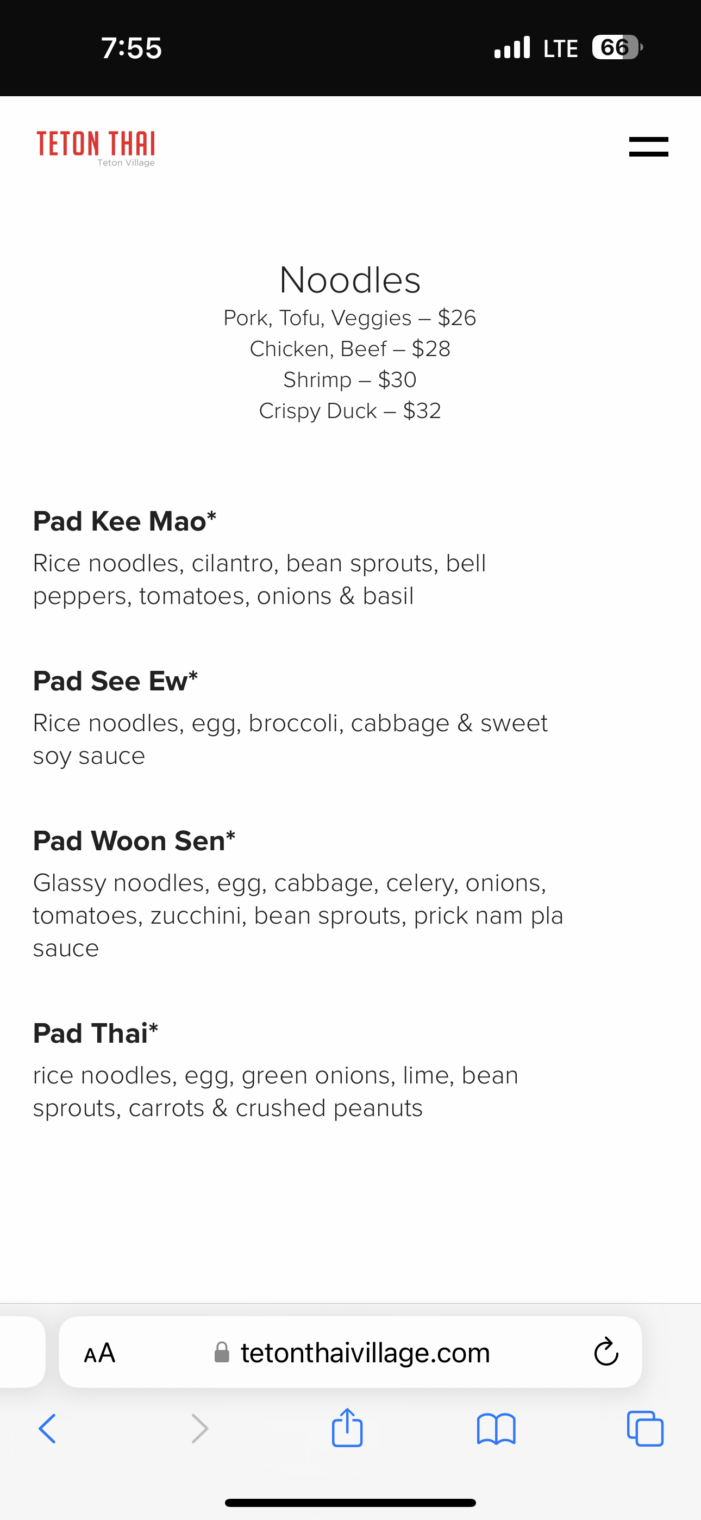 Residential construction was proceeding at a feverish place in all of the places that we visited (on our way to a Chinese level of population density!), but even where it seemed that a lot of land was available the prices were stratospheric. Park City was perhaps the most affordable. In Big Sky and Jackson, the townhouse lifestyle is $1-2 million and the single-family houses with a big of land and a gorgeous view were mostly $4-10 million. Here's the downtown Jackson view on Zillow. Note that many of these multi-$million properties are either apartments or vacant land.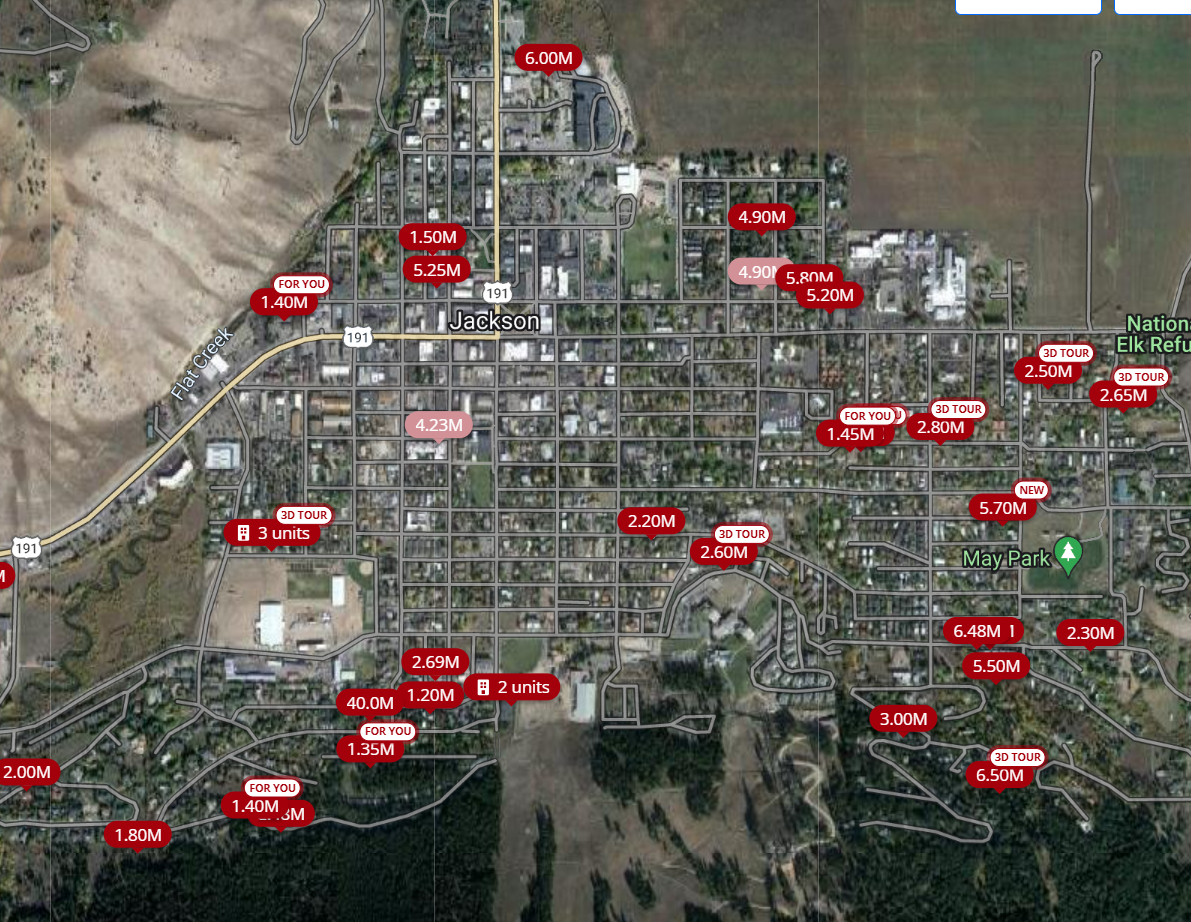 Tax implications: Wyoming has no personal income tax. If you end up getting stuck there for more than 6 months or fall in love with Jackson and decide to make it your primary home, you won't pay income tax. Utah and Montana both have income taxes. None of the three states have estate or inheritance taxes. The family law systems and associated profits for alimony and child support plaintiffs are quite different among these three states as well. See Real World Divorce.
Conclusion: I think that Jackson is the nicest place among the above three. Unfortunately, it is also everyone else's favorite so it is super expensive. The long distance from a major city is concerning as well. Due to the urban layout, it should be easier to build a social life in Jackson than in Big Sky or Park City. That said, it probably still wouldn't be that easy due to the large percentage of transients.
On the third hand: If you stay in Florida for the summer, you are unlikely to suffer from forest fire smoke, a problem that has been common for thousands of years in the mountain states, especially up north. Here's the sky in the Titusville/Cape Canaveral area on July 1, 2023, when folks in the Midwest and Northeast were putting their N95s back on: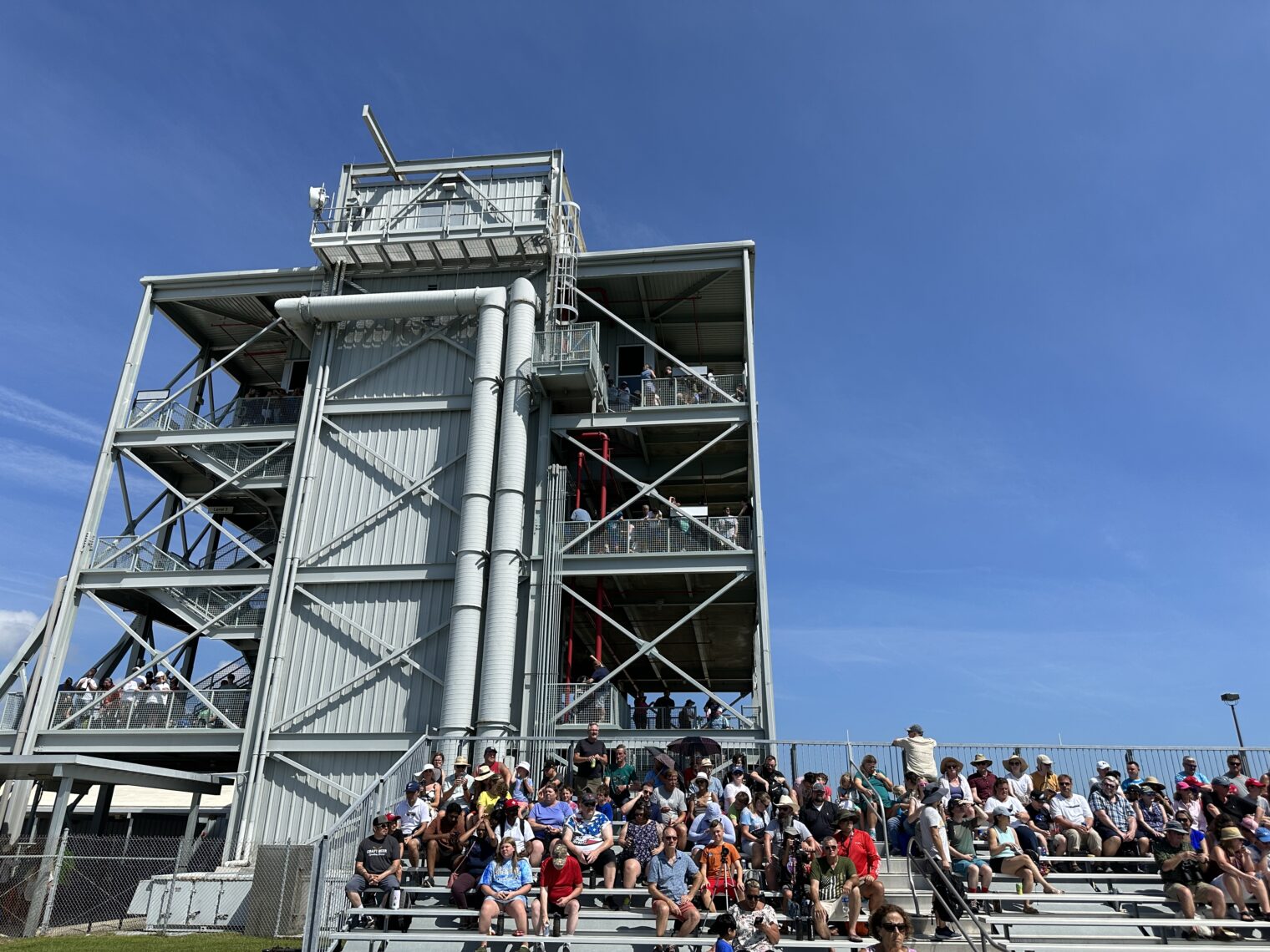 (we were up there watching SpaceX push the European Euclid telescope toward the L2 Lagrange Point; even the Florida-hating NYT was forced to admit that "The weather was almost perfect for the flight")
Full post, including comments