Democrats frequently promise to "fight" when seeking election. Here's the party's thought leader, Alexandria Ocasio-Cortez: "'We can and must fight': AOC urges Americans to 'get to work' to defeat Donald Trump following Ruth Bader Ginsburg's death" (Independent 2020). Nancy's Pelosi's 2010 statement on President Obama's Economic Speech says Democrats are "fighting" for the middle class. The most excellent of current Democrats, as evidenced by his/her/zir/their elevation to the Presidency: "I want to make sure we're going to fight like hell by investing in America first," said Biden. (NYT, December 2020) Biden's inaugural address: "I will fight as hard for those who did not support me as for those who did." Biden in April 2021: "the climate crisis is not our fight alone. It's a global fight." The godlike Obama in 2018: "You can make it better. Better's always worth fighting for." Obama in 2009: "I will fight for you. … I got my start fighting for working families in the shadows of a shuttered steel plant." Hillary Clinton's concession speech: "I have, as Tim said, spent my entire adult life fighting for what I believe in. … please never stop believing that fighting for what's right is worth it."
A Quinnipiac University poll, however, found that there was one thing Democrats did not want to fight against: a military invasion.
As the world witnesses what is happening to Ukraine, Americans were asked what they would do if they were in the same position as Ukrainians are now: stay and fight or leave the country? A majority (55 percent) say they would stay and fight, while 38 percent say they would leave the country. Republicans say 68 – 25 percent and independents say 57 – 36 percent they would stay and fight, while Democrats say 52 – 40 percent they would leave the country.
Here's more granular data (from the above URL, click "download as PDF"):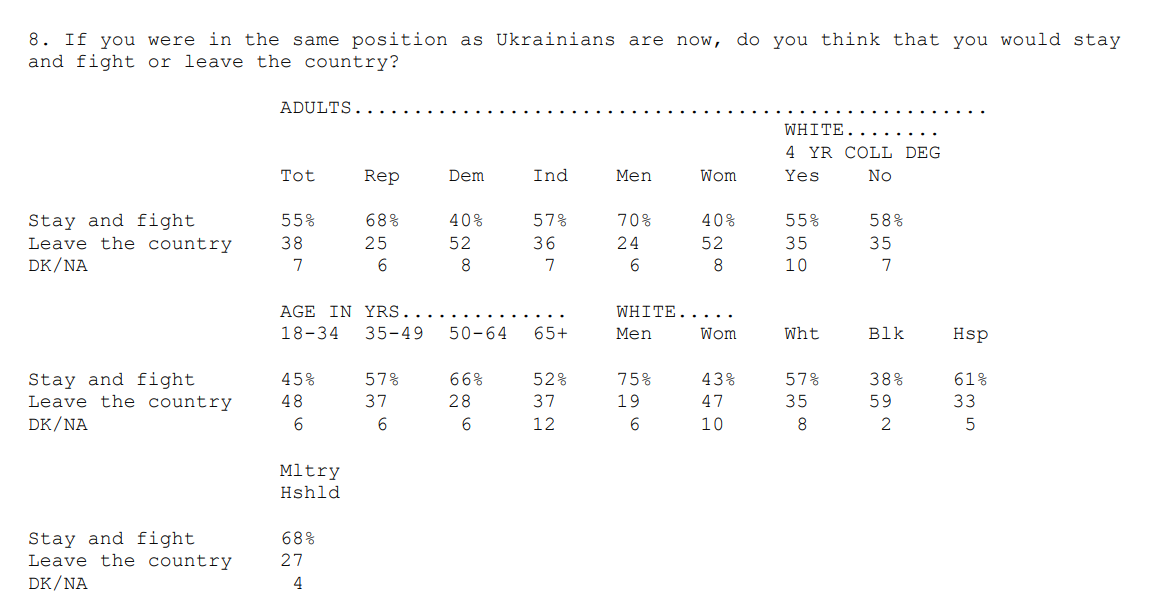 White men were the group most likely to say that they were willing to fight, at 75 percent. We're informed that Americans who identify as "women" are generally strong and independent, but, in the event of an invasion, only 40 percent say that they'd be willing to fight. Americans identifying as "Hispanic" were actually slightly more likely than whites to be willing to fight while Americans who identify as "Black" already had one foot over the border (only 38 percent would be willing to stay and fight, the lowest percentage of any demographic group).
Although most apparently won't be fighting, Americans who identify as "white women" are the ones who are truly suffering from what is happening in Ukraine, with 65 percent saying that they're feeling anxious: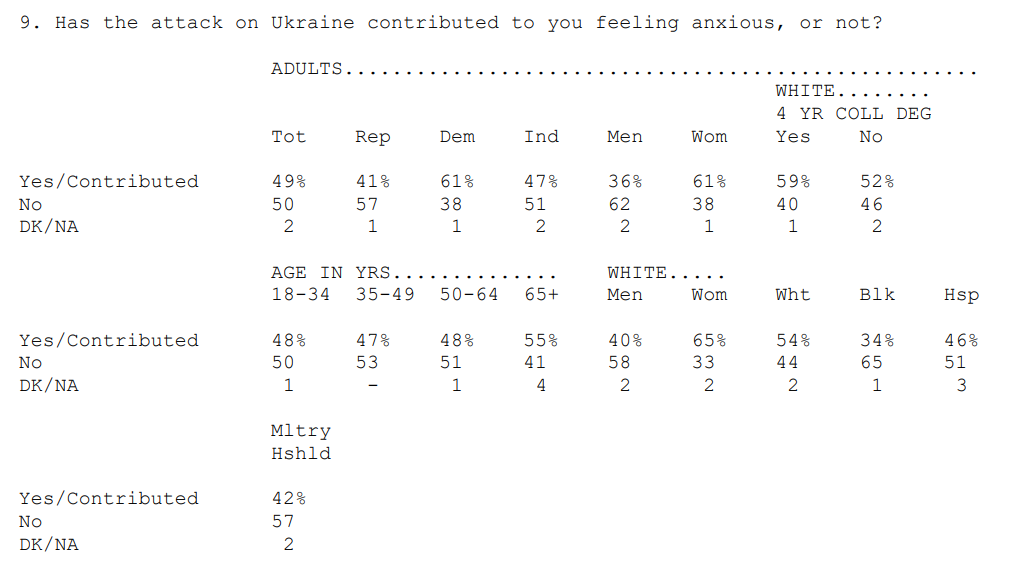 When we combine decades of political rhetoric with the poll results, is it fair to say that Democrats are enthusiastic about any fight except one involving a foreign army that is trying to take over the U.S.?
Full post, including comments