This is a review of the MS Roald Amundsen based on a three-week Northwest Passage cruise in 2019.
Our cruise was during the ship's first season, so everything was in beautiful condition. Royal Caribbean, along with a lot of other cruise lines, is firmly in the "brass and glass" McMansion style of decor. The Roald Amundsen, on the other hand, is more like an architect-designed modern house (see Hurtigruten's site for interiors of the staterooms).
The officers, nearly all of whom are Norwegian, are confidence-inspiring. Hurtigruten ("Express Route"; pronouncing the G is for amateurs) has been running up and down the coast of Norway since 1893. Getting stuck in the ice, running aground, or blundering into weather that cannot be managed does not seem likely. The ship seemed quite stable, but we did not hit any significant wind or waves during our voyage so it is tough to say how it will handle the Drake Passage.
How about the people? Whom will you be with for several weeks in remote corners of the planet? Guests were of the same composition as in an American suburb in which people constantly express their passion for diversity, inclusion, and social justice. I.e., 100% white European and Asian. Out of 472 passengers, just 22 were American. The most common places of origin were Germany (157), UK (136), and Scandinavia (83 plus 2 Finns). [Europeans have some shocking views on current events!] Median age was around 65. A Danish couple brought their 13- and 15-year-old sons.
Weight control will be an issue on the ship. Despite severe challenges of resupply in the Canadian Arctic, the French chef Julien Screve managed to create tempting cuisine far above the Royal Caribbean standard. He was assisted by a pastry chef who made bread comparable to what you'd get in a European neighborhood bakery. Screve and the restaurant manager Nicolas Longin raided a supermarket to get the ingredients for poutine after I said that no trip to Canada could be considered complete without poutine. Real maple syrup is served with breakfast. Unlike on a typical cruise line, there is essentially no food available except during the set meal times.
Department of High Praise: One passenger is a regular speaker on Cunard's Queen Mary. He said that Julien's creations in the high Arctic using ingredients sourced in Iceland and Greenland were comparable in quality, if not variety, to what is served on Cunard.
Although the ship is sizable, it is not spacious enough that you can easily burn off calories by walking. The top deck is supposedly where the walking will happen, and it has bars for "outdoor gym" exercises that a fit 22-year-old might be able to accomplish, but the ship tends to go through some pretty cold regions and it is only 460′ long, about half the length of an ordinary cruise ship. The gym is small, windowless, and often a bit crowded (the Royal Caribbean Serenade of the Seas, by contrast, had a huge usually-empty gym with windows all around the bow from the 11th floor).
There is a pool, but it is tiny and does not have an artificial current. There are two outdoor hot tubs, but both are kept at 37C, about 2 degrees cooler than what an American would call "hot". The sauna, on the other hand, is hotter than what an American health club would set.
How to keep busy when cruising through the high Arctic? Internet was not an option. It worked for about half of the days of our trip and the definition of "work" was 20-50 kbits/second. The only applications that were usable were data-based text messaging services, such as iMessage and WhatsApp. Everything else seems to assume that you have at least 1 Mbit of connectivity and a lot of patience.
The ship carried a lot of lecturers with a rich knowledge of biology, ecology, geology, and anthropology. However, the lack of a nightly Broadway-style show (who wants to hear "New York, New York" again?) means that the ship has no theater. No theater for a nightly Broadway show also means no comfy theater for daytime lectures (on Royal Caribbean, the theater chairs are larger and more comfortable than anything we have in our house).
What does the Roald Amundsen have to support lectures? A classroom. It is nowhere near big enough for half the passengers, even with narrow hard chairs sized and spaced for 7th graders. The floor is flat, so anyone shorter than 6'6″ tall is unlikely to be able to see the screen if seated in the third row or beyond (I'm 6′ tall and could see about half the screen, typically). The guests are older and less nimble than typical 7th graders so I kept expecting someone to break a leg while trying to navigate through a row to a seat. I observed several trips and falls.
The crowding in the classroom carries over into other public spaces of the ship. It feels much more crowded than the Royal Caribbean cruises I have been on. Here's the "Explorer Lounge" up on the top interior deck, with folks waiting for a presentation.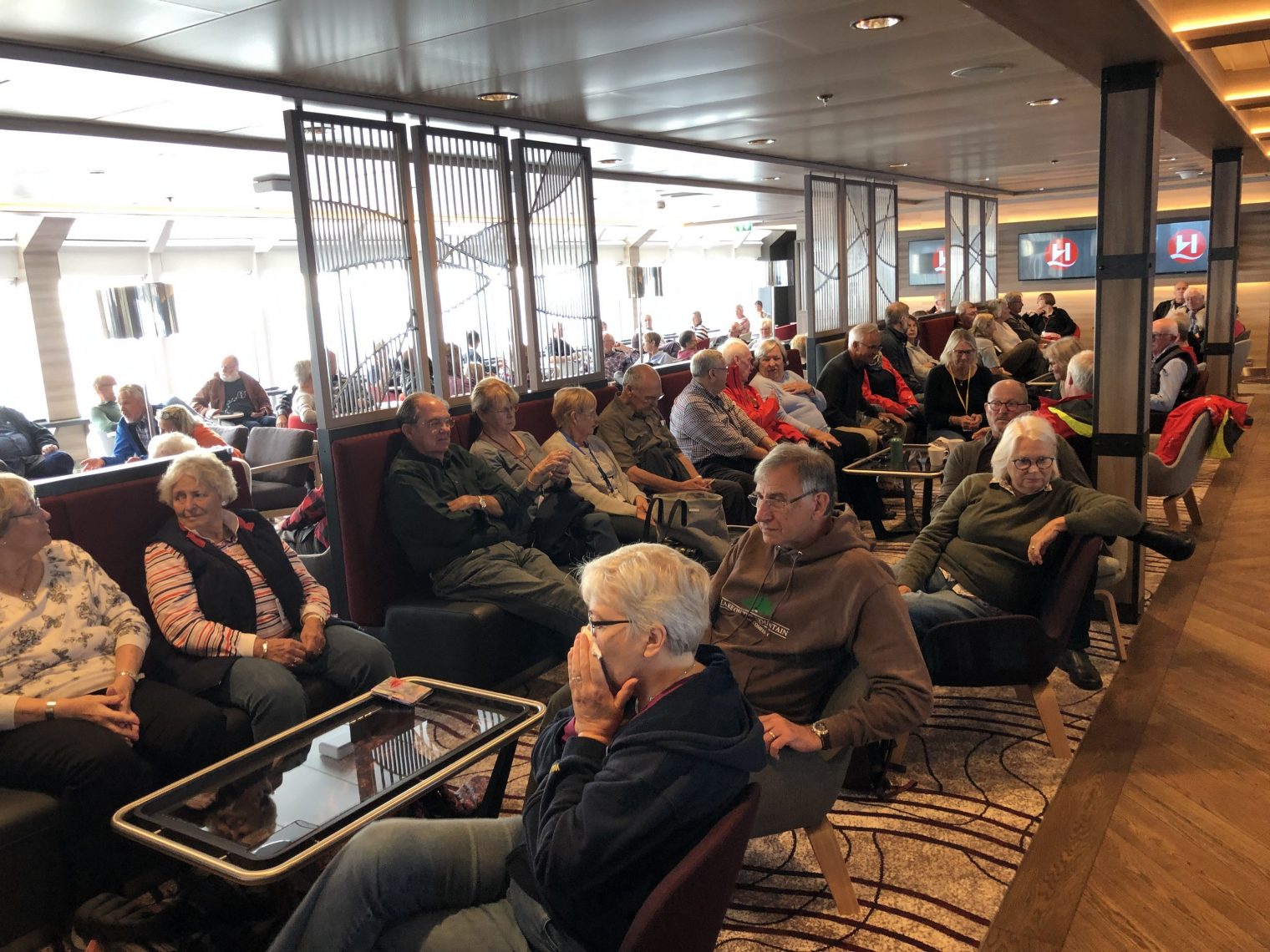 Passengers complained that there was often a line at the buffet and it was sometimes challenging to get coffee.
For a theoretical capacity of 530 passengers, this is a 460′ ship of 21,000 gross tons. The Crystal Endeavor is 541′ long and displaces roughly 20,000 tons… for 200 guests, but at double the nightly price. Don't expect solitude unless you're in your cabin!
The crew is efficient at getting people in and out of Zodiacs for landings. Nonetheless, with 500ish people on board, it takes a minimum of 3-4 hours to get everyone off the ship and back on. The time that each person can spend at a destination will be shorter than if the destination were visited in an 80-passenger ship.
The bridge is a huge working environment and remained reasonably quiet and calm even when invaded by tourists.
Hurtigruten is not great at communication. There was an update to the itinerary that the land-based staff said had been communicated by email or phone to all of the passengers. Nobody knew about it. Their online packing list says "You will receive a wind and water resistant parka". Sounds warm, right? In fact, we got what I would call a "rain jacket". Unlike on Royal Caribbean where you could buy an extra layer for mall-style prices, interpreting "parka" as not requiring packing a heavy fleece layer for underneath would cost at least $350. The news in the shop was not all bad though…
Passengers expressed unhappiness at the difficulty in socializing at meal times. The dining room is set up with a lot of 2- and 4-seat tables. Our Cuba cruise with Royal Caribbean was greatly enhanced by big tables and no permanently assigned seats (previous post). The good news is that, if you're lonely, the ship has a great library of polar literature and an even greater swap shelf:
If you love technology, you'll be dismayed at how it is used on the ship. There are no local apps or web servers for distributing information, chatting, etc. That's a problem on a ship whose total Internet connectivity (for 500+ people) is about the same as a single 3G cell phone. How about a feed from cameras around the ship into the room TV, as is conventional on Royal Caribbean? No. The system that delivers a moving map to the in-room TVs seems to depend on connectivity to an Internet server, which we had only intermittently. Why not a self-contained system as on an airliner or traditional cruise ship? In general, it seemed as though all of the tech that the ship did have was dependent on an Internet connection that the ship seldom had.
Tips: Pay up for a balcony room. The climate control system on the ship is not very effective and if the room is too hot it is great to be able to open the balcony doors.