"Sweden Has Become the World's Cautionary Tale" (NYT, today):
Its decision to carry on in the face of the pandemic has yielded a surge of deaths without sparing its economy from damage — a red flag as the United States and Britain move to lift lockdowns.

This is what has happened: Not only have thousands more people died than in neighboring countries that imposed lockdowns, but Sweden's economy has fared little better.

"They literally gained nothing," said Jacob F. Kirkegaard, a senior fellow at the Peterson Institute for International Economics in Washington. "It's a self-inflicted wound, and they have no economic gains."

The elevated death toll resulting from Sweden's approach has been clear for many weeks. What is only now emerging is how Sweden, despite letting its economy run unimpeded, has still suffered business-destroying, prosperity-diminishing damage, and at nearly the same magnitude of its neighbors.
Elevated death toll? Compared to what? The New York Times never lets on that IHME forecasts roughly the same death rate from Covid-19 for the U.S. and Sweden through October 1. They also don't compare Sweden's death rate to the U.K.'s (in Month 4 of shutdown?), Belgium, or Spain!
How do we know that the Church of Shutdown is a religion? The parishioners at the New York Times look at the graph of daily deaths in the US, the UK, and Sweden, smoothed over 7 days for reporting, and adjusted for population. The Religion of Shutdown tells them that it is obvious from these apparently similar curves which of these countries should be considered a "cautionary tale".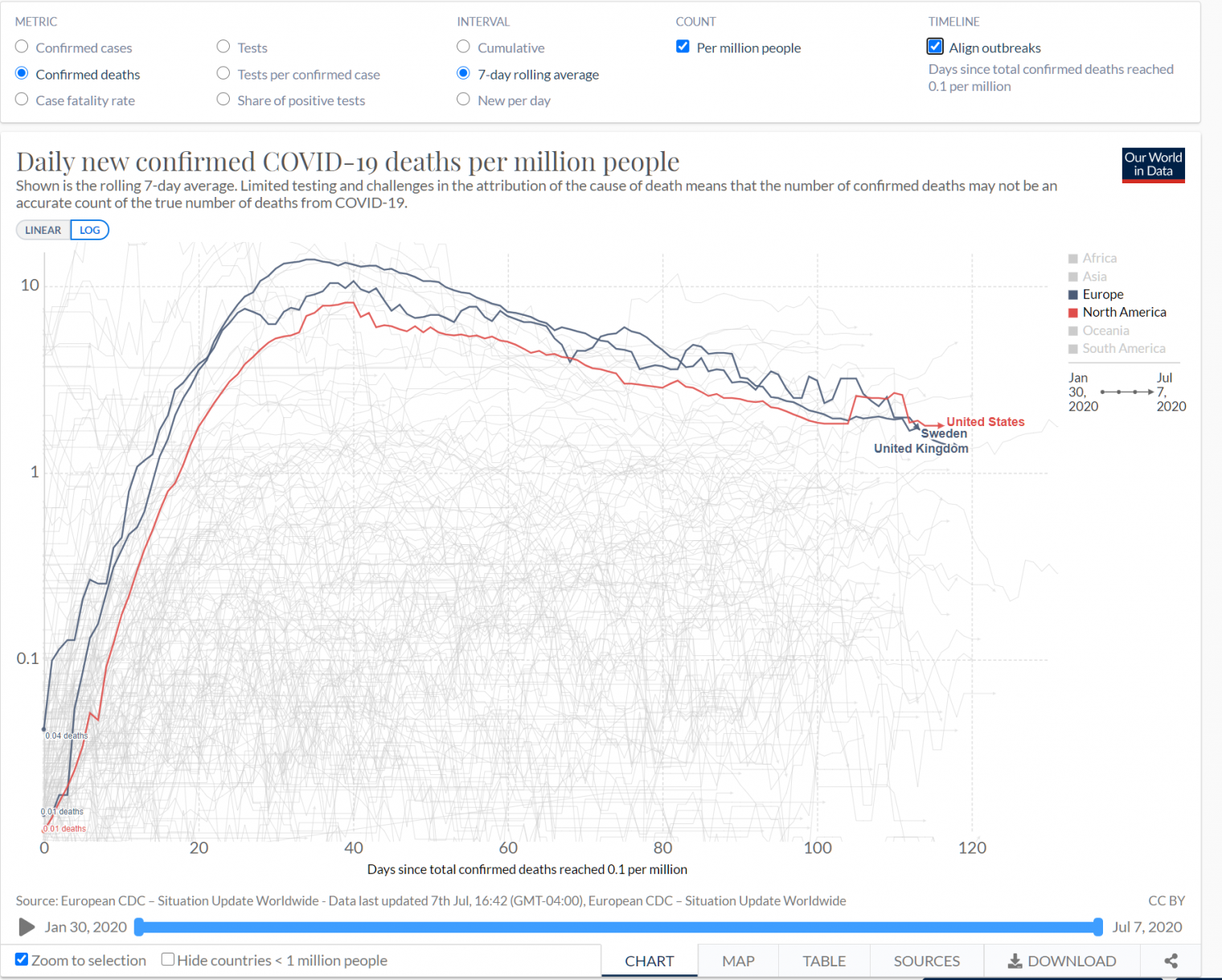 "They literally gained nothing," says the economist quoted in the article? This is a perfect illustration of the old adage that an economist is someone who knows the price of everything and the value of nothing. How about this for a partial list:
Swedish children gained three months of education while American children were imprisoned in crummy apartments. Swedish children gained three months of playing with friends on playgrounds while American children were watching TV.
Swedish adults gained four months of work experience while Americans are now in Month 4 of cashing government checks, drinking alcohol, and smoking marijuana from the "essential" marijuana stores.
Swedish adults gained four months of time at the gym while Americans gained four months of being sedentary except for trips to the fridge every 15 minutes.
Swedes of all ages gained four months of socializing with other humans. That's valuable if your goal as a human is something more than staring at a screen.
Swedes of all ages gained not having to watch people come out of lockdown to riot, loot, and burn their cities.
Swedes of all ages gained the advantage of a society in which fewer people hate each other. With no mask law, people can't hate each other for mask rule interpretation. Without a belief that government policy will determine the outcome of a viral epidemic, the Swedes can't hate those who voted for a different political party.
The article includes a portrait of the unmasked unrepentant infidels (from the perspective of the Church of Shutdown):
Photos like these will be the modern Rake's Progress?
With the same death rate plus all of the educational, developmental, inequality, unemployment, and social ills of six months of lockdown (or partial lockdown), if Sweden is a "cautionary tale" what is the U.S.?
Some stats…
Sweden reported 0 Covid-19 deaths on Sunday and Monday to the WHO and 13 today. That averages to 4 Covid-19 deaths in a country of 10 million people. Here in the success story of Maskachusetts (population 7 million), there are roughly 15 deaths per day on a steady basis (July 7 report). Massachusetts will exceed 8,000 total deaths by tomorrow. Sweden is at 5,433 (i.e., less than half the total death rate, adjusted for population).
Swedish ICUs are emptying out: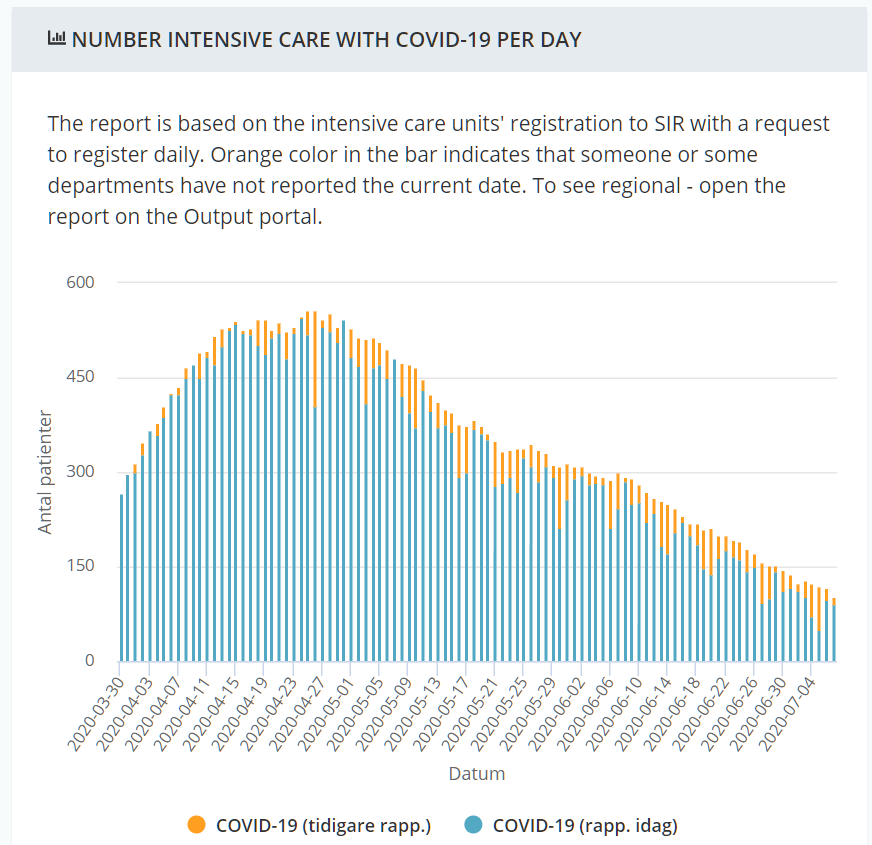 This data nerd says that Stockholm reached "herd immunity" quite some time ago (though, remember that herd immunity was not a goal of the Swedish policy, but only a byproduct). Given how people tweaked their behavior, e.g., trying to stand farther apart and avoiding mass gatherings, the herd immunity threshold, he claims, is when roughly 6-10 percent of the population comes up positive on the antibody tests (remember that not everyone is susceptible to begin with).
Related:
"Big differences in mortality in spring 2020 based on country of birth": People born in Somalia, Syria and Iraq, who are likely to be weakly established in Sweden, had a marked increase in mortality compared to people born in Sweden, the EU, the Nordic countries or North America in the spring of 2020 (Figure 2). A similar picture, but offset in time, is seen even if Stockholm County is excluded (not shown). In the age group 40–64 years, in March – May 2020, 122 deaths occurred in immigrant groups that are likely to be weakly established in Sweden, compared with an average of 38.5 in 2016–2019, a death rate of 220 percent. In the same age group, 1 percent lower mortality was seen among people born in Sweden, the EU, the Nordic countries or North America. Among those over the age of 65, there was the same excess mortality in the group with probable weak establishment (220 percent), but also some mortality (19 percent) among those born in Sweden, the EU, the Nordic countries or North America. (From Google Translate; the gist is that Sweden's numbers may look uglier than some neighbors' because Sweden has more low-skill migrants and these migrants have off-the-charts Covid-19 mortality.)