From a Dutch university professor: "The Nazis got tired of digging graves for people they'd shot, so they figured out that they should make them dig their own graves first. It's the same strategy governments have pursued with lockdown. Make people work to pay for their own cells. It's not Arbeit macht frei, but Lockdown macht frei." From my 1999 trip to Dachau:
Governors and public health officials in the U.S. work together in the same ways as the medieval prince and priest: "You keep them stupid and I'll keep them poor."
Aside from politicians and the billionaires, who has done well in West's Year of Lockdown? "It's been a Godsend to the sad and lonely. The West has been the center of family disintegration and there are more people living alone than at any other time or place in history. The sad and lonely are not any better off, but everyone else has been dragged down to their level." [Divorce lawsuits are more lucrative in the U.S. than in Europe and, perhaps not coincidentally, the U.S. is statistically more disintegrated than any of the European countries.]
How about the college students? Are they rioting? "They're used to having a world imposed on them by Baby Boomers, so it doesn't occur to them that they can object. They're having parties in basements and trying not to get caught."
Unlike Maskachusetts, the Netherlands allows residents to roam outdoors without masks. My friend goes to a private riding club in which the government cannot require masks. "If it were a public for-profit club, they would be subject to the mask law," he said. Executives generally cannot issue orders that eliminate citizens' rights, but the parliament can meet expeditiously and change the law, which it has done.
What has muscular government action in the Netherlands accomplished? A similar-shaped profile to masked-and-shut UK or US and also similar to unmasked and un-shut Sweden: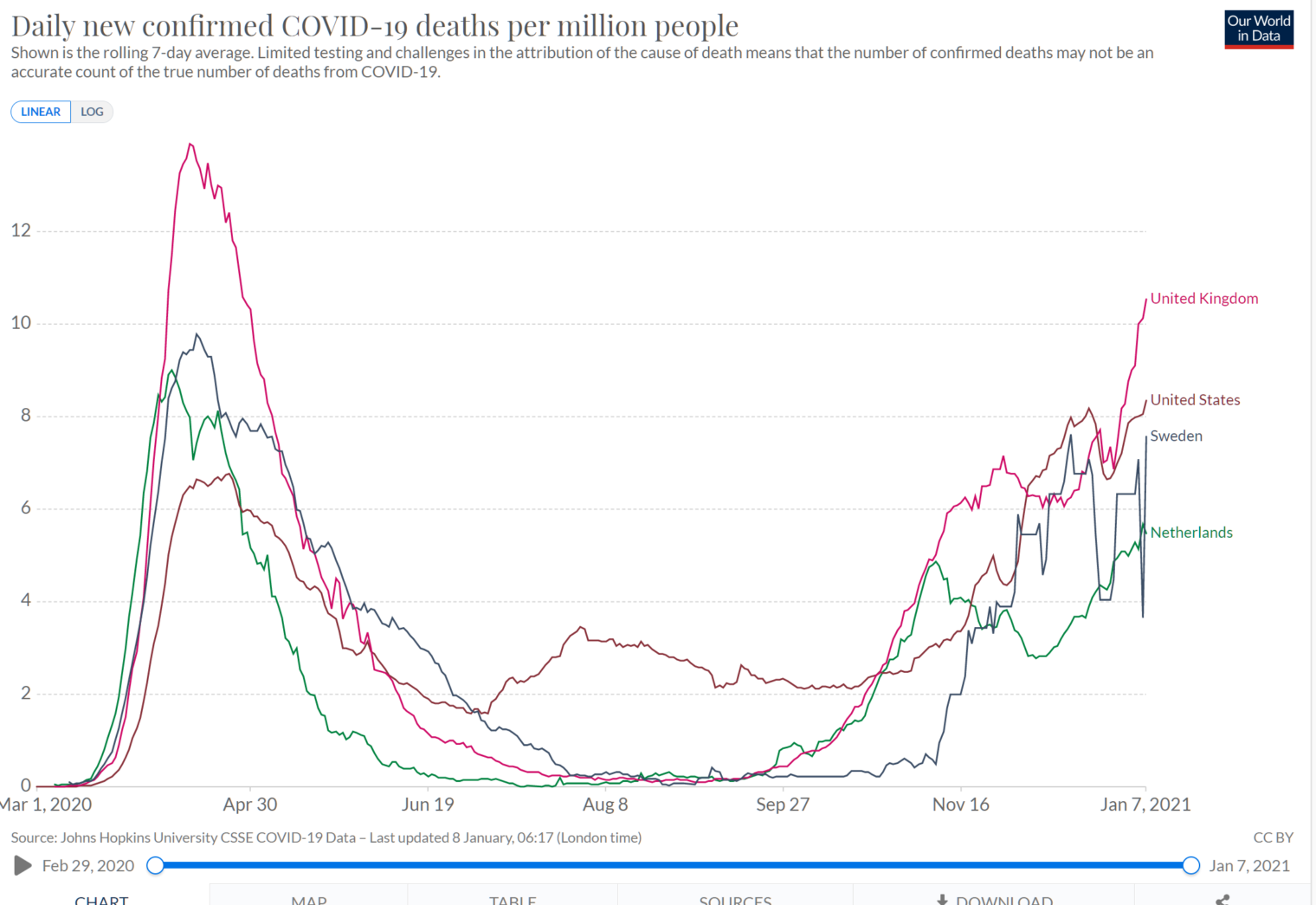 "About half of the older people still believe that masks and lockdown can save us," he said, "but the other half are disillusioned by the continued epidemic."