I'm sure that we can all agree that the working class in Britain shot themselves in the feet by not listening to the elites when it was time for the 2016 Brexit vote. Now that we've learned more about science and realize that the only important function of a government is protecting subjects from COVID-19 (corollary to the only important function of a human being to avoid coronavirus infection), let's look at the vaccination rate in the UK (18 per 100) versus the abandoned EU (4 per 100):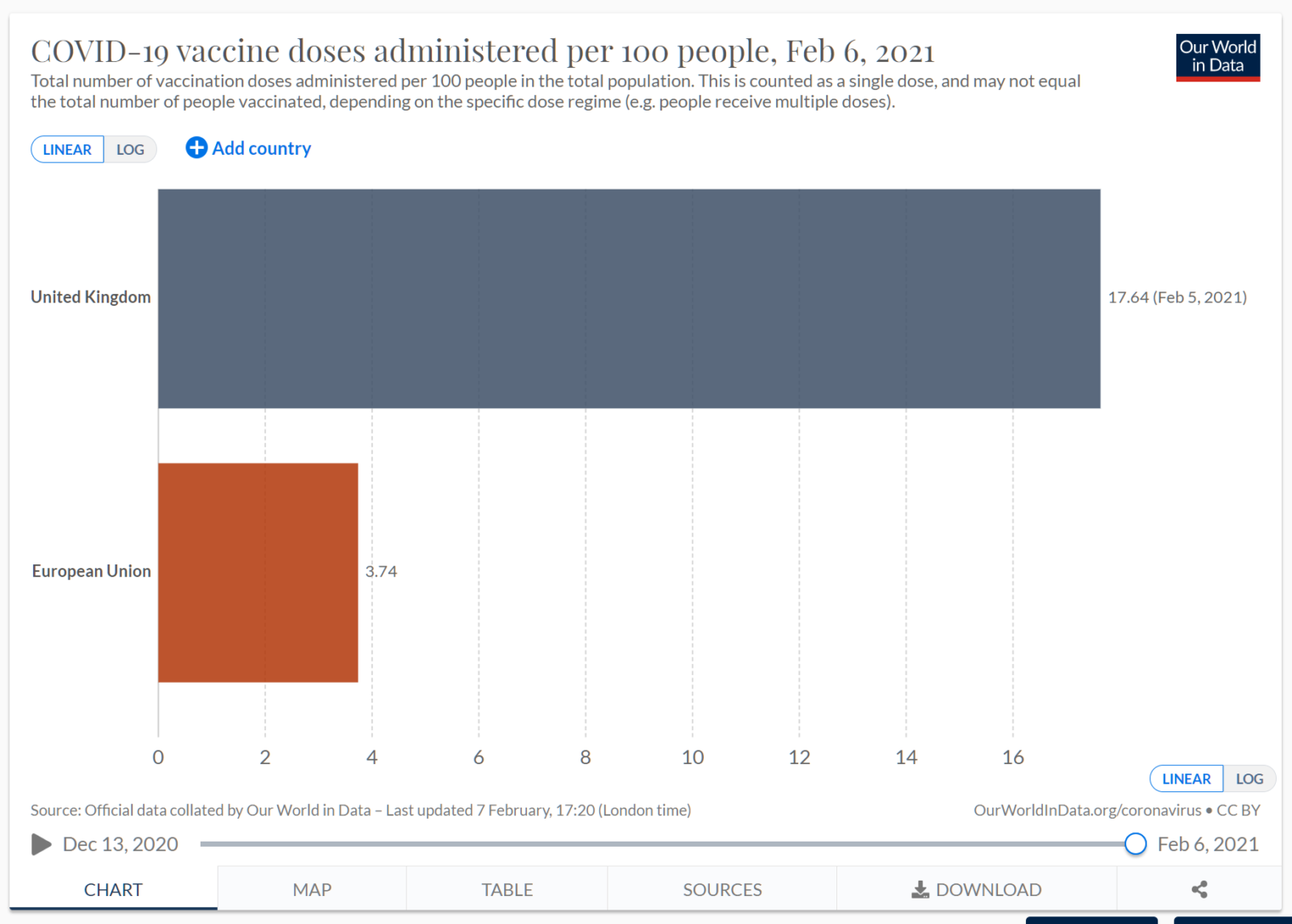 In light of these data, when would be the optimum time for the Brits to rejoin the EU?
Related:
Linguistic impact of the Brexit? (a Jennifer's lawsuit to cash out from her marriage is referred to as "the Jexit")
"Solidarity Is Not an Easy Sell as E.U. Lags in Vaccine Race" (NYT, today): There is no doubt that the European Union bungled many of the early steps to line up vaccines. It was slower off the mark, overly focused on prices while the United States and Britain made dollars and pounds no object, and it succumbed to an abundance of regulatory caution. All those things have left the bloc flat-footed as drugmakers fall behind on their promised orders. But the 27 countries of the European Union are also attempting something they have never tried before and have broken yet another barrier in their deeper integration — albeit shakily — by choosing to cast their lot together in the vaccine hunt. With just over 3 percent of E.U. nationals having received at least one dose of a vaccine by the end of last week, in stark contrast to Britain's 17 percent and the United States' 9 percent, nowhere does the lag sting more than in Germany, the bloc's biggest economy and de facto leader.