"We've Come So Far With Vaccines, America. Now Keep Going." (New York Times, July 3):
Seven months after the first shots were authorized for emergency use, 66 percent of adults — more than 100 million people — have received at least one dose. That's not the 70 percent President Biden was aiming to reach by July 4, but it's close, and it's an impressive figure.
It is comforting to be reminded that Joe Biden was the president primarily responsible for the rapid development and purchasing of these vaccines. Uncle Joe takes care of us all!
But it's too soon to declare total victory. The world is still locked in a desperate race between the coronavirus's ability to evolve and society's ability to vaccinate, and America's lead in that race is precarious. The virus is evolving quickly and efficiently. Given enough time and enough susceptible hosts, it could still mutate its way around the human immune response and beyond the ability of existing vaccines to help. If that happens, the United States, and any other nations that have made such progress, will be forced backward.
If the vaccine evolves quickly and efficiently, what is the point of a vaccination project? If everyone in the U.S. were vaccinated tomorrow against all of the version of SARS-CoV-2 that exist in the U.S., wouldn't a new variant arrive through the fully open southern border on Monday? From "Biden administration reverses Trump-era asylum policies" (Politico):
The Biden administration is reversing a series of Trump-era immigration rulings that narrowed asylum standards by denying protection to victims of domestic violence and those who said they were threatened by gangs in their home country.
In other words, anyone who can utter the words "my spouse hit me" or "a gang wants to kill me" is entitled to live in the U.S. for at least several years until a judge evaluates the truth of the statement (absent psychic powers, how is a judge supposed to figure this out?). Several years is certainly long enough to spread mutated SARS-CoV-2.
(The border is perhaps not "fully open" given that Kamala Harris tells migrants not to come to our party with some strong words.)
We don't believe that if we gave 100 percent of humanity a flu shot we would eliminate influenza, right? Why do we believe that we can beat a "virus [that] is evolving quickly and efficiently" with our fairly sluggish vaccine system?
The scientists at Facebook told me, on April 30, that we can "end the pandemic" by adding a vaccine profile frame (Facebook previously granted FDA approval to vaccines):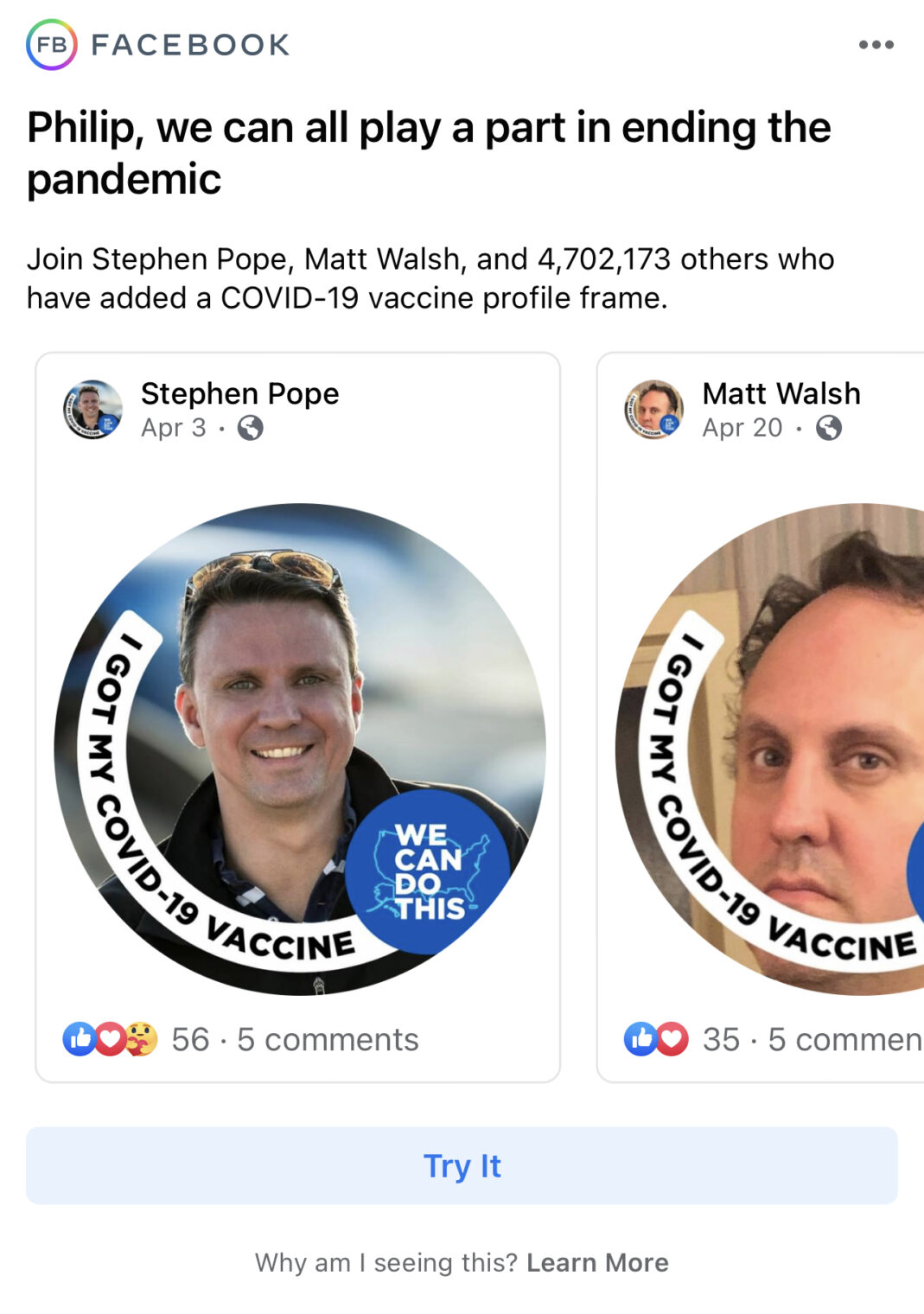 What about Facebook today?
I would so love to meet the folks who believe the things that Facebook says aren't true! Separately, one thing that is interesting about Facebook's scientific information campaign is that it isn't signed. Plainly Facebook has a deep bench of medical expertise, but who are the physicians and public health PhDs who authored the material that Facebook puts out? A typical newspaper article is signed by a journalist or two and approved by an editor whose name can be looked up. Quotes and opinions in the article will generally be attributed to a person whose professional background can be researched.
Circling back to the original topic… How is it possible to simultaneously believe that the virus is evolving rapidly and efficiently AND that vaccinations against a particular genotype (or set of genotypes) will prevent the virus from thriving?
Related: