Andrew Cuomo was celebrated less than a year ago: "Andrew Cuomo To Receive International Emmy For 'Masterful' COVID-19 Briefings" (NPR, November 21, 2020). At the beginning of coronapanic, his stock was especially high among those identifying as "women" (Daily Mail):
Hot for governor! Women confess they are developing 'MAJOR crushes' on Andrew Cuomo, 62, as the New York Democrat takes charge during COVID-19 pandemic (and his TV host brother Chris is getting some love, too)
Women are calling the 62-year-old governor 'sexy af' because of how well he is handling coronavirus

Twitter users are admitted they're finding him attractive and in some cases falling in love with him

Fans cite the strength he shows in his calming daily briefings and his humorous interviews with his brother, CNN's Chris Cuomo
Democrats' first choice for 2024 is an 82-year-old Joe Biden, but Cuomo was a close second in August 2020: "Cuomo: "Shocking" to See Poll Showing Him Leading 2024 Democratic Field; A Canadian poll shows Cuomo is the top choice of Democrats if Joe Biden is not on the 2024 ballot" (NBC). Cuomo might have won in November 2020: "'Draft Cuomo 2020' groundswell emerges amid the New York governor's coronavirus response" (ABC, March 31, 2020).
(See also states ranked by COVID-19 death rate, in which Cuomo-led New York is #2 in the nation, and countries ranked by COVID-19 death rate, on which New York State would be #5 if it were its own country, just slightly below first-to-mask-up Czech Republic)
It seems that Governor Cuomo may soon be looking for a new job. "These are the women who were sexually harassed by Andrew Cuomo: AG report" (New York Post):
The independent probe into New York Gov. Andrew Cuomo found that he sexually harassed multiple women, both in and out of state government.

Investigators focused on the allegations of 11 women, detailed in a blistering 165-page report released Tuesday by the state attorney general's office.
My question is what does Mr. Cuomo do for his next job? New Yorkers thought that he was one of the most capable people on Planet Earth, presumably, or they wouldn't have elected him to run their enormous state government (as a percentage of state income, the very largest in the U.S.!). Even if the 11 potential plaintiffs referenced above are able to mine out all of the savings that he has accumulated from 40 years of working, one would think that he could start to earn again somehow.
(One of our shuttle van drivers in Oshkosh was 75 years old. He volunteered that he couldn't retire because he'd lost all of his savings, a house on the lake, and much of his income going forward to his first divorce plaintiff and then did it all over again, losing all of his second batch of savings and house 2.0 to divorce plaintiff 2.0. "I'll be working until I die." (Under Wisconsin family law, which provides for unlimited child support by formula, his plaintiffs could have done better via brief sexual encounters with higher-income defendants rather than long-term marriage to a median earner). At a minimum, Cuomo could drive for Uber, but I'm hoping that readers have more creative ideas.)
One idea: Design a line of clothing celebrating achievements and empowerment by those identifying as "female". Here's an example from Oshkosh: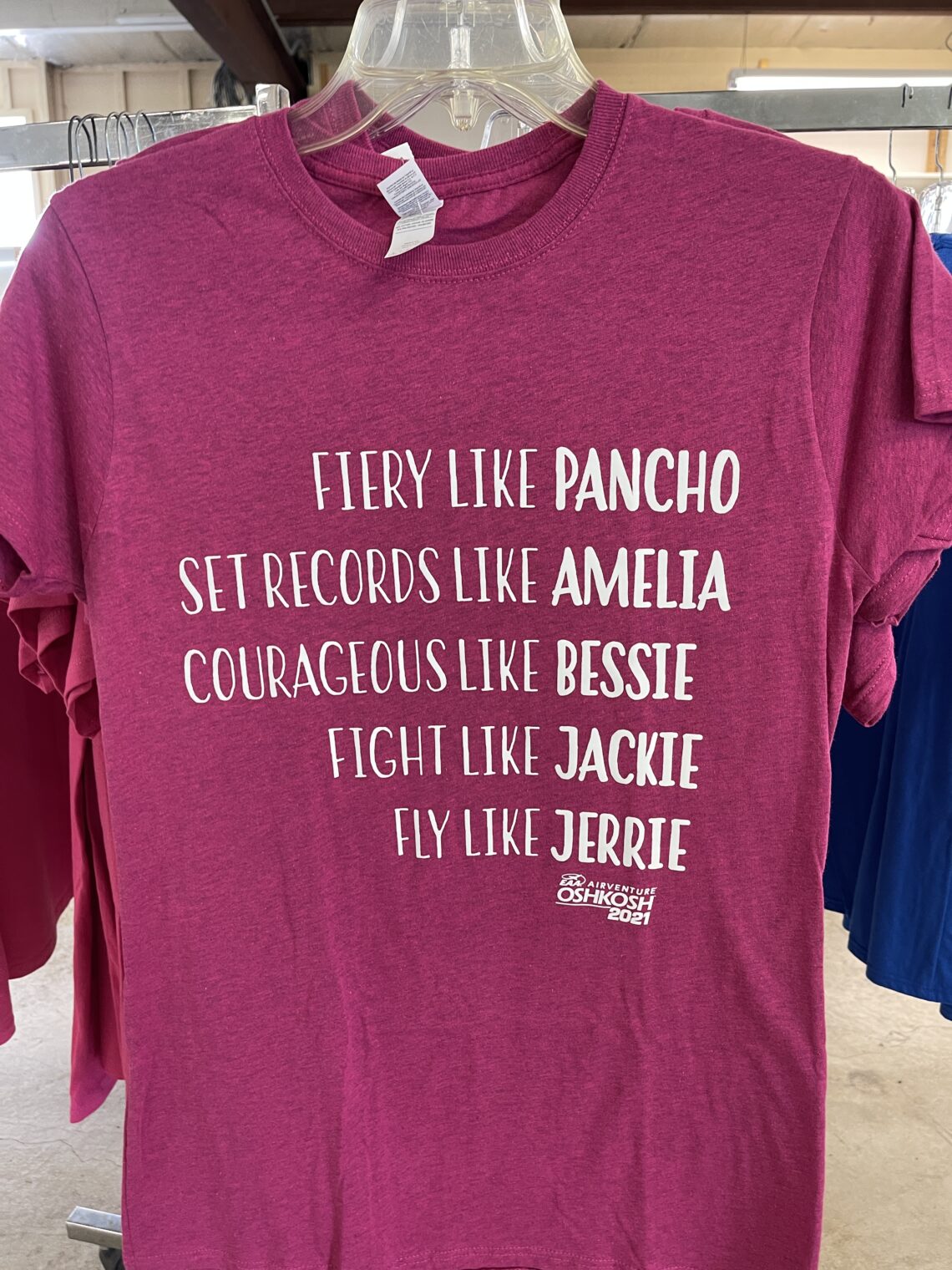 "Jerrie" likely refers to "the Flying Housewife" Jerrie Mock (around the world solo in 1964).
"Jackie" is presumably early jet pilot Jacqueline Cochran. But it is unclear what she had to "fight" to get. Maybe it was fight other women to marry the rich guy whom she successfully married?
[After divorcing a husband with mediocre earnings,] Cochran met Floyd Bostwick Odlum, founder of Atlas Corp. and CEO of RKO in Hollywood. Fourteen years her senior, he was reputed to be one of the 10 wealthiest men in the world. Odlum became enamored of Cochran and offered to help her establish a cosmetics business.[6][7]

After a friend offered her a ride in an aircraft, Cochran began taking flying lessons at Roosevelt Airfield, Long Island in the early 1930s and learned to fly an aircraft in three weeks. She then soloed and within two years obtained her commercial pilot's license. Odlum, whom she married in 1936 after his divorce, was an astute financier and savvy marketer who recognized the value of publicity for her business. Calling her line of cosmetics Wings to Beauty,[8][9] she flew her own aircraft around the country promoting her products. Years later, Odlum used his Hollywood connections to get Marilyn Monroe to endorse Cochran's line of lipstick.
"Amelia" is Amelia Earhart, of course, who flew nonstop across the Atlantic in 1932, 13 years after John Alcock and Arthur Whitten Brown and 5 years after Charles Lindbergh's solo flight.
"Pancho" is Pancho Barnes, air racer and aerobatic pilot.
"Bessie" is Bessie Coleman.