Scary-sounding media reports of COVID illness aren't that scary once one reflects that the media can draw on a population of 330 million to find the worst-case situations. Folks in Maskachusetts and California take risks greater than 1 in 330 million just driving to the dispensary to get their designated-essential-by-Covidcrats marijuana (when schools are closed for 18 months and you're home with kids, it is important to be fully stoned!).
But what about when COVID strikes a friend? That's a sample from a population of hundreds of people. The story below is about a friend in his early 50s and generally healthy/fit with a reasonable weight.
Sobering timeline:
late March: Moderna shot #1
late April: Moderna shot #2
October 28: indoor gathering in New York City among the fully vaccinated (by law and, in practice, carefully checked)
October 31: began to feel sick
November 3: fever of 101, prompting antigen test for COVID-19 (positive) followed by PCR test (positive)
November 3: due to history of asthma, qualifies for monoclonal antibody treatment under the rules established by New York Covidcrats (available as a free drive-through for Floridians!). Pays $2,500 for at-home ("in-apartment"?) administration at 6 pm.
November 4, 2 am: woke up with fever of 103.4
November 4, morning: fever down to 102
November 4-10: fever of around 100, sleeping 16 hours/day
November 13: mostly recovered
November 18: "pretty much back to normal, but still not working out"
His illness was at least as bad as anything that friends who got COVID-19 in 2020 reported (sample of about 50, mostly in expertly-managed-by-#Science New York and Massachusetts). And none of them had the antibodies or, indeed, any other medicine. I think the most likely possibilities, therefore, are the following
the vaccine was worthless, just as the flu vaccine is usually worthless
the vaccine was helpful, but only for a few months
the vaccine put evolutionary pressure on SARS-CoV-2 to evolve into a nastier form (as happened with the low-quality vaccine applied to Marek's disease)
My best argument against Possibility #3 is Sweden. If SARS-CoV-2 had evolved to become much more aggressive, the natural immunity that the Swedes built up by letting the virus rage should not be effective against the evolved virus. Yet both deaths and COVID "cases" are more or less flat in Sweden, even as rising numbers in the rest of Europe send fearful populations back into their bunkers: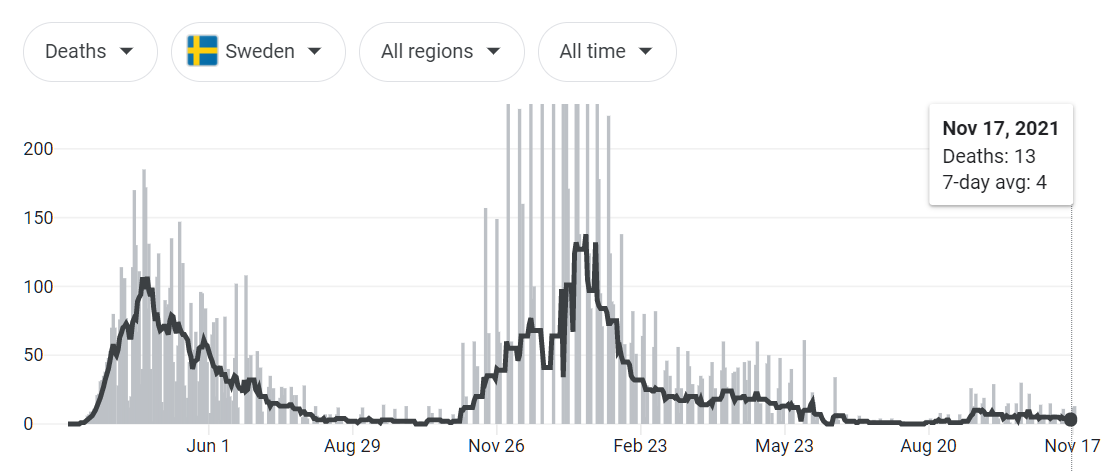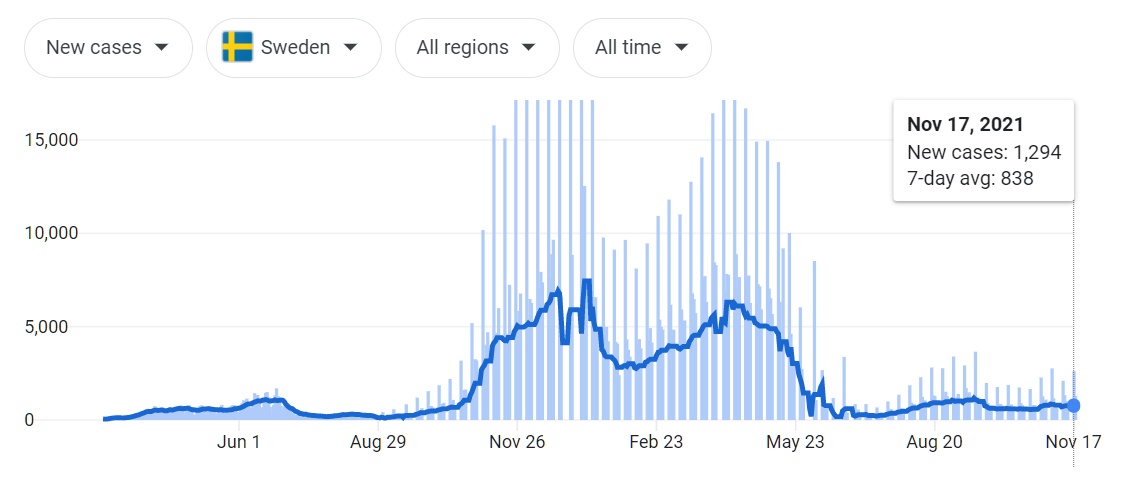 My friend had Moderna, which should be enough vaccine to treat a horse, at least if we believe that the Pfizer 30-microgram shots are sufficient for a 300 lb. human (Moderna shots are 100 micrograms of mRNA and a good-sized horse is 1,000 lbs.). His protection did not last longer than 6 months. Therefore, if we choose Possibility #2, it seems that those of us over 50 should get a booster after only about 4 or 5 months.
What if we choose Possibility 1, "the vaccine was worthless, just as the flu vaccine is usually worthless"? We could also call this the "viruses are smarter than humans" hypothesis. If a medicine is worthless, and even potentially harmful (maybe in 5-10 years we will have full information about these rushed-to-market vaccines?), can it ever be rational to take more of that medicine?
My answer: Yes!
Today's official state religion includes Faucism. Religious people love to hear stories of sinners suffering their just deserts. Under Faucism, those who weakly "hesitated" regarding getting a vaccine are the biggest sinners of all (it was formerly those who gathered without masks, but there have been so many photos of the elites not following their own mask rules that it now has to be those who reject the Sacrament of the Needle). The only way to avoid becoming a statistic that will support whatever the Covidcrats want to inflict on Americans is to get the booster on the precise date that is suggested by the Covidcrats. (Consider the above story. If my friend hadn't been vaccinated, the exact same Oct/Nov experience would have been ammunition for the next forced vaccination campaign.)
Equivalent logic: Officer Terry Hoitz (Mark Wahlberg) learns ballet to show that guys who did ballet were "queer".
Followed by this clip:
Allen Gamble: Hey, I didn't know you can dance.
Terry Hoitz: We used to do those dance moves to make fun of guys when we were kids to show them how queer they were, okay.
Readers: What do you think? Do we all have to get boosters just to show that vaccination (at least with current tech) won't make COVID-19 go away?
Also, you may want this Faucism T-shirt for your safe-from-the-bunker Zoom interactions: