From "Why Are Non-Muslims Not Allowed Into The Cities Of Mecca And Madinah?" (Inside Saudi):
In Islam, the cities of Mecca and Madinah are considered as places of peace, refuge, and sanctuary for Muslims only. Non-Muslims termed Mushriks are prohibited in order to keep it that way.

For example, Hindus believe that Brahma is one and many. Also, 80% of Christians believe in the Trinity that God is three equal and eternal persons in the form of God the Father, God the Son and God the Holy Spirit.

The very fact that the Mushrik believes and acts on the basis of polytheism makes him/her a Mushrik and in effect spiritually Narjis (unclean) in the eyes of Allah.

It is NOT the case that he/she is unclean in the physical sense but only in the spiritual sense.
From CNN:
"Rightly or wrongly" tennis star Novak Djokovic is perceived as endorsing anti-vaccination views — and his presence in Australia could influence people, said lawyer Stephen Lloyd, who is acting for the government.

Lloyd said it was "common sense and uncontroversial" to assume that people would listen to Djokovic's views, given what we know about the power of celebrity.

According to Lloyd, Immigration Minister Alex Hawke doesn't need to show evidence that Djokovic is influencing people's views to cancel his visa — just that there's a risk that he might.

He said Hawke made the decision to cancel Djokovic's visa in accordance with the Australia's Migration Act that enables the minister to bar someone who "may" or "might" pose a risk to public health.
From an American point of view, the Australian government's position isn't novel. While at least 10 million undocumented immigrants are welcome to stay in the U.S. (even after being ordered deported, as with Barack Obama's Aunt Zeituni) and there is no requirement that those who walk across the border and avail themselves of our multi-year asylum process accept Science and the Sacrament of Vaccination, there is no realistic way for an American to express him/her/zir/theirself if he/she/ze/they endorse anti-vaccination views. Facebook, Twitter, and YouTube will ban heretics. I recently met a recruiter who had 5,000 LinkedIn contacts and was subject to a "lifetime ban" in the fall of 2020. (She appealed the decision and got a response that they'd "reviewed [her] private messages" and decided to sustain the ban.) She had posted skepticism that mask orders (bandanas at the time!) and U.S.-style lockdowns were effective in long-term reduction of COVID-19 deaths.
The New York Times says that Djokovic has been cast out via a flight from Australia to comparatively free Dubai. Let's check "the curve". From a few days ago: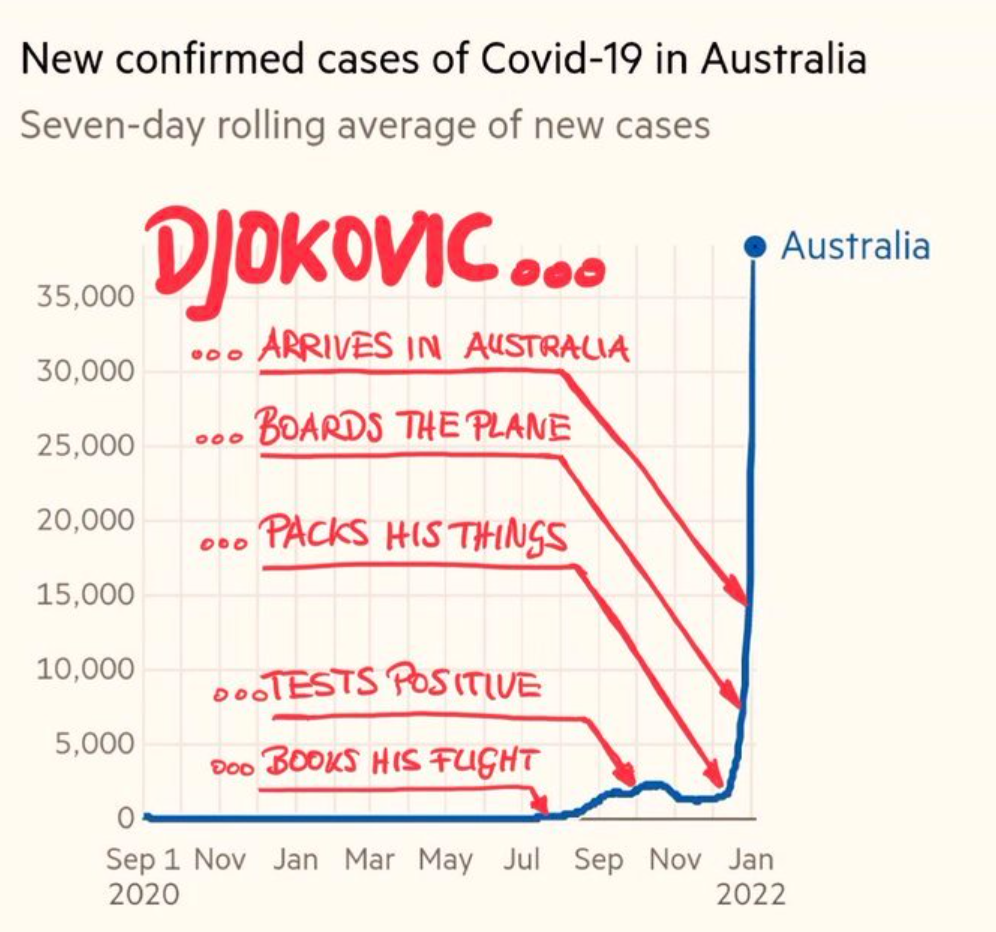 Now that Djokovic has left via Dubai, and thus the sanctity of Australia has been restored, it does look as though the curve is flattening. From the Google: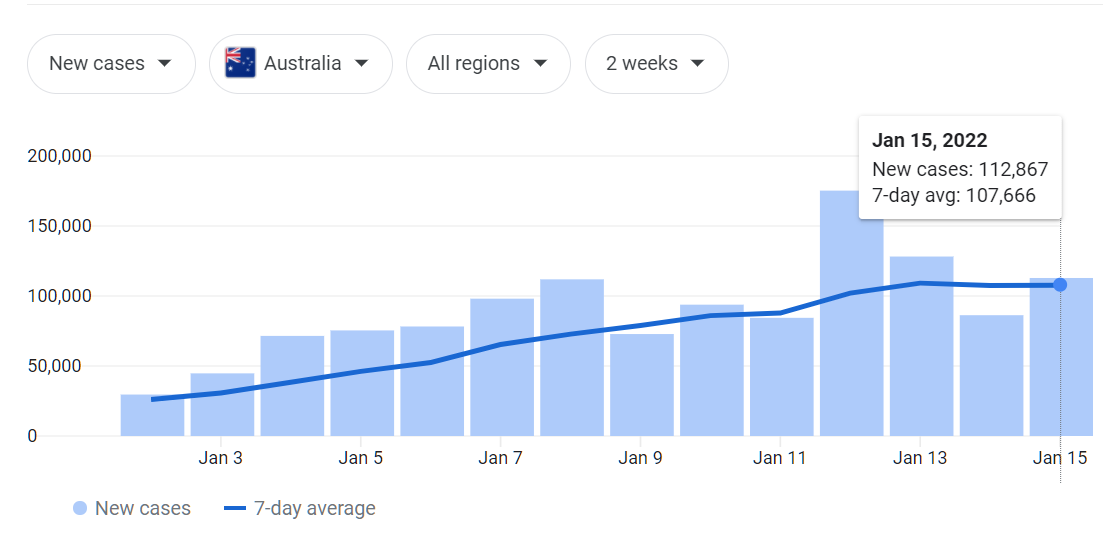 Advantage, #Science?
Samizdat currently circulating among Irish sports fans via WhatsApp: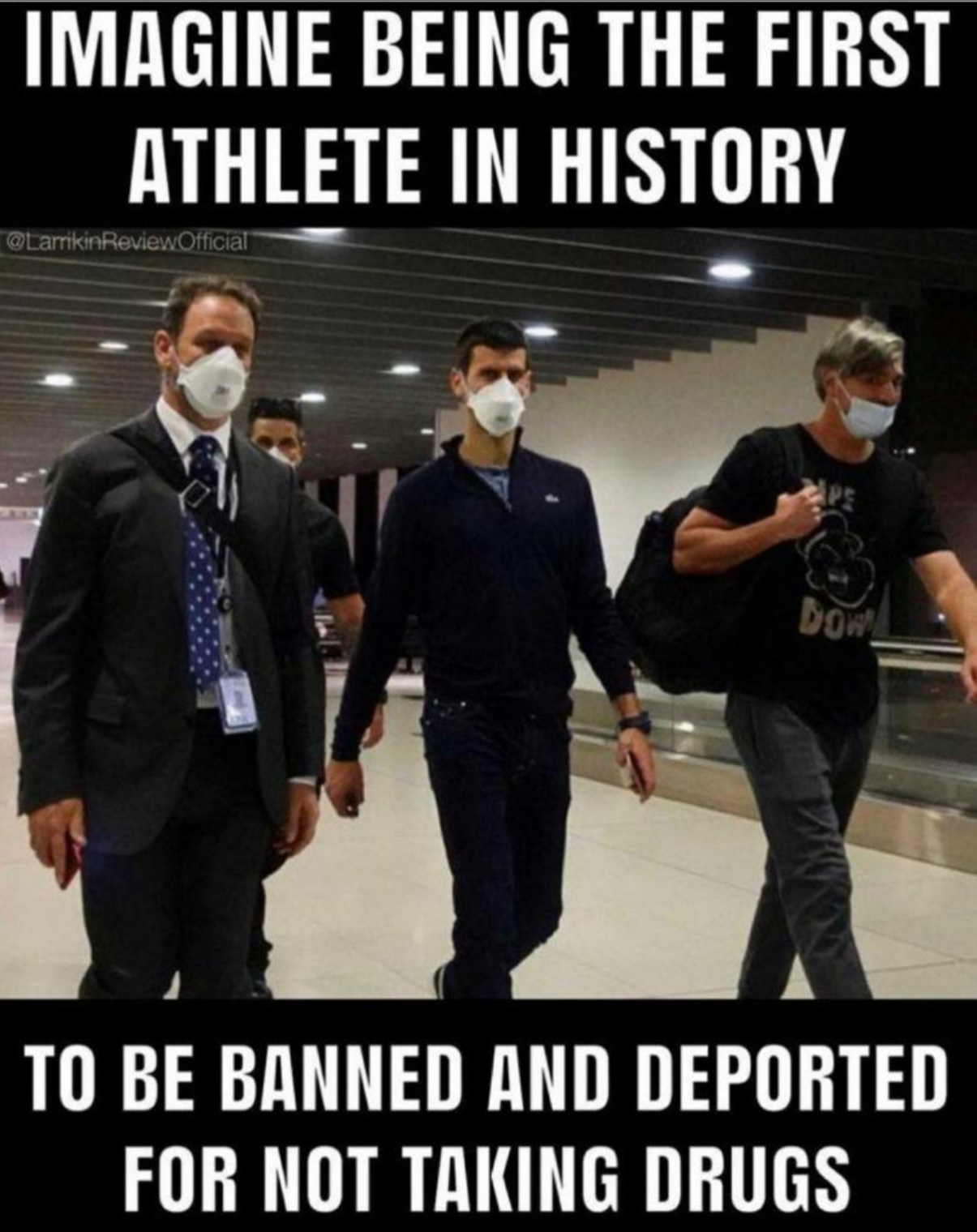 (Facebook owns WhatsApp, but due to tech limitations, it can't read messages that are exchanged among users and therefore it can't easily hunt down and ban the unrighteous.)
Related: