Even as thousands of Americans continue to be felled by SARS-CoV-2, state governors are lifting COVID-related protections. Soon it might be possible for a 5-year-old, for example, to go to a restaurant without anyone checking to see if the 5-year-old has been injected with an experimental use-authorized vaccine against a disease that kills 80-year-olds. Mask requirements are being dropped as well. People will be unmasked as they walk into the restaurant, not just when they're sitting at tables.
Let's assume that at least 20 percent of Americans Follow the Science and are extremely concerned about COVID-19, albeit not concerned enough to stay home. That's a potential market of 67 million people (source for total population) who want a restaurant where they are fully protected against COVID-19 by cloth masks and vaccines that cut risk by a further 97X.
Even in the Florida Free State, there is no law against a restaurant checking vaccine papers (as mine were checked at Art Basel) and requiring masks. The legislature has blocked government agencies from engaging in this kind of behavior, but private companies can do whatever they want (e.g., hassle unvaccinated employees with periodic testing demands).
How about a restaurant chain that voluntarily imposes all of the restrictions that mayors in Washington, D.C., New York, San Francisco, Boston, et al. imposed by force of law? You will need to show a photo ID and vaccine papers to get in. You will need to wear a mask, preferably cloth but N95 is also okay, as you walk from the door to the table. The restaurants will close at 10 pm in honor of the curfews that many European nations imposed to prevent SARS-CoV-2 from spreading during the night hours.
Because obesity is not a significant or newsworthy cause of death compared to COVID-19, the menu will be 100 percent items that people love. Fettuccine Alfredo, potatoes au gratin, crème brûlée, etc. Because cancer is also insignificant next to COVID-19, smoking and vaping will be allowed.
What will the new chain be called? Karen's.
Before everyone heaps ridicule on the above idea, remember that the U.S. government thought that there would be a significant number of people who would remain concerned about COVID-19 prevention immediately after a nuclear weapon had destroyed one or more cities. From https://www.ready.gov/nuclear-explosion (retrieved 2/28/2022; it was still all about the hand sanitizer!):
When you have reached a safe place, try to maintain a distance of at least six feet between yourself and people who are not part of your household. If possible, wear a mask if you're sheltering with people who are not a part of your household. Children under two years old, people who have trouble breathing, and those who are unable to remove masks on their own should not wear them. … If you are told by authorities to evacuate to a public shelter, try to bring items that can help protect yourself and your family from COVID-19, such as hand sanitizer that contains at least 60 percent alcohol, cleaning materials, and two masks per person.
The authors of the web page assume that the nuclear weapon(s) did not take out the 9-1-1 and health care systems:
If you are sick or injured, listen for instructions on how and where to get medical attention when authorities tell you it is safe to exit. If you are sick and need medical attention, contact your healthcare provider for instructions. If you are at a public shelter, immediately notify the staff at that facility so they can call a local hospital or clinic. If you are experiencing a medical emergency, call 9-1-1 and let the operator know if you have, or think you might have, COVID-19. If you can, put on a mask before help arrives. … Many people may already feel fear and anxiety about the coronavirus 2019 (COVID-19). The threat of a nuclear explosion can add additional stress. Follow CDC guidance for managing stress during a traumatic event and managing stress during COVID-19.
There is a helpful photo: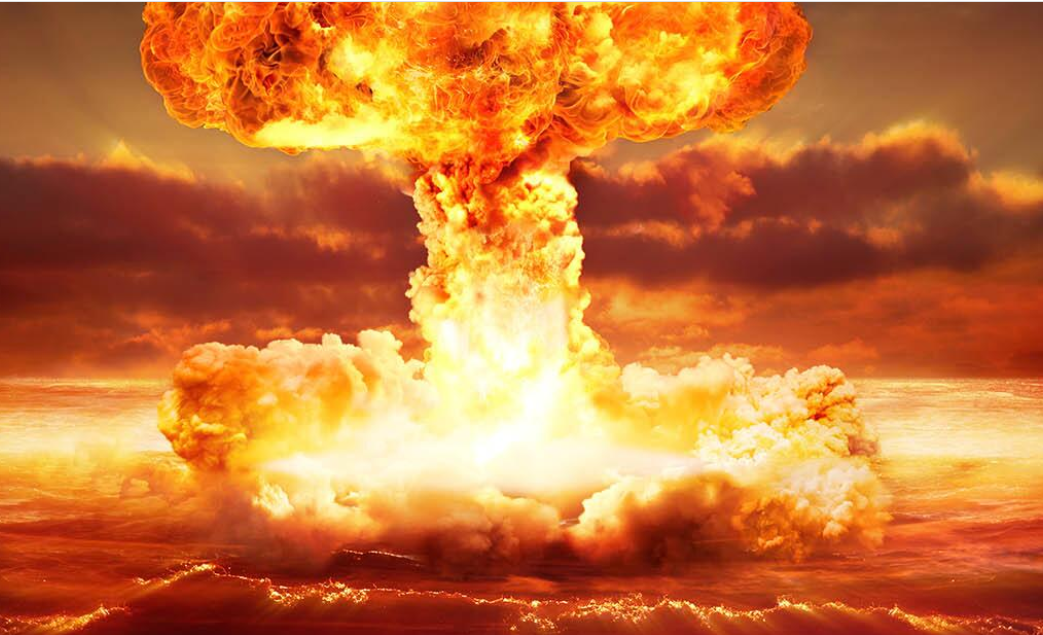 Anyway, if there are people who want to wear an anti-COVID mask in the fallout shelter after a successful nuclear attack on the U.S., my theory is there are people who will want to have dinner in a fully masked environment (except for all of the customers who are unmasked because it is a restaurant and they're eating).
Related: