"Boosted Americans 97 times less likely to die of virus than unvaccinated" (USA Today, 2/2/2022):
As the U.S. inches up to a 64% vaccination rate for the entire population, only 42% of those eligible for a booster have gotten the extra shot, and experts aren't sure what will move the needle, so to speak.

Fully vaccinated Americans are 14 times less likely to die of COVID-19 than those who haven't gotten the shots. Boosted Americans are 97 times less likely.

Those were the figures presented Wednesday by Dr. Rochelle Walensky, director of the Centers for Disease Control and Prevention, based on reports from 25 jurisdictions in the week ending Dec. 4. For every 100,000 people, 9.7 of those who were unvaccinated were killed by the coronavirus, compared to 0.7 of those fully vaccinated and 0.1 of the boosted.
Science (the CDC) tells us that the COVID-19 vaccination, in a full three-dose series, is the most effective pharmaceutical intervention ever developed. Although of course we believe Science and trust in the CDC, some questions are raised by this astonishing 97X risk reduction. At least over in Sweden, pre-vaccine SARS-CoV-2 wasn't dangerous enough to justify terminating citizens' right to gather, children's right to attend school, etc. Nor was it dangerous enough to justify ordering people wear masks. We're told that we a 97X reduction in risk is available and yet American schoolchildren, down to age 2, are ordered to wear masks and subject to various other restrictions. Vaccine papers are checked at restaurants (e.g., for those 5+ in Boston) to make sure that the unclean don't mingle with the sacred. A range of restrictions are applied to discourage travel. But if the sacred have cut their risk by 97X, why are they worried about the 5% filthy untouchables (unvaccinated)? Is our tolerance for risk 97X lower than what prevails among Swedes? That is contradicted by the fact that Americans refuse to accept my proposed 35 mph speed limit, which would save more life-years than curing COVID-19.
We don't order all road travel to cease because some people insist on riding statistically dangerous motorcycles. Why do we have COVID-19 orders in place when a 97X reduction in risk is as close as the nearest CVS? The people making the orders are Democrats and we are constantly informed that it is only Republicans who refuse to accept all three Sacraments of Fauci. Why do Democrats care if SARS-CoV-2 winnows out some of the Deplorables who could potentially vote a fossilized Donald Trump into a renewed dictatorship?
Another possibility is that the 97X risk reduction, while proven by Science, isn't real. Here's some data from Israel, famous for early adoption of vaccines and boosters: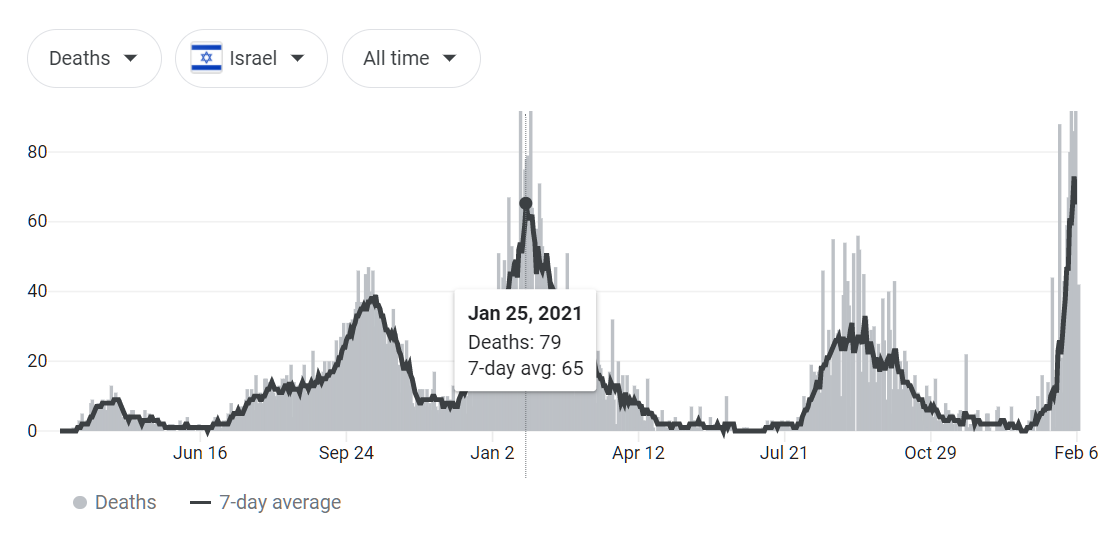 Deaths tagged to COVID-19 are at an all-time high. This, despite the fact that those who aren't boosted are excluded from public life. "Israel's bet on early COVID booster shots pays off" (DW, 11/11/2021):
To enter the club, people must present their green pass, which includes an ID number and a QR code. "When somebody wants to go either to the pool or the gym, we check the green pass. Everybody has it on the phone these days. Sometimes it's a little bit of an inconvenience, but people understand and cooperate," said Levi.

In October, Israeli authorities canceled the green passes of those eligible for the third shot but who hadn't received it yet. Those who don't have a green pass can get a 24-hour pass by taking an antigen or "fast" test to enter facilities.
I'm wondering if the spectacular cited effectiveness of booster shots among Americans is partly due to the demographics of those who choose to get boosters. In Why rich white Americans believe in masks (October 22, 2020), an MIT professor:
It's the usual causality problem with epidemiology. Upper middle class Northeasterners (like me) are adamant about mask wearing, and they rarely get sick. So it must be working.
(He added that a mistaken belief in mask efficacy would still be a positive because it would help assure a Biden/Harris victory. He bought his house, his cars, and his common stocks pre-2020, so the first year of the Biden Administration has been fine for him, financially.)
What would the "usual causality problem with epidemiology" look like in the booster world? What if the people who have the time, patience, and inclination to get boosters are rich white people who have the luxury of staying in their suburban bunkers 98 percent of the time? They weren't likely to get COVID-19 in the first place and they're not getting COVID-19 during their twice/week N95-masked excursions to the supermarket.
Note that this is not to suggest that the booster shot has no effect (see Maybe it is time for that booster shot? for why you might want to get one even if you think it has no effect!). But a post-boost 1/97th risk level seems tough to achieve by pharmaceutical means alone and without some help from Dr. Differential Demographics.
Related: