"CDC revokes U.S. authority to expel migrant children" (CBS/Yahoo, 3/12/2022):
The Biden administration announced late Friday it is ending a Trump-era border deportation policy as it pertains to unaccompanied migrant children in response to a court ruling that could've forced officials to expel those minors without an asylum screening.

The Centers of Disease Control and Prevention (CDC), which first authorized the migrant expulsions in March 2020, terminated the government's ability to expel children who enter U.S. border custody without their parents. U.S. border officials can still use Title 42 to expel single adult migrants and families traveling with children to Mexico or their home countries.

Last week, U.S. District Court Judge Mark Pittman said the administration could no longer exempt unaccompanied children from Title 42, arguing that Texas, which challenged the exemption, was financially harmed by the placement of migrant children in the state due to medical and schooling costs.

In a notice Friday, CDC officials said they recognized the "unique vulnerabilities" of unaccompanied minors.

"In the current termination, CDC addresses the court's concerns and has determined, after considering current public health conditions and recent developments, that expulsion of unaccompanied noncitizen children is not warranted to protect the public health," the agency said.
(Note the headline. It is the Covidcrats who decide the size and composition of the U.S. population by determining immigration policy.)
The CDC (Science personified) says that an undocumented unmasked unvaccinated untested migrant who says "I am under 18" (by definition there is no way to verify such a claim since he/she/ze/they is undocumented) does not present a risk to public health. But the same agency tells us that U.S. citizens returning from the world's most vaccinated countries, e.g., Portugal, are such high risks that they can't legally begin a trip home without first getting a COVID-19 test and wearing a mask in the airports, airliner, Ubers, etc. (except while eating or drinking all of the food and beverages served by the airline, of course!)
Science is truly marvelous!
Speaking of Science, here's the Metropolitan Museum of Art's web site captured on 3/12/2022: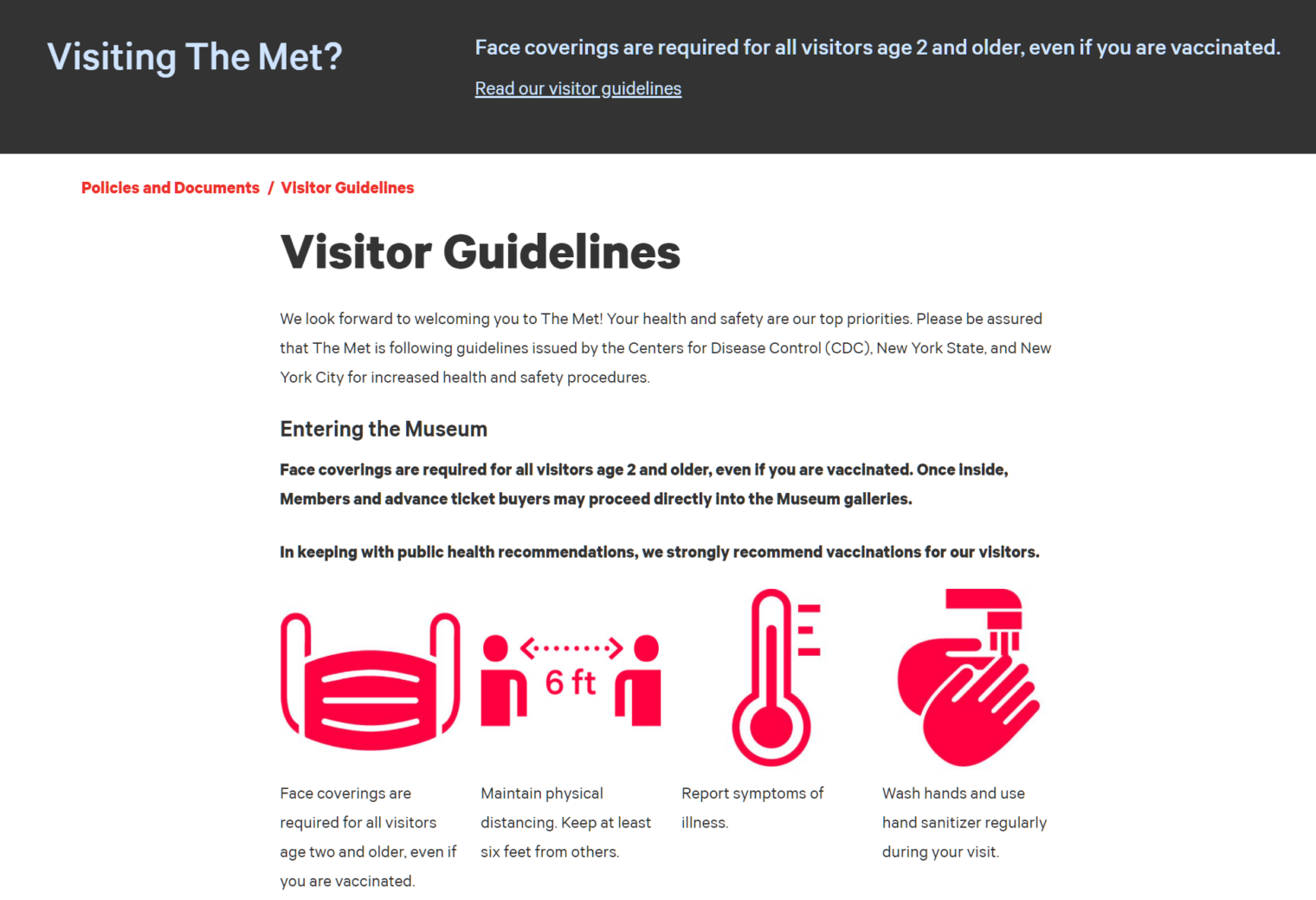 They say that they're "following guidelines issued by the Centers for Disease Control (CDC), New York State, and New York City" yet didn't all of these experts on Science recently say that masks aren't required? (except for kids in preschool)
How about the Getty in Los Angeles?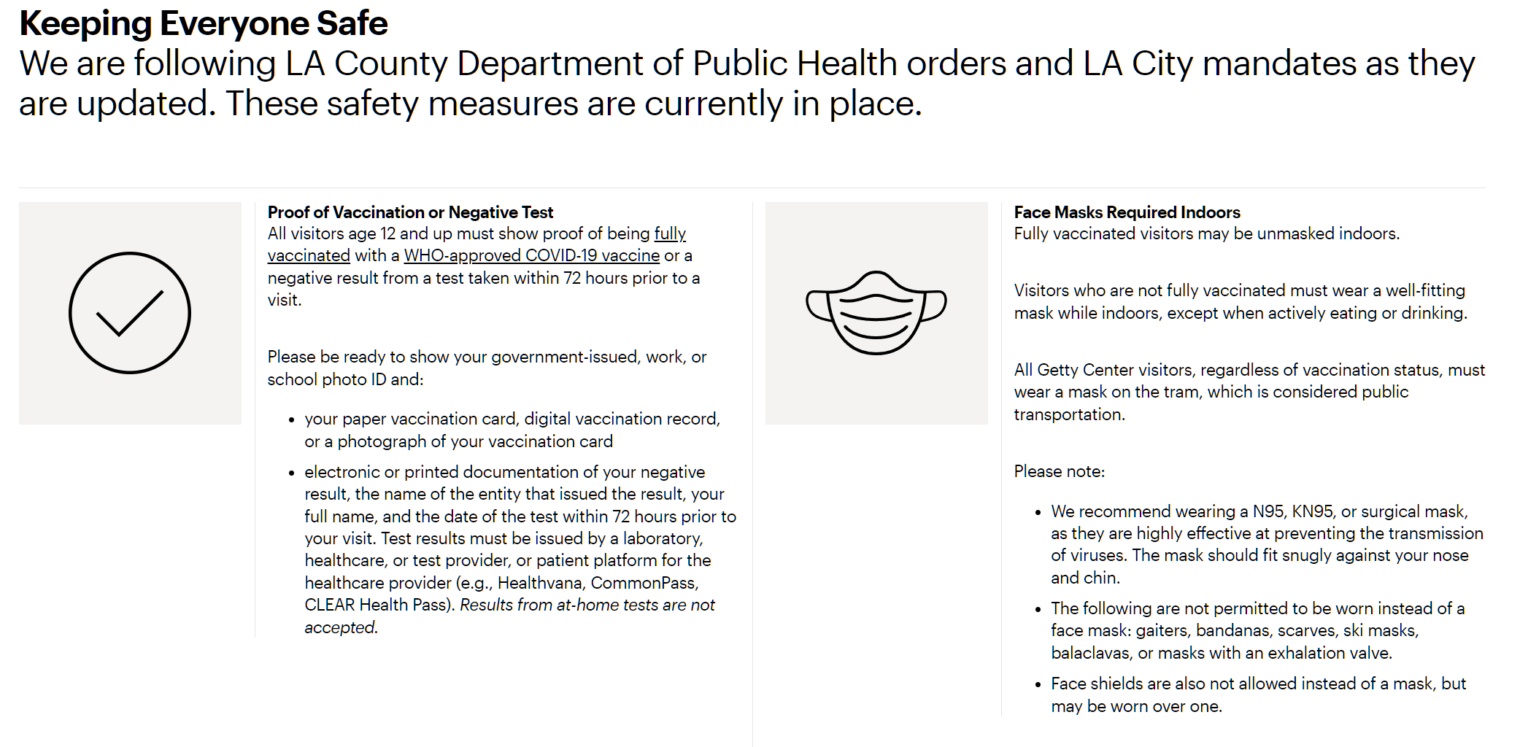 Vaccine papers are checked and masks are required because of the Department of Public Health's Science-informed orders. Yet the referenced Department of Public Health ended its mask order on March 4. See "LA County's indoor mask mandate ends as COVID metrics improve. Here's what you need to know" (ABC):
Indoor mask-wearing will no longer be mandatory in Los Angeles County starting Friday thanks to revised data released by federal health officials showing a decreased impact of COVID-19 on the county's health care system.

The U.S. Centers for Disease Control and Prevention on Thursday officially moved the county out of its "high" virus activity category and into the "low" category. The CDC updates its county-level data every Thursday.

The CDC designations are based largely on the number of new virus-related hospital admissions and on the percentage of hospital beds being occupied by COVID-positive patients, along with a county's overall rate of new COVID cases.

County Public Health Director Barbara Ferrer said that given the CDC revision of the county's classification, a new Health Officer Order will be issued that removes the county's long-standing mandate for people to wear masks indoors regardless of vaccination status. That move will put the county in alignment with the state, which dropped its mask mandate on Tuesday.
It is possible to Follow the Science even while doing the opposite of what Science says to do.