From November: What edge does Rivian have in the truck or EV market? (market cap: $127 billion)
From January: How is Rivian still worth $78 billion?
The market cap today is $18 billion, an 85 percent loss for those who bought the stock at the time of my November post (or a massive profit for those who went short!).
Today's Car and Driver review of the F-150 Lightning:
Though this truck has many parlor tricks—a big frunk that can swallow 400 pounds, an optional tongue-weight scale, and BlueCruise hands-free driving—none are as impressive as how quick it builds speed from a standstill, thanks to 775 pound-feet of instant torque. Mat the accelerator and the front tires spin. Actually, the fronts will spin if you floor the accelerator at any speed below 50 mph or so. The effect is amplified as you load the truck closer to its 2235-pound max payload capacity.

It even drives and feels a lot like an F-150. A 50/50 weight balance contributes to very good road manners. … A low center of gravity keeps the truck relatively flat through corners, too.

The base vinyl-lined Pro model starts at $41,769 and comes with the 98.0-kWh battery that's good for an EPA range of 230 miles, while the upgraded extended-range battery brings 131.0 kilowatts-hours of storage and 320 miles of range. … On the not-so-good front, the Lightning can tow up to 10,000 pounds when spec'd with the Max Trailer Tow package, but it can't do so for very long between charges. We pulled an 8300-pound boat and trailer at about 65 mph, and the on-board trip computer indicated we were getting less than one mile per kilowatt-hour. This puts the highway range with a trailer of decent size and mass somewhere around 100 miles.
[A friend has a reservation for the F-150 Lightning and they won't let him order the base model, so the $41.7k price is maybe just a theoretical one. The real price is at least $60k.]
So the Ford product is at least pretty good, is backed by a company from which people have been buying trucks for more than 100 years, and is much cheaper than what Rivian charges for a similar capability.
Ford even shows a great place to run out of battery power: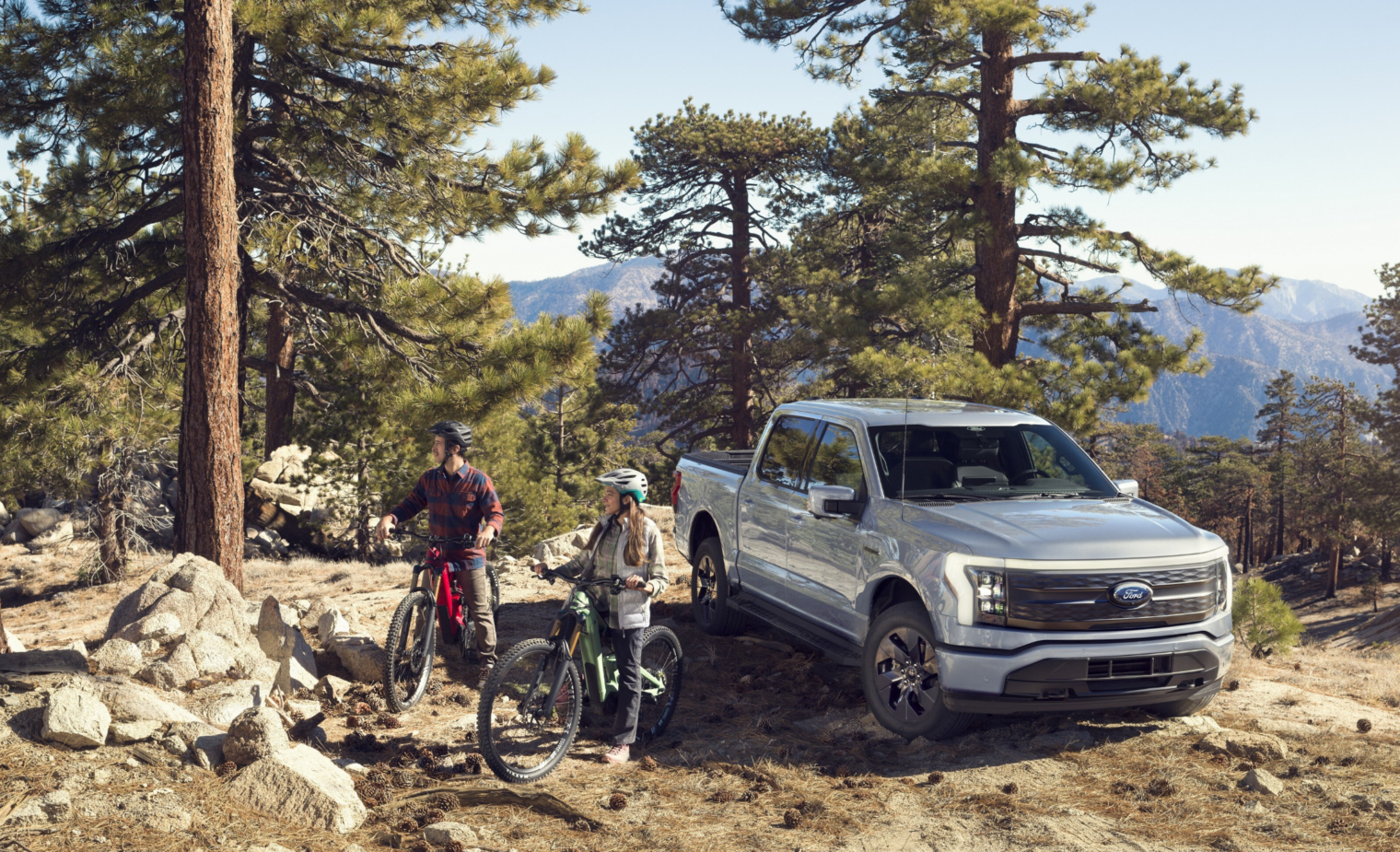 If this vehicle had dog mode, it would certainly be a better value than anything from Tesla!
Circling back to Rivian… after they run out of Silicon Valley enthusiasts, who is going to pay $100,000 for a non-Ford, non-GM, non-Toyota pickup truck? And what is the stock/company worth?
Rivian stock versus the S&P 500 starting on the date of my first post: