Two weeks ago: Could our epic deficits drive inflation no matter how high the Fed raises rates?
John H. Cochrane, the superstar economist (and sailplane pilot! How does that work when you're a professor at University of Chicago and the nearest ridge is 1,000 miles away?), answers the question in the Wall Street Journal… "The Federal Reserve Can't Cure Inflation by Itself":
By raising interest rates, the Fed pushes the economy toward recession. It hopes to push just enough to offset the stimulus's fiscal boost. But monetary brakes and a floored fiscal gas pedal mistreat the economic engine.

The Phillips curve, by which the Fed believes slowing economic activity reduces inflation, is ephemeral. Some recessions and rate hikes even feature higher inflation, especially in countries with fiscal problems.

Higher interest rates will directly make deficits worse by adding to the interest costs on the debt. Reducing inflation was hard enough in 1980, when federal debt was under 25% of gross domestic product. Now it is over 100%. Each percentage point interest rates are higher means $250 billion more in inflation-inducing deficit.

Monetary policy alone can't cure a sustained inflation. The government will also have to fix the underlying fiscal problem. Short-run deficit reduction, temporary measures or accounting gimmicks won't work. Neither will a bout of growth-killing high-tax "austerity." The U.S. has to persuade people that over the long haul of several decades it will return to its tradition of running small primary surpluses that gradually repay debts. That outcome requires economic growth, which raises long-run taxable income. Raising tax rates alone is like climbing a sand dune, as each rise hurts income growth. The U.S. also needs spending reform, especially on entitlements. And it needs to break the cycle that each crisis will be met by a river of printed or borrowed money, bailouts for big financial firms and stimulus checks for voters.
In other words, as long as Congress keeps borrowing and spending, at least according to Professor Cochrane, we can experience inflation even with high interest rates from the wizards behind the curtain at the Fed. Maybe there could be a house price crash due to the high interest rates (how many people can afford a $20,000 per month mortgage on a 4BR?), but that won't bring down the headline inflation number since house prices were taking out of the government's official stats. The rent prices that are in the CPI stat shouldn't come down because mortgage rates are high. In fact, maybe the high mortgage rates will lead to higher rents since renting is an alternative to buying and paying a mortgage.
On the third hand, though our realtor says that the crash hasn't happened yet here in South Florida, houses are sitting longer on the market. This could be because it is mid-summer and that is the traditional dead season for real estate. Here's a fairly standard 5BR house on a busy street in Abacoa: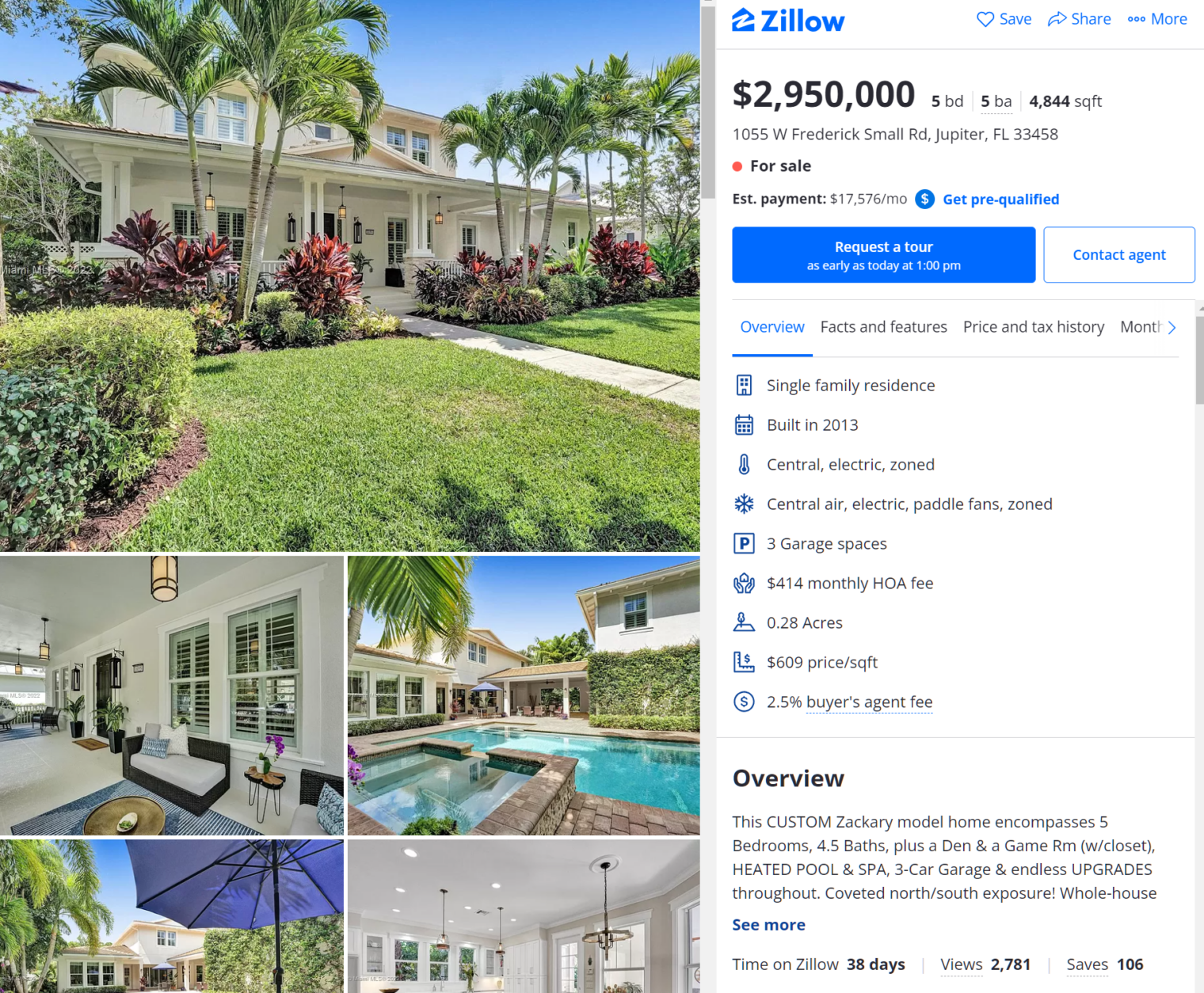 Note the 38 days on the market at the bottom. In January 2022, this place would have sold within two weeks. Zillow estimates the payment for living on this vast 1/4-acre estate and listening to cars zip by all day at $17,576 per month. For that to be one third of a buyer's income, he/she/ze/they would have to earn $633,000 per year (i.e., be a dermatologist or plastic surgeon).
Related:
Cochrane's calculation of the complete tax rate for a successful Californian (he also has a job next to Stanford): How much is the property tax? In Calfornia, we pay 1% per year. That doesn't seem bad, except that property values are very high. You can't get a tear-down in Palo Alto for under $2 million. If you buy a house that costs 5 times your income — say someone earning $200,000 per year buying a $1 million house — then that is equivalent to 5 percentage points additional income tax. On top of 42% federal, 13.2% state, 9% sales, and other taxes, it's part of my view that we're past 70% top marginal rate now.
"How did Paul Krugman get it so Wrong?" (2009): Most of all, Krugman likes fiscal stimulus. … In economics, stimulus spending ran aground on Robert Barro's Ricardian equivalence theorem. This theorem says that debt-financed spending can't have any more effect than spending financed by raising taxes. … If you believe the Keynesian argument for stimulus, you should think Bernie Madoff is a hero. He took money from people who were saving it, and gave it to people who most assuredly were going to spend it. Each dollar so transferred, in Krugman's world, generates an additional dollar and a half of national income. The analogy is even closer. Madoff didn't just take money from his savers, he essentially borrowed it from them, giving them phony accounts with promises of great profits to come. This looks a lot like government debt. If you believe the Keynesian argument for stimulus, you don't care how the money is spent. All this puffery about "infrastructure," monitoring, wise investment, jobs "created" and so on is pointless. Keynes thought the government should pay people to dig ditches and fill them up. [Good news for the PPP program is next] If you believe in Keynesian stimulus, you don't even care if the government spending money is stolen. Actually, that would be better. Thieves have notoriously high propensities to consume.