A combination of inflation and stock market saggage means that Americans aren't as rich as we thought we were. When we thought that we were crazy rich (2020-2021) and it was illegal to buy a variety of services, such as international travel to most destinations, we loaded up on real estate. Now the collapse is forecast, partly due to sky-high interest rates that the Fed hopes will tame inflation despite the government continuing to borrow and spend $trillions more than is raised via taxation.
On the theory that "people need to live somewhere" and the U.S. population is being dramatically expanded via low-skill immigration (see "Modern Immigration Wave Brings 59 Million to U.S., Driving Population Growth and Change Through 2065" (Pew 2015), I don't think prices for primary houses will go down in nominal dollars. Perhaps the values will be eroded by inflation, but I will guess that that real (inflation-adjusted) price of a house in 2027 is no more than 10 percent lower than today's price. Americans are not competent at planning and building infrastructure and therefore new construction to accommodate the migrant-fueled population boom is going to be super expensive (see City rebuilding costs from the Halifax explosion).
On the other hand, an individual person or family does not need two houses. So if there needs to be a real estate collapse, I am thinking that it will happen in the vacation house market.
Arguments in favor of continued high demand for houses in vacation destinations:
the laptop class can pretend to work from anywhere
demand for ski resort lift tickets has never been higher (Smithsonian)
those who support lockdowns, school closures, masks, and vaccine papers checks are voluntarily traveling like crazy now, packing themselves into 100% full airliners, going to theme parks, etc.
Arguments against continued high demand for recently purchased vacation houses:
a second property tax bill every year
a second set of contractors to beg
rising maintenance and utilities prices
We rented a cozy cabin in the Great Smoky Mountains (report). Zillow says that the pre-Biden value of the 1,344 square-foot mansion was $350,000 and that it is currently worth about 725,000 Bidies, down from a peak of 763,000. It actually was sold by the builder, brand new, in August 2019 for $305,000.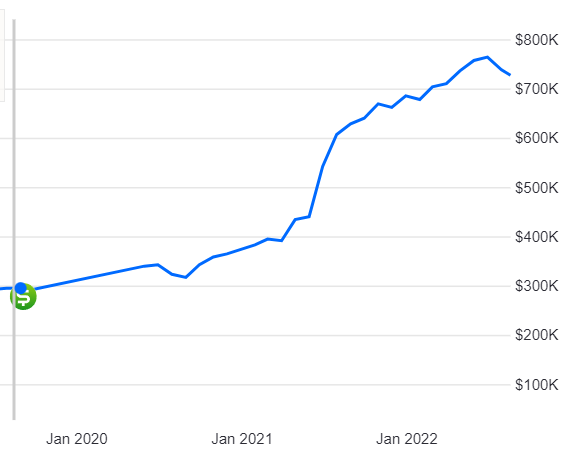 We enjoyed being there for a few nights, but is it worth more than a townhouse within commuting distance of a highly paid job in a dynamic city? I don't see how that is possible in the long run.
Related: