The arrival of one million migrants into Texas border towns is a minor issue. On the other hand, the arrival of 50 migrants into an island with vacant houses sufficient to hold 50,000 people (the summer population bump) was a crisis that required calling out the Maskachusetts National Guard. The 50 migrants are now off island in a concentration camp within a military base that is itself within a forest in the middle of Nowheresville, MA. Going forward, the only way that an elite Vineyard resident might encounter a migrant is if his/her/zir/their Gulfstream suffers a double-engine failure and crash-lands in the woods of the Inner Cape. Because the migrants arrived in Massachusetts originally on Air DeSantis, let's call their final destination Camp DeSantis.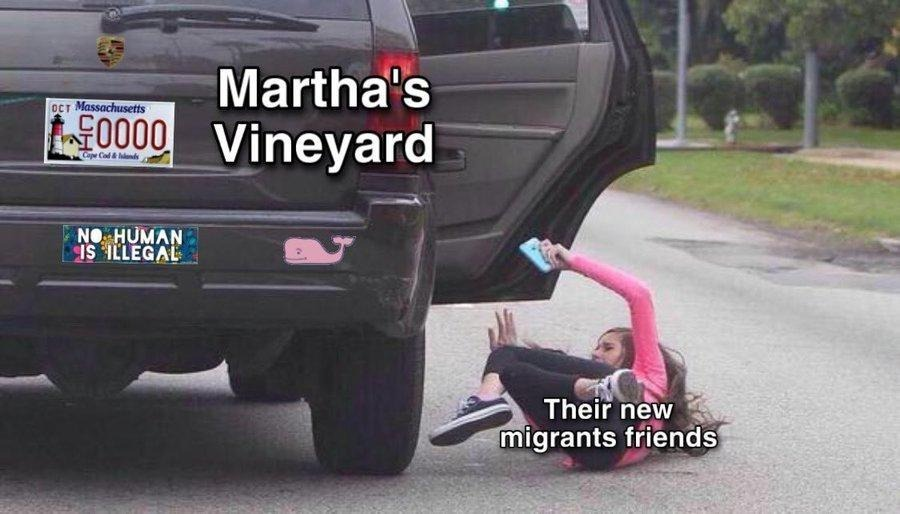 In order to disprove accusations of hypocrisy, if there is any access by journalists to Camp DeSantis, the images and reports will have to show that these are the best cared-for asylum-seekers in the history of humanity. On the other hand, if the Four Seasons-style rooms at Camp DeSantis and three-star catered meals are described and illustrated, people might begin to ask "Why isn't this infrastructure used to care for the 18,000+ people in Massachusetts who are experiencing homelessness?"
What do readers think? Are we going to see regular reports on The Fifty and how great their lives are, courtesy of the open-hearted migrant-welcoming Democrats of Massachusetts? Something like the Theresienstadt documentary, but broken up into tweets?
Related:
Progressives in Maine want U.S. to admit more low-skill migrants… (August 2022): …. who will live somewhere other than in Maine.
What it takes to welcome refugees and other immigrants (2018): How can a town survive with 10 percent of its population being unskilled unemployed refugees with four kids each? I wonder if the answer is harvesting federal subsidies. Our poorest cities often have sparkling new hospitals, built by mining elderly citizens for Medicare dollars. Could it be that Erie is mining refugees for the Federal Welfare that attaches to them? Each refugee is entitled to housing, health care, and food, all of which will be funded nationally, but purchased in the local economy.
"Yes, Florida allocated $12 million to transport migrants out of the state" (CBS): Florida's Freedom First Budget included $12 million for a program to "transport unauthorized aliens" out of the state, including locations such as Martha's Vineyard. (in other words, it is not completely fair to credit DeSantis with "Air DeSantis" because the money was appropriated by the legislature)